Harrison, Robert (1841-1927)
Englesea Brook Museum 10.04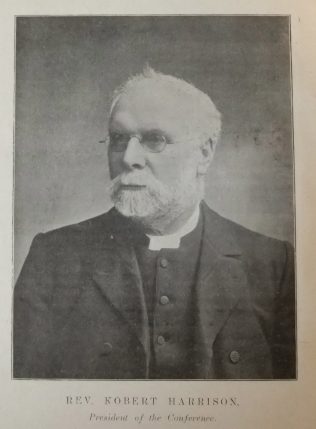 Early years
Robert was born on 6 December 1841 at Carlisle, Cumberland to parents Stephen and Ann. Stephen was a labourer.
Robert was converted when young and soon became a teacher, and later assistant superintendent, in the Cecil Street Sunday School, Carlisle.
Ministry
Whilst in Grimsby, Robert superintended the erection of the Flottergate Church. Robert spent many years working in Hull. The churches at Hessle, Stoneferry and Hawthorne Avenue were memorials of his labours there. He wrote an article on Primitive Methodism in Hull in the 1920 Primitive Methodist Magazine.
Robert had to relinquish the position of Governor at Elmfield when his wife's health broke down and she was unable to continue in the role of Matron.
Robert was President of Conference in 1904. He became Chairman of the Connexional Fire Insurance Company and was also Secretary of the Chapel Aid Association.
Robert was elected a Deed Poll member of Conference in 1925.
His obituary records that his unaffected earnestness, his robust sense, the simplicity of his speech, all made for his success as a preacher of the Word.
Family
Robert married Maria Everingham Wright (1846-1903) in the spring of 1869 at Hull, Yorkshire.
Robert married Sarah Annie Andrew (b1877) in the summer of 1905 at Hull, Yorkshire.
Robert died on 27 January 1927 at Hull, Yorkshire.
Circuits
1864 Selby
1865 Market Rasen
1867 Gainsborough
1868 Hornsea
1869 Hull II
1871 Hull III
1873 Hull IV
1874 Swinefleet
1876 Hull II
1877 Grimsby I
1882 Driffield
1885 Governor of Elmfield
1891 Sunderland II
1894 Driffield
1896 Hull V
1899 Hull IV
1902 Hull III
1905 Hull V
1909 York
1911 Bridlington (S)
References
Primitive Methodist Magazine 1899/723; 1904/912 (Maria); 1905/fr; 1920/386
PM Minutes 1927/278
H B Kendall, Origin and History of the PM Church, vol 2, p523
B A Barber, A Methodist Pageant, 1932, p278
W Leary, Directory of Primitive Methodist Ministers and their Circuits , 1990
Census Returns and Births, Marriages & Deaths Registers