Jones, Frederick (1905-1976)
Primitive Methodist Student ordained a Methodist Minister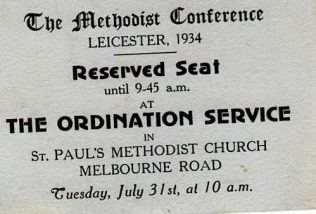 Fred was born on a remote farm in Booley, Shropshire, the eldest of two sons of Thomas Jones and Elizabeth Millington. He was baptised in the old Prees Green PM chapel at Stanton on Hine Heath, where the family were members.
In 1927, Fred commenced his studies at Hartley College, and at the time of Methodist Union was a probationer on the Ramsor Circuit in Staffordshire. Having trained as a Primitive Methodist minister, he was ordained a Methodist minister at the Annual Conference in Leicester, in July 1934.
Not allowed to marry until after ordination because of Methodist Church 'rules', Fred married Madge (Maggi) Forrester in August 1934, just two weeks afterwards, at The Bourne Chapel in Rocester. Madge was Fred's fellow worker in the life of each of his churches, and they were happily married for 42 years.
In 1970, Fred and Madge retired to Hadleigh, Suffolk. Fred continued to play an active part in the ministry in churches in the Ipswich Circuit, until a year before he died.
Fred's obituary in The Methodist Recorder (August 1976) describes him as an interesting and helpful preacher and diligent pastor, whose leadership was exercised with characteristic gentleness and humility. Fred was my great uncle and members of the family who remember him do so with affection, particularly (as mentioned in the obituary) his delightful sense of humour.
Madge died two years after Fred, in 1978.
Circuits:
Ramsor
Portland – where he was also the non conformist chaplain at the Borstal Institution and at The Verne Prison
Ludlow
Whitchurch
Northwich
Buckley
Glossop
South Derbyshire
Netherton
Ripley
**I can name one other student in the Hartley College photo. His surname was Blackwell. He was ordained on the same day as Fred and married the same year.
Revd Pam Pembro comments on My Methodist History website that her father, the Rev. Fred O. Sheppard was ordained at the Leicester Conference in 1934. Could he be on the Hartley College photo?
Downloads
Transcription from Conference Minutes 1977