Jobling, John (1806-1880)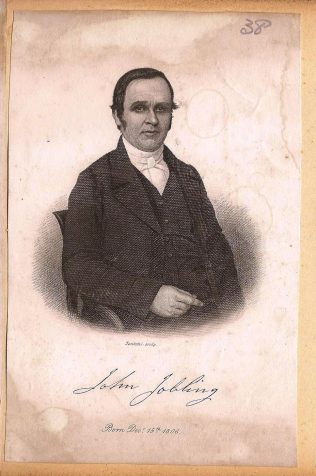 Englesea Brook Museum ENBM 1990.21.7a
Early years
John was born on 15 December 1806 at Newton Kirkdale, Yorkshire.
John was converted aged 12 through a relative who had been recently converted. He became a local preacher at an early age.
Ministry
John's obituary records that as a preacher he was plain, pathetic and earnest. He had good natural powers, a commanding presence, a good voice and an easy flow of language.
He was a man of great spiritual power, his preaching was attended with much divine influence, and was eminently successful to the conversion of sinners.
Failing health forced superannuation in 1870. John moved to Silsden where he continued a pastoral ministry focused on visiting the sick.
Family
John married Ann Lewas (1808-1881) on 2 July 1833 at Danby by Egton, Yorkshire. They had three children identified in census returns.
William (1840-1878) – a commercial traveller
Thomas John (1841-1920)
Hannah Mary (1843-1932) – a housekeeper
John died on 22 July 1880 at Fryup, Yorkshire, a hamlet in the North York Moors between Guisborough and Whitby.
Circuits
1883 Middleham
1834 not shown
1835 S Shields (6 mths)
1835 Darlington (6 mths)
1836 Brompton
1838 Alston
1839 Darlington
1840 Pateley Bridge
1842 Stockton
1844 Westgate
1846 Middleham
1847 Ripon
1849 Pickering
1851 Leeds N
1853 Thirsk
1855 Halifax
1858 Leeds ll
1860 Burnley
1862 Silsden
1865 Thirsk
1868 Shipley
1870 Silsden (S)
References
Primitive Methodist Magazine 1856/193; 1880/692
PM Minutes 1881/8
W Leary, Directory of Primitive Methodist Ministers and their Circuits, 1990
Census Returns and Births, Marriages & Deaths Registers
Downloads
PM Magazine 1880/692 and Conference Minutes 1881/8