Lead, William Edmund (1868-1937)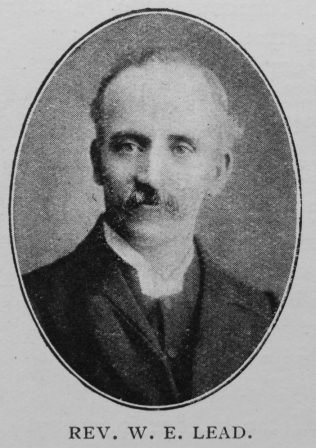 Transcription of obituary published in the Minutes of Conference
WILLIAM E. LEAD: born in Wolverhampton in 1868. After a period at Hartley College he entered the Primitive Methodist Ministry in 1893. He fulfilled his calling faithfully in all his circuits, and after completing forty-one years in the active ministry still continued, for three years after his retirement, to serve at Waltham, Grimsby. 
He was an omnivorous reader, and even at the end of his life was planning fresh studies. Poetry gave him much pleasure, and he was a keen student of Browning. In his sermons he was able to present difficult subjects in such a way as to be easily grasped. He was especially interested in the training of preachers, and guided and helped many in their formative years. In disposition he was friendly and genial, a man full of understanding and sympathy, who was often found in the homes of his people. 
Towards the end he was stricken down by a grievous affliction, which he bore with fortitude. He passed away at Meliden, Prestatyn, on November 10, 1937.
Family
William was born in the summer of 1868 at Wolverhampton, Staffordshire, to parents John Frederick Lead, a draper (1871), and Mary Naylor.
He married Emily Mona Annie Drought (1872-1948) in the summer of 1897 at Widnes, Lancashire. Census returns identify two of three children.
Albert (1899-1902)

       

Wilfred Livingstone (1903-1998) – a research chemist textile printing (1939)
William died on 10 November 1937 at Prestatyn, Flintshire.
Circuits
Hartley
1890 Warrington
1897 Sheffield II
1900 Market Drayton
1904 Burnley II
1907 Preston III
1911 Bacup
1914 Minsterley
1917 Liverpool III
1922 Bloxwich
1926 Colchester
1930 Witney
1934 Grimsby (S)
References
Methodist Minutes 1938/185
W Leary, Directory of Primitive Methodist Ministers and their Circuits, 1990
Census Returns and Births, Marriages & Deaths Registers
Note: the picture was taken from an article about PM Poets published in the PM Magazine 1911