Marshall, Arthur (1871-1950)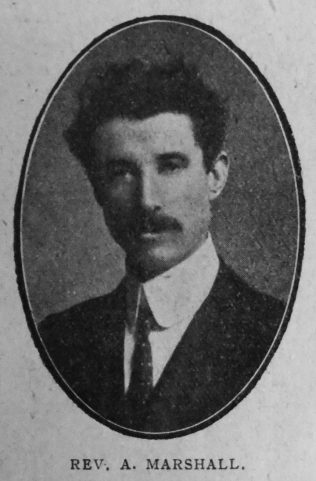 Transcription of Sketch in the Christian Messenger by J.G. Bowran
A Village Lad!
In recent months the name of the Rev. Arthur Marshall has been often heard both in Connexional Committees and in the homes of our people. How God, through him, saved our chapel at Salop Street, Bradley, in the Bilston Circuit, will long be remembered as a vindication of prayer and consecrated effort. He was born at Thorney, a village in the Peterborough First Station. His father having died when his son was but three months old, our friend had a hard struggle in his youth. At twelve years of age he went to work in the fields and toiled in farm service for the next twelve years. He gratefully acknowledges his indebtedness to the ministries of the village chapel, and, most of all, to the piety of his mother.
A Minister!
He had saved his college fees and spent two years in Hartley College. Then and since he has laboured hard to make up for the lack in his early education. He has now been eighteen years in the ministry, and has ''travelled'' at Faringdon, Chinnor, Brinkworth, Winsford and Gloucester before going to Bilston, his present sphere.
The Story of Salop Street!
Though situated in a populous neighbourhood the chapel from various causes had declined until at last it was closed. Two young people had toiled to keep a few children together in the Sunday School. Legal proceedings were threatened by the mortgagee's solicitors. Finally the property was in the process of conveyance. Mr. Marshall had the prescience of a supernatural deliverance. One morning he received a letter simply addressed to "The Primitive Methodist Minister, Bilston," inviting him to call at the office of Mr. G.H. Kidson. A promise of £100 was given in order to attempt redeeming efforts. In the end, Mr. Marshall's personal list amounted to over £600. The entire debt was liquidated, the chapel renovated, and a new era began. Both the Revs. M.P. Davison and J. Mayles, have taken services under the new conditions, and they are full of thanks to God and to the faithful, prayerful and devoted minister through whom God has worked so marvellously. In the Sunday School there are now two-hundred scholars with twenty teachers. A Choir of fifty young people is in constant attendance. The Sunday evening congregation now averages two hundred and fifty persons. We have seen the balance sheet of the project and we observe that £946 has been raised. Mr. Marshall speaks highly of the services of Sister Windsor, who has been engaged as a Sister of the People. We hope this wonderful story will prompt others to prayer, and to the faithful work which is always prayer's sequel.
Transcription of Obituary in Conference Minutes
ARTHUR MARSHALL: born at Thorney, near Peterborough, in 1871. In his early life he was blessed by the influence of a godly mother. His youth was a period of hard struggle, his father having died when he was three months old. At the age of twelve he went to work in the fields, and toiled in farm service for twelve years. He entered the Primitive Methodist Ministry in 1899, and spent two years at Hartley College. He had a great love for the work and for the people to whom he ministered. In the Bilston Circuit, the Salop Street Church was closed, and the property in process of conveyance when he arrived. But he saved this property, reopened the church, and made it a vigorous centre of Methodist work and worship. Ill-health caused his retirement in 1932, after thirty-three years in the active Ministry. After a year's rest, he went to Ilkley and, as a Supernumerary Minister, had charge of the Leeds Road Church for twelve years, spending here a happy period of his ministry. His was a kindly and gentle personality. He was a true shepherd of his people. His love for men and women opened a way into their hearts and into their homes: His zeal for Christ and his rich spiritual experience made a deep impression on his people. He was a faithful minister of the Gospel and a true friend. The last few years were years of increasing weakness faced with fine Christian courage and patience. He passed to higher service on 2nd July 1950, in the seventy-ninth year of his life and the fifty-first of his ministry.
Family
Arthur was born in 1871 at Thorney, Cambridgeshire, to parents Thomas and Ann. Thomas was an engine driver (1871). Ann later married James Berridge, an agricultural labourer.
Arthur married Agnes Emma Moon (1872-1952) in the summer of 1903 in the Swindon Registration District, Wiltshire. Census returns and birth records identify four children.
Arthur Headley (1904-1994) – city treasurer (1952)
Freda Mary (b1906)
Marjorie A H (b1912)
Bernard Eric (1916-1998)
Arthur died on 2 July 1950 at Ilkley, Yorkshire.
Circuits
Hartley
1899 Faringdon
1902 Chinnor
1905 Chippenham
1909 Winsford
1911 Gloucester
1914 Bilston
1919 Abertillery
1922 Horbury
1927 Northwich
1932 Stockport (S)
References
Christian Messenger 1917/225
Methodist Minutes 1950/156
W Leary, Directory of Primitive Methodist Ministers and their Circuits, 1990
Census Returns and Births, Marriages & Deaths Registers