Maylard, John (1816-1896)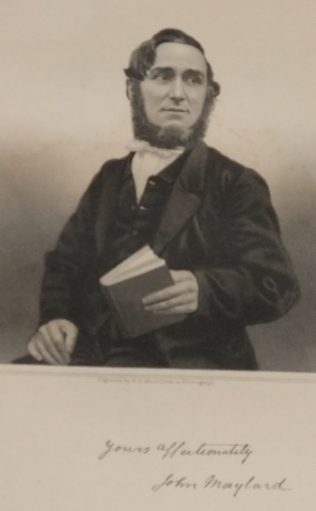 Early years
John was born on 6 October 1816 at Hereford.
For the first 10 years of his life he lived in a poor neighbourhood. The family moved and John was introduced to Sunday School at St Peters. As a youth he had several jobs, the last being for a baker and confectioner. When that failed, he travelled to London to seek work. Down on his luck he was locked up as a vagrant. He was given some money to return home, but had a further spell in jail in Worcester.
John gave himself to God at the age of 18 but it wasn't until he joined with the Primitive Methodists that he found peace. At once he started to preach and triggered a revival and a new PM Society in Hereford.
Literature
John authored the following.
From Prison to Pulpit – The Life Story of Rev. John Maylard – A Pioneer of the Primitive Methodist Church and Minister of the Gospel nearly 60 years, 1896
Family
John married Elizabeth Deadman (1817-1861) in the spring of 1844 at Ross on Wye, Herefordshire. Census returns identify eight children.
Thomas (b1845)
Mary Elizabeth (b1847) – married Richard Tate, a draper and grocer
Sarah Ann (1848-1917) – married William Ibbitson, a farmer; emigrated to USA in 1880.
John (b1850)
Louisa (1852-1938) – married Robert Vollum, an insurance agent
Frances (Fanny) (b1856)
Christmas (1860-1934) – a music teacher
Benjamin (1861-1941) – a harness maker; emigrated to USA in 1880
John married Hannah Birch (1837-1917) in the summer of 1862 at Burnley, Lancashire.  Records identify four children.
Eliza Jane (1863-1889)
John Birch (b1865) – a bank manager; emigrated to USA in 1889
Annie (1867-1869)
Annie (1870-1956) – a dressmaker and later a weaver.
John died on 11 August 1896 at Shipley, Yorkshire.
Circuits
1837 Brinkworth
1838 Andover
1841 Reading
1842 Pillowell
1845 Frome
1846 Glastonbury
1848 Pembroke
1852 Isle of Wight
1855 Brighton
1857 Peterborough
1858 Bradford
1860 Shipley
1862 Burnley
1864 Pickering
1868 Malton
1869 Dewsbury
1872 Barnsley
1874 Shipley
1875 Shipley (Sup)
1883 Bingley
References
Primitive Methodist Magazine 1862/325 (Elizabeth); 1864 (portrait)
PM Minutes 1897/23
The Primitive Methodist 1896/573
S E Hayter, My Maylard Family The Genealogical History of an Ordinary Family, 2011, pub at www.lulu.com
W Leary,Directory of Primitive Methodist Ministers and their Circuits , 1990
Census Returns and Births, Marriages & Deaths Registers