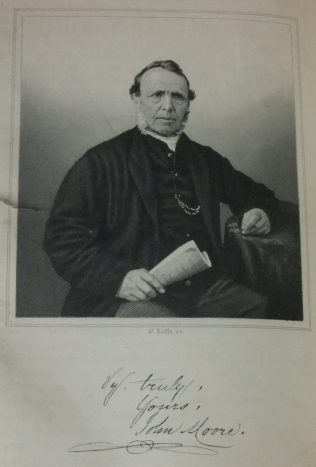 Early years
John was born on 16 November 1807 at Motcombe to parents William and Anna. He was converted in November 1826 whilst attending a service at his uncle James Bartley's farmhouse.
Ministry
Petty records that John joined Richard Jukes in June 1829 in missioning at Shrivenham. Three months later, having worked zealously, preaching mainly outdoors and undergoing much toil and numerous hardships and privations, John was replaced by Thomas Russell.
Petty also records that there was a rich outpouring of the Holy Spirit at places in the Wrockwardine Wood circuit where John was superintendent. Further information about this can be found in the article 'Primitive Methodist Camp Meetings in Shropshire' by Esther Lenton.
In 1840, John's health failed and he needed to take a break. He resumed for a short time in 1846 and spent a few months in Brighton. His health failed again and he was not fit again until the mid 1850's.
See the article 'To build a Chapel' about Langley, Essex for further information about John's work in the Saffron Walden circuit circa 1860.
John's obituary records that he was a good man, an affectionate husband and father, an indefatigable worker, an efficient superintendent, a strict disciplinarian, a plain, earnest and faithful preacher.
Family
John married Barbara Sophia Parsons (1813-1867) on 27 June 1832 at Motcombe, Dorset.
Census records identify five children.
Alice Parsons (1834-1907) – married William Hunt, a hairdresser and later watchman
William Strongman (1835-1894) – a carpenter
Mary Cordingley (b abt1839)
Emily Elizabeth (1841-1875) – married Henry George Button, a PM Minister
Beulah Anna (b1848) – married William Tinsley, a PM Minister who went to New Zealand in 1873 and then became a Wesleyan  Minister.
John married Annie Ward Cotton (1848-1930) in the spring of 1869 at Teignmouth, Devon. Records identify two children.
John William (b1869) – a tailor's cutter
Hephzibah Annie (1875-1926) – a nurse
John died on 24 September 1875 at Wincanton, Somerset.
Circuits
1828 Brinkworth
1830 Chester
1831 Preston
1832 Oldham
1834 Burnley
1836 Shewsbury
1838 Wrockwardinewood
1841 Motcombe
1846 Brighton
1847 Motcombe
1854 Brierley Hill
1855 West Bromwich
1856 Swaffham
1858 Bedford
1860 Saffron Walden
1863 Silchester
1866 Bagshot
1868 Torquay
1869 Torquay (Sup)
1870 Saffron Walden
1872 Torquay
1874 Teignmouth
1875 Motcombe
References
Primitive Methodist Magazine 1842/153; 1867/641 (portrait); 1868/372 (Barbara); 1876/297
PM Minutes 1876/7
J Petty, The History of the Primitive Methodist Connexion, 1880, p265, p413
W Leary,Directory of Primitive Methodist Ministers and their Circuits , 1990
Census Returns and Births, Marriages & Deaths Registers