Meadows, William Henry (1822-1893)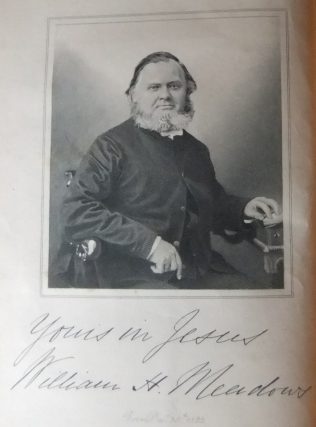 Early years
William was born on 30 December 1822 in Norfolk to parents Robert Meadows and Elizabeth King Miller. He was baptised on 9 February 1823 at the Independent Chapel, Thetford, Norfolk.
William was a scholar and taught in the Primitive Methodist Sunday School at Downham Market. He was converted at the age of 14.
In December 1843 the Quarterly Meeting examined him as a local preacher but determined he should stay 'On Trial'. William was strongly tempted to relinquish the work but 'grace was sufficient' and he carried on. In January 1844, he supplied for the Rev O Jackson, who was ill, in the Brandon Circuit. In April 1844, William became a hired local preacher in the Brandon circuit. In May 1845, he was pledged as a travelling preacher by the Bury St Edmunds circuit.
Ministry
William's obituary records that he was a strict disciplinarian, and thoroughly conservative in Primitive Methodist doctrines, polity and methods. His power in prayer was truly extraordinary in the days of his physical vigour.
Loss of his voice caused William to seek superannuation in 1880.
Family
William married Mary Riches Scott (1826-1900) at Aylesham, Norfolk in the summer of 1850.
William died on 25 May 1893 at Wymondham, Norfolk.
Circuits
1846 Briston
1849 Aylsham
1851 Holbeach
1853 Stowmarket
1855 Cambridge
1857 Downham
1860 Brandon
1864 Cambridge
1869 Briston
1877 Wymondham
1880 Wymondham (Sup)
1883 Redruth
1884 Wymondham
References
Primitive Methodist Magazine 1874 (portrait)
PM Minutes 1894/20
W Leary,Directory of Primitive Methodist Ministers and their Circuits , 1990
Census Returns and Births, Marriages & Deaths Registers
Downloads
Transcription of an article in the Christian Messenger 1915