Newton, George (1841-1912)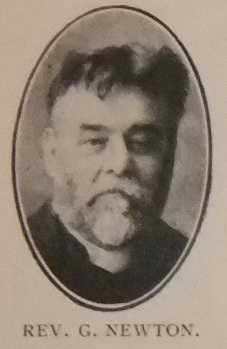 Early years
George was born on 16 November 1841 at Winster, Derbyshire to parents William Newton and Hannah Titterton. His parents were both Primitive Methodists. His father was a lead-miner and local preacher.
George had little education as a child. He was apprenticed to the grocery and drapery business.
George was converted at the age of seventeen. There came a sense of new obligations and responsibilities, along with an earnest desire to fulfil them faithfully. As a consequence he applied himself to developing his intellect. He became a local preacher two years later.
As a result of business, George moved to Sheffield. There, he became an earnest mission worker, doing effective open-air preaching in connection with the George Street Mission. He was recommended for ministry in 1866.
Ministry
He preaching was not what some would call popular, but it was sound, solid and profitable. He was more practical than doctrinal, more evangelistic than philosophic.
As an administrator, George was shrewd and practical; a lover of peace and a healer of breaches. He possessed the saving grace of humour which was often dry and caustic, and which gave a piquancy to many of his sermons.
After superannuation, George moved to Blaydon on Tyne, where he served the circuit in a special capacity.
Family
George married Emma Susanna Smith (1845-1905) in the summer of 1871 in London. Emma was the daughter of Robert Smith. Census returns identify three children.
Thomas Irvin (1875-1952) – an automobile engineer (1911); emigrated to Australia in 1927.
Robert Ennis (1879-1952) – a secondary school teacher
Charles Henry (abt1886-1951) – an electrician
George died on 26 November 1912 at Castle Eden, Co Durham.
Circuits
1867 Baldock
1869 London III
1871 Bedford
1873 Luton
1875 London IV
1876 Saffron Walden
1879 Wellingborough
1882 Cambridge I
1884 Pocklington
1888 Sowerby Bridge
1891 Sheffield VI
1894 Hornsea
1896 Halifax II
1900 Keighley
1903 Glasgow
1905 Newcastle (S)
References
Primitive Methodist Magazine 1904/422; 1906/579; 1913/238
PM Minutes 1913/31
W Leary , Directory of Primitive Methodist Ministers and their Circuits , 1990
Census Returns and Births, Marriages & Deaths Registers
Carlin060173 Family Tree on Ancestry.com