Normandale, John William (1847-1931)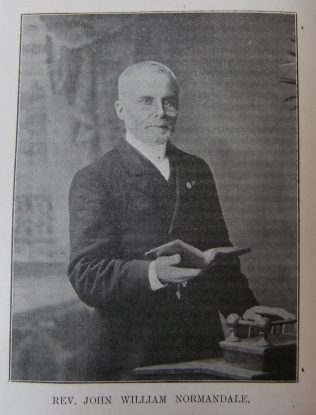 Early years
John was born on 6 April 1847 at Keighley, Yorkshire the eldest son of parents George Normandale and Mary Ann Oldroyd. George was a PM Minister. Mary Ann was brought up within the Society of Friends.
John was converted on 25 March 1858 and soon started to give public witness for Jesus. He was given a note to preach in September 1862, became an exhorter in April 1863 and was fully accredited in July 1864. John prepared for the ministry at Elmfield College in 1867 under the mentorship of John Petty.
Ministry
The 1906 biography in the Primitive Methodist Magazine describes him as a plodding, unpretentious minister; his real qualities were not on the surface. He had no ambition for official life, although he represented his district at Conference and was Secretary of the District Meeting for a while.
John's greatest success was at Minsterley where at one place 120 professed conversion and some 10-12 went on to became local preachers.
John was a lifelong teetotaller and champion of the Temperance Movement.
After superannuating, John moved to Liverpool. When his second wife died, his daughter Mary, who had spent many years in the United States, returned to look after him.
Family
John married Emma Rebekah Rous (1852-1880) on 14 August 1872 at Cambridge. Emma was the daughter of Rev Thomas W. Rous. Census returns identify four children.
Catherine Emma (b1873) – a nurse domestic in 1901
Mary Rebekah (1874-1958) – a nurse
John George (1875-1909) – a chemist's assistant (1901)
Thomas William (1877-1920) – an engine room artificer (1911)
John married Emma Rotherford (1848-1917) in the summer of 1880 at York. Census returns identify five children.
Margaret Rotherford (1882-1951) – married Joseph Walters, a PM Minister
John Rotherford (1884-1962) – a bank clerk (1911)
Alice Grace (1886-1939) – married Ernest John Fairbrass, a butcher
Alfred Tenant (1889-1932) – a bank clerk (1911)
Mark Harold (1892-1950) – a clerk (1911)
John died on 10 April 1931 at Liverpool, Lancashire.
Circuits
Attended Elmfield College
1868 Silchester
1869 Hastings
1870 Spalding & Holbeach
1871 Cambridge
1872 Wisbech
1874 Wangford
1876 Swaffham
1877 Thetford
1879 Fakenham
1881 E Dereham
1882 Maldon
1884 Tamworth
1886 Minsterley
1889 Llanymynech
1891 Stafford
1893 St Austell
1895 Hay
1897 Knighton
1899 Saffron Walden
1902 Berkhampstead
1904 Canterbury
1906 Ely
1909 Liverpool (S)
References
Primitive Methodist Magazine 1880/373 (Emma); 1906/339; 1917/876 (2nd wife); 1931/495
PM Minutes 1931/309
W Leary,Directory of Primitive Methodist Ministers and their Circuits , 1990
Census Returns and Births, Marriages & Deaths Registers