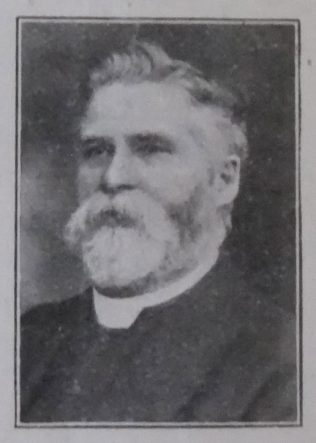 Early years
Levi was born on 1 September 1841 at Mere, Wiltshire.
The 1892 biography, in the Primitive Methodist Magazine, comments that when Levi grew up in the Wiltshire countryside; 'Lads were not house plants in those days'.
Levi was converted aged 13 and became known locally as the 'Boy preacher'.
Ministry
Levi superintended the erection of the Stroud Rd Chapel at Gloucester in 1901 at a cost of £2680.
The Temperance movement always found Levi to be an able and popular advocate.
His obituary records that Levi was blessed with a robust constitution, a commanding presence, fine voice, boundless energy and a wealth of conviction that made him a power in the political arena for many years; and his prowess as an educationalist was recognised by his appointment and service on the Leeds School Board.
In doctrine he was strictly evangelical and his preaching was marked by a rare simplicity, clearness of conception and expression, whole souled fervour, directness of personal appeal, and in indescribable 'wooing and beseeching' that often made his appeals irresistible.
Unfortunately a major operation shortly before his superannuation left Levi unable to preach during his short period of superannuation.
Family
Levi married Mary Bartley (b1837) on 27 September 1865 at Motcombe Primitive Methodist Chapel. Census returns identify five children.
Minnie Bartley (1866-1941) – married Henry Armstrong Lansley, a building merchant's manager (1911)
Cecil Walter (b1870) – a land agent (1905); unemployed in 1911
Walter Bartley (b1871) – a draper's assistant in 1891
James Reginald (1873-1947) – a photographic dealer (1911)
Stanley Percival (1880-1882)
Levi died on 11 June 1905 at Gloucester.
Circuits
1861 Banbury
1863 Leamington
1865 Banbury
1866 Brinkworth
1869 Hungerford
1872 Southampton
1875 Aylesbury
1878 Newbury
1880 Grimsby l
1882 Manchester lV
1884 Brinkworth
1888 Selby
1891 Leeds ll
1894 Dewsbury
1897 Salisbury
1900 Gloucester
References
Primitive Methodist Magazine 1892/129; 1906/992
PM Minutes 1905/24
H B Kendall, Origin and History of the PM Church, vol 2, p414
W Leary , Directory of Primitive Methodist Ministers and their Circuits , 1990
Census Returns and Births, Marriages & Deaths Registers