Newell, Thomas (1821-1906)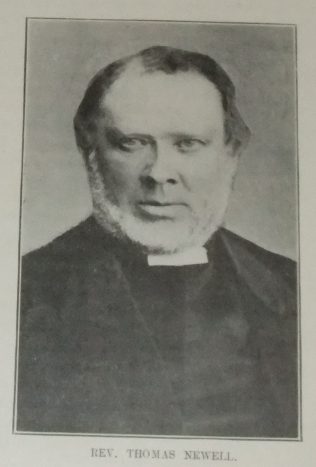 Early years
Thomas was born on 13 September 1821 at Woodfield Farm, Southall, nr Todmorden, to parents Edmund Newell and Mary Ratcliffe. He was baptised on 2 October 1821 at Christ Church, Todmorden. Edmund is recorded as a farmer in the parish record.
Thomas was sent to work as a child becoming a quarryman and builder's attendant. He attended a secular Sunday School and in his youth and early manhood attended night school.
On 25 October 1835, Thomas was persuaded by a Wesleyan local preacher to give himself to God. At about that time the Knowlwood circuit began to hold services in a cottage in Southall. Thomas and his mother attended. Later they went to Knowlwood chapel.
Thomas became a local preacher in 1838 and spent seven years on the plan before accepting an invitation to become itinerant.
Ministry
Thomas was President of Conference in 1879 and in 1887 started a period of 5 years as Connexional Editor.
Ritson records Thomas as one of the key orators in the PM movement. He writes: 'Thomas Newell, whose massive sermons delivered with great fervour and unction won for him a high reputation in Yorkshire and the North.'
His obituary records that Thomas was an effective speaker both on the platform and in the pulpit. But it was in the pulpit he was seen at his best. His preaching was intensely evangelical both in doctrine and in spirit. His sermons were carefully thought out, arranged and phrased, and were delivered with fervour and unction.
Family
Thomas married Jane Hollingdrake (b abt 1825) in the summer of 1849 at Bradford, Yorkshire. (She died before the 1861 census.) Census returns identify three children.
Mary Hannah (1850-1856)
Susan Elizabeth (1851-1914) – a housekeeper, and later a draper's assistant
Thomas Edward (1853-1886)
Thomas married Agnes Garrett (1846-1927) in the summer of 1886 at Keighley, Yorkshire.
Thomas died on 24 May 1906 at Silsden, Yorkshire.
Circuits
1845 Silsden
1847 Bradford
1849 Burnley
1850 Halifax
1852 Huddersfield
1855 Leeds ll
1857 Thirsk
1860 Leeds ll
1863 York
1868 Leeds lll
1872 Burnley
1876 Keighley l
1881 Silsden
1886 Hull ll
1887 Editor
1892 Burnley ll
1895 Silsden (Sup)
References
Primitive Methodist Magazine 1873 (portrait); 1879 (portrait); 1907/649; 1919 (portrait)
PM Minutes 1906/22
H B Kendall, Origin and History of the PM Church, vol 2, p367, p392
B A Barber, A Methodist Pageant, 1932, p160
Joseph Ritson, The Romance of Primitive Methodism , 1909, p273
W Leary,Directory of Primitive Methodist Ministers and their Circuits , 1990
Census Returns and Births, Marriages & Deaths Registers
Downloads
Transcription of an Appreciation published in the Primitive Methodist Magazine 1907.