Odell, Joseph (1846-1923)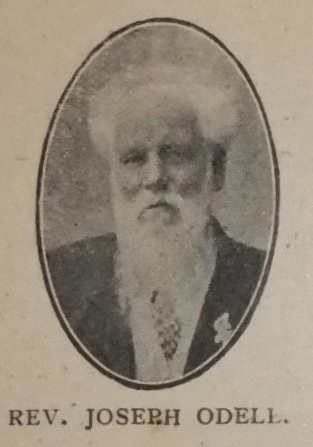 Early years
Joseph was born in 1846 at Dunstable, Bedfordshire to parents William Odell and Marie Facer. The family worked in the hat trade.
Ministry
Joseph was zealous evangelist throughout his ministry. After appointments in London, he went to Gravesend which consisted of only the Church in the town and two cottage services outside.  He soon had two colleagues, and he left the station after five years with a further two suburban causes in rented chapels, the important town of Dartford missioned and a church erected, Northfleet missioned and a church erected, and membership more than doubled. He had also missioned Romford, an Essex town some fourteen miles distant.
Joseph was very proactive in the Temperance Movement working through the courts to prevent the granting or renewal of licences. In Brooklyn, four drinking saloons near his church were closed down and he was well known in Birmingham for attending licensing sessions.
Joseph was President of Conference in 1900.
Joseph was a great personality. His ministry was one of great power and rich in spiritual fruitage. He was not only a great evangelist, but he sought to make evangelists. The Evangelists Home was established in faith, and Joseph raised the means for its support.
Family
Joseph married Henrietta Maria Baker (1843-1917) in the spring of 1870 at Dunstable, Bedfordshire. Census returns identify seven children.
Joseph Henry (1871-1929) – a PM Minister; emigrated to USA in 1892
James Garner (1873-1912) – a manufacturer; died in Gold Coast, Africa
Owen Davies (1876- 1938) – emigrated to USA; a Presbyterian clergyman
Oswald Facer (1878-1937) – a chartered accountant, awarded OBE
William Ward (1881-1917) – district manager, International Correspondence Schools Ltd (1911); died in Belgium in WW1
Millicent G (b abt1882)
Edwin Freame (1883-1960) – secretary at rolling mill (1911)
Joseph married Bertha Arrowsmith (1861-1927) in early 1918 at Wigton, Cumberland. Bertha was a widow.
Joseph died on 15 May 1923 at South Yardley, Birmingham.
Circuits
1866 Abergavenny
1867 Hammersmith
1869 London I
1871 London IV
1872 Gravesend
1876 Brooklyn, USA
1880 Leicester II
1885 Birmingham
1890 Special Evangelist
1891 Birmingham IV
1905 Redhill
1912 Redhill (SUP)
References
Primitive Methodist Magazine 1901/852; 1923/656
PM Minutes 1923/273
J Petty, The History of the Primitive Methodist Connexion, 1880, p618
H B Kendall, Origin and History of the PM Church, vol 2,483
B A Barber, A Methodist Pageant, 1932, p168
W Leary , Directory of Primitive Methodist Ministers and their Circuits , 1990
Census Returns and Births, Marriages & Deaths Registers
Clemens Chandler family Tree on Ancestry.com