Porteous, Mary (nee Thompson) 1783-1861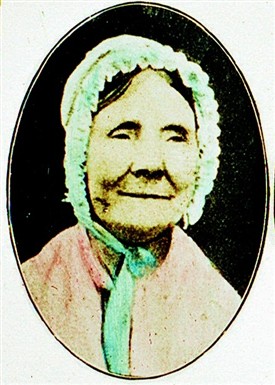 Early years
Mary was born in Newcastle upon Tyne in 1783, the youngest child of John Thompson, a joiner and cabinet maker. Her father died when she was young and she had a difficult upbringing in poverty with her mother. She left school aged 7, her remaining education coming through a Presbyterian Sunday School.
Growth in faith
She married on 8 March 1803 to Thomas Porteous (1769-1843), a seaman. On moving to Ballast Hills in Newcastle, she somewhat reluctantly became involved with the Wesleyan Methodists.
However in 1803, the Wesleyan Conference had passed a resolution that in general women should not preach. Mary Porteous was one of several women who moved to the Primitives to get around this restriction. Her recorded prayer on receiving a call to the ministry illustrates her attitude to life:
Let not man have his way in this matter;
let not me have mine;
let not Satan have his;
but let Thy will be done in me and by me in all things.
Mary felt her call to preach in 1820. The following year, she heard Mr J Branfoot a Primitive Methodist Missionary when he preached at Sandgate in November. She continued for some time with the Wesleyans, but frustrated by not being able to fulfil her calling she joined the Primitives after she heard that John Lightfoot, who had been lodging with her, had become a travelling preacher. She preached her first sermon at Wrekenton. During this period of her life, she had been running a small school.
Travelling Preacher
Before she became a travelling preacher, she first ensured that her children were suitably settled, married, apprenticed or otherwise cared for. In 1826, with her husband's blessing she began work in the Whitby Circuit, whilst he remained at Gateshead. Whilst at Whitby she found herself non-compliant with a resolution at the 1827 Conference that prohibited women preachers from travelling in a circuit where their husband did not reside. The General Committee allowed Mary to be an exception to that rule.
Kendall compares her to her colleagues in the Ripon Circuit in 1828-30; 'She did not come behind any of them in piety and zeal, and she excelled most of them in preaching power'.
Retirement
Mary had a fragile disposition and it is surprising that she managed the hard life of an itinerant preacher for over 14 years. In 1840 her health required her to retire, although she continued as a local preacher. During her final years, Mary spent most of her time living with her daughter Isabella and her husband at St Giles, Durham where she died on 18 April 1861.
Circuits
1826 Whitby
1828 Ripon
1830 Carlisle
1833 Hexham
1836 N Shields
1839 Curham
1840 retired ill
Children
James (1803-1874)
Mary (1805-1818)
Ann (1809-1872)
Thomas (1812-1844)
Isabella (1816-1867)
References
B A Barber, A Methodist Pageant, 1932, p108
H B Kendall, Origin and History of the PM Church, vol 2, p81
Primitive Methodist Magazine 1861/520
John Lightfoot, The power of faith and prayer exemplified in the life and labours of Mrs. Mary Porteus , 1862
W Leary, Directory of Primitive Methodist Ministers and their Circuits , 1990
England Census 1841, 1851, 1861 and Birth, Marriage and Death Indexes