Preston, Joseph (1803-1896)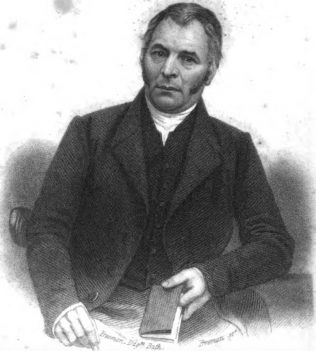 Ministry
A transcription of an 'obituary' published in the Primitive Methodist Magazine by Albert A. Birchenough is attached. It provides an extensive review of Joseph's life and ministry. By way of example the following covers some of his early pioneer wotrk in the Connexion.
"During the thirty-one years of his active ministry he reported an aggregate increase of 1,585 members. He erected many chapels, and introduced Primitive Methodism into a large number of cities, towns, and villages. As the successful commercial man concentrates his thought upon his business, so Joseph Preston during his active ministry paid constant attention to circuit incidentals and details, consequently he was favoured with great spiritual and numerical prosperity. The following are samples of his earnest toil and success: During the two years he was in Cwm Circuit he successfully missioned Bromyard and neighbourhood. He called out an additional minister, reported an increase of 259 members, and left over £33 in hand. During his term at Witney he missioned Oxford, Banbury, and the adjacent villages. Before he left Witney he had the joy of seeing Banbury made into a branch with 165 members. He called an extra minister into circuit work, and also made the circuit independent of the grant it had been receiving from the Charitable Fund.
His four years' superintendency at Brinkworth was attended with considerable spiritual success. A great revival took place, and hundreds of people were converted. He says: "During our term at Brinkworth we missioned Tetbury and several places round it, also Cirencester and several places adjoining it; took up Worcester and Cheltenham from other circuits, and three places from Witney, and made the whole into two branches and two missions with 441 members. We built four good chapels and bought a chapel at Cheltenham, added a good gallery to the Brinkworth Chapel, and built a minister's house at Cheltenham. We paid off various circuit debts amounting to £40, spent about £116 in mission work, and lowered chapel debts about 200. We increased the ministerial staff from three to ten, and had an increase of 638 members exclusive of those received from other stations, and left a Circuit Fund balance of £21 in the hands of the stewards." These journal references to his aggressive successes are written in a devoutly. thankful, and not in a boastful spirit."
Also attached are extracts from his journal published in the 1835 Magazine covering activities in 1834 in the Witney Circuit.
Due to a throat affliction brought on' by his excessive open-air work: and his laborious ministry, he was reluctantly compelled to superannuate at the Conference of 1855.
Family
Joseph was born on 28 January 1803 at Bronington, Flintshire, to parents George and Sarah. He was baptised on 20 February 1803.
He married Elizabeth Owen (1805-1864) in June 1830 at Leinthall Starkes, Herefordshire. Census returns identify four of five children, all of whom predeceased Joseph.
Lemuel (1834-1850)
Huldah Ann (1836-1864) – married Charles Mitchell, a sadler and harness maker (1861), in 1858
Irban Owen (1838-1876) – a commercial traveller (1865); died in Victoria, Australia
Marcus Ira (1841-1870) – a grocer's shopman (1861)
Joseph died on 9 November 1896 at Madeley, Shropshire.
Circuits
1825 Burland (6 mths)
1825 Chester (6 mths)
1826 Burland (6 mths)
1826 Preston Brook (6 mths)
1827 Oakengates
1828 Hopton bank
1830 Cwm
1832 Salisbury
1834 Witney
1837 Brinkworth
1842 Redruth
1845 Pontypool
1849 Frome
1852 Bristol
1855 Bristol (Sup)
1856 Leominster
1868 Dawley
1881 Madeley
References
Primitive Methodist Magazine 1835/146; 1848/193; 1897/284
PM Minutes 1897/31
J Petty, The History of the Primitive Methodist Connexion, 1880, p319, 438
H B Kendall, Origin and History of the PM Church, vol 1, p473, 557
W Leary, Directory of Primitive Methodist Ministers and their Circuits, 1990
Census Returns and Births, Marriages & Deaths Registers