Price, William Jones (1860-1952)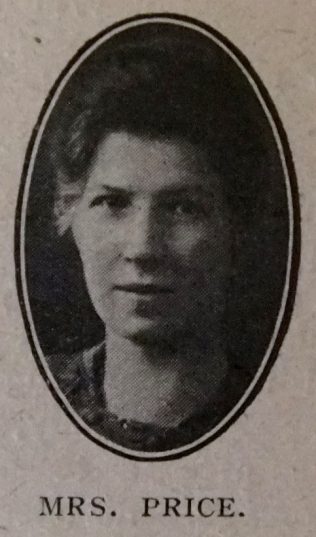 Early years
William was born in 1860 at Llansaintfraid, Radnorshire.
Although his parents were Baptists, it was convenient for William to attend the PM Sunday School. He joined the PM Church when thirteen years old and soon became a Sunday School teacher. At seventeen he became a local preacher.
Ministry
His obituary records that, during forty years of active ministry, he served quietly and faithfully in eleven circuits. More than half his ministry was spent in two circuits, Kilburn and New Wandsworth.
After superannuation, William maintained a deep interest in the work of the Church and Kingdom. It was his disciplined habit to greet each new day cheerfully, and to find it full of interest.
Family
William married Emma Elizabeth Pike (1868-1941) in the summer of 1889 in the Biggleswade Registration District. Census returns identify six children.
William George (1891-1896)
Edwin Jones (b1893) – a civil servant in Nigeria
May (b1894)
Ewart Gladstone (1897-1961)) – a bank manager (1952)
Phyllis (b1898)
Arthur Llewellyn (1901-1902)
William died on 11 June 1952 at Amersham, Buckinghamshire.
Circuits
1885 Baldock
1886 Whickhambrook
1888 Woburn Sands
1889 Kilburn
1891 Plymouth
1892 West Bromwich
1894 Brierley Hill
1895 West Ham
1899 Bedford I
1900 Stratford
1904 Berkhampstead
1906 N Wandsworth
1911 Kilburn
1919 N Wandsworth
1926 Willesden (S)
References
Primitive Methodist Magazine 1917/486
Methodist Minutes 1952/155
W Leary, Directory of Primitive Methodist Ministers and their Circuits, 1990
Census Returns and Births, Marriages & Deaths Registers