Reavley, Alfred Edward (1874-1957)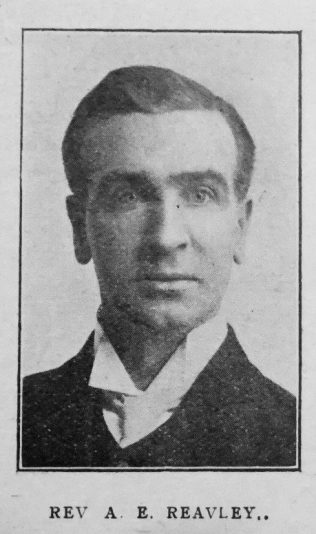 Transcription of Sketch in the Christian Messenger by J.G. Bowran
The Rev. Alfred E. Reavley.
We have known Mr. Reavley for many years. His father, the late Alderman Robert Reavley, J.P., was one of the civic and religious leaders of Jarrow-on-Tyne. Alfred, his second son, was born in 1874. He was educated at Westoe High School, and apprenticed as a naval architect. There is no doubt in this profession he would have come to distinction. He is an Honours Medalist for ship designing in an All-England Competition. We have seen this medal and can well understand Mr. Reavley's satisfaction in its possession.
Methodist Atmosphere!
Our friend was reared in a fervent and virile Methodist atmosphere. In his youthful years he was greatly influenced by the Rev. John Day Thompson. His mind was turned toward the ministry by the Rev. Emerson Phillipson, and Dr. Guttery. He was a student at Hartley College under the Rev. George Parkin's  Principalship, and after two years began the work of the ministry.
His Stations!
He has been greatly fortunate in his spheres and everywhere he has done well. The whole of his probation was spent at Cardiff (Mount Tabor) During his two years' ministry in the Doncaster I Circuit there was a gracious revival which resulted in scores of conversions. Often it was almost impossible to accommodate the crowds which gathered. For three years he served in the Oldham ll station. His first Superintendency was at Todmordon, where he spent four years. Six years were then given to the Manchester VIII circuit, where it is said he had the finest week-night service in the district. He is now the Superintendent at Cradley Heath. We were privileged quite recently to visit this Church. A most beautiful Church it is, free from debt and with a loyal and generous people. The chapel was filled at the evening service. Well attentive to every aspect of a Primitive Methodist minister's life, his real interest is in preaching the Gospel. He is full of vitality and eagerness. In all this he is ably seconded by his devoted and talented wife, who was the youngest daughter of the late Alderman Joseph Ramsdale, J.P., of Cardiff. Mr. Reavley is one of a group of men of similar age who are projecting their influence increasingly into the life of the Church. There will never be a dearth of leaders. There are men who have understanding of the times, who believe whole heartedly in the Christian Gospel and in the mission of Methodism in spreading holiness in the land.
Obituary
ALFRED EDWARD REAVLEY: born at Jarrow-on-Tyne in 1874. He received his education at Westoe High School, South Shields, and was trained as a naval architect. But the Christian ministry called louder than the navy and in 1897 he entered Hartley College. During an active and cultured ministry he served in Cardiff, Doncaster, Oldham, Knowlwood, Manchester, Cradley Heath, Bristol, Bournemouth, Scarborough, Harringay, and Edmonton. He brought to the Christian ministry great gifts of mind and heart, and excelled as a preacher. In presence he was dignified and in disposition always brotherly. Ever a diligent student, he revelled in the realms of philosophy, theology, and general literature. His sermons were always the outcome of painstaking work and were delivered with grace and charm. He retired from active work in 1941 and at first settled down amid the scenes of former labours in Bournemouth. For some years after his retirement, especially during the second World War, he was a welcome visitor in the pulpits of all denominations in Bournemouth. Finally he removed to Colehill in the Wimborne circuit. The end came on 23rd October 1957 after some months of weakness, in the eighty-fourth year of his age and the fifty-ninth of his ministry.
Family
Alfred was born in 1874 at Jarrow, Co. Durham, to parents Robert and Mary Ann.  Robert was a botanic beer manufacturer.
Alfred married Florence Heywood Ramsdale (1878-1973) in the summer of 1903 at Cardiff, Glamorgan. Census returns identify one child.
Alfred died on 23 October 1957 at Colehill, Dorset.
Circuits
Hartley
1899 Cardiff II
1903 Doncaster I
1905 Oldham II
1908 Knowlwood
1912 Manchester VIII
1918 Cradley Heath
1922 Bristol III
1927 Bournemouth II
1933 Bournemouth Winton
1934 Scarborough Jubilee
1935 Harringay &c
1938 Tottenham &c
1941 Bournemouth (S)
References
Christian Messenger 1920/65
Methodist Minutes 1958/175
W Leary, Directory of Primitive Methodist Ministers and their Circuits, 1990
Census Returns and Births, Marriages & Deaths Registers