Rawlings, Edmund (1817-1894)
Copy provided by Steven Carter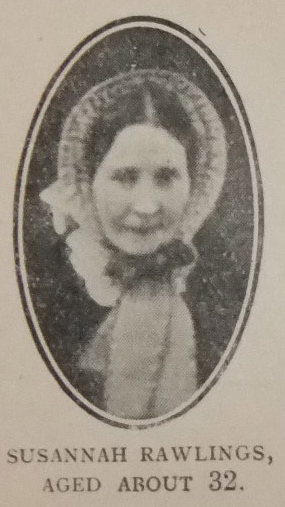 Edmund was born on 23 September 1817 in Calne, Wiltshire to parents Samuel Rawlings (b1794) and Rachael Burgess (b1796). He was baptised on 12 October 1817.
Edmund married Susannah Cock (1817-1869) in 1849. They had one child.
Following the death of Susannah, Edmund remarried in 1876 to Ann Pettitt (born abt 1810)
Edmund died on 12 September 1894 in Hammersmith.
Circuits
1835 Brinkworth
1837 Motocombe
1839 Frome
1840 Market Lavington
1842 Frome
1843 Glastonbury
1844 Frome
1845 Pillowell
1846 Maidenhead
1850 Highworth
1852 Andover
1854 Wallingford
1856 Basingstoke
1859 Poole
1862 Salisbury
1864 Whitney
1866 Wallingford
1870 Winchester
1873 Faringdon
1876 London l (S)
1878 London Vll
1883 Hammersmith
References
Primitive Methodist Magazine 1861/449
Primitive Methodist Magazine – Portrait & Reference 1903/565; 1912/184
H B Kendall, Origin and History of the PM Church, vol 2, p349
W Leary, Directory of Primitive Methodist Ministers and their Circuits , 1990
PM Minutes 1895/13
Census Returns and Births, Marriages & Deaths Registers