Rudram, George (1841-1923)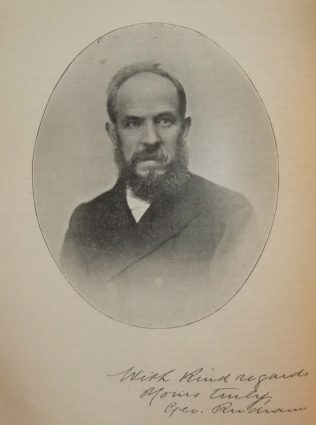 Early years
George was born in 1841 at Great Yarmouth, Norfolk to parents Stephen Rudram and Ann Rogers. Stephen was a carpenter and joiner. He was also a Primitive Methodist local preacher having previously been a Wesleyan. Ann was one of the earliest Primitive Methodist converts in Yarmouth.
George worked as a printer before becoming a minister.
George was converted after attending a mission service conducted by William Booth (later General Booth of the Salvation Army). He began preaching at the age of 17.
Ministry
As a preacher he never aimed to be brilliant, but in his public utterances he was instructive, pathetic, and persuasive. The study of theology was a charm for him and he was deeply fond of various branches of literature.
Family
George married Susannah Walker (1844-1918) in the summer of 1866 at Great Yarmouth, Norfolk. Susannah was the daughter of Rev James Walker. Census returns identify three of their five children.
Georgianna Elizabeth (1867-1942) – married Herbert Wilson Jeary, a butcher and circuit steward
Ernest Luther (1870-1914) – a headteacher (1911)
George Ebenezer (1872-1947) – a PM Minister
George died on 29 July 1923 at Martham, Norfolk.
Circuits
1862 Briston
1863 Thetford
1865 Aylsham
1867 Yarmouth
1869 Wangford
1872 Rockland
1875 Lynn
1878 Aylsham
1879 Wisbech
1883 Watton
1886 Martham
1891 Wymondham
1894 Burton on Trent
1897 Stratford
1900 Gospel Oak
1903 Yarmouth (S)
References
Primitive Methodist Magazine 1897/483; 1924/68
PM Minutes 1924/277
W Leary, Directory of Primitive Methodist Ministers and their Circuits , 1990
Census Returns and Births, Marriages & Deaths Registers