Ritson, Joseph (1852-1932)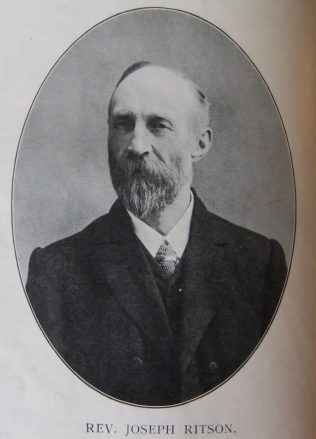 Early years
Joseph was born in 1852 at Allenheads, Northumberland, to parents Joseph Ritson and Jane Clemitson. Joseph, senior, worked as a builder and joiner.
Joseph was educated at Elmfield College. He was made a local preacher at sixteen when he returned home from College. In 1874 Joseph had to choose the direction of his life's work. He was at the time a master in the Woodhouse Grove, Wesleyan School for ministers' sons. He had previously been a teacher in Elmfield College. He was placed in the unique position of being simultaneously being called into the ministry of both Wesleyan and Primitive Methodist Connexions. He chose the church of his youth.
Ministry
During his second term at Motherwell, in addition to the stress of a remarkable revival, Joseph was plunged into conflict with publicans and Protectionists. The newspapers of the time testify to his triumph.
Joseph became Connexional Editor in 1906 and was President of Conference in 1913.
His obituary records that Joseph was an outstanding preacher to the end. With a remarkably rich voice he could be clearly heard in the largest assemblies; his expositions were always arresting and modern in outlook, richly illuminated with literary and scientific allusions, and carrying conviction. As a pastor he was most diligent, faithful and comforting. For literary expression, he had a passion, and over a long period, the denominational periodicals rarely appeared without some contribution from his pen on a wide range of topics. One of the final articles, in the 1932 Magazine, was devoted to his rock garden.
It was in the Scotland district that he was best known and most warmly esteemed. In his prime, he was the chief ministerial figure in Scottish Primitive Methodism and he helped to shape the District into something like order in the early days.
Joseph took an active part in the last Primitive Methodist Conference of 1932 and had hoped to give his vote for Union at the Uniting Conference, but he died suddenly on 13 August.
Literature
Joseph authored the following.
Lost and won: a story of two conflicts , 1891
The Romance of Primitive Methodism, 1909 – Hartley Lecture
The romance of nonconformity , 1910
Life: the most wonderful thing in the world: semons and addresses of a presidential year
The romance of modern missions
Robert Key, or, the gospel among the masses
Nature pioneers of the insect world: suggestions for addresses to children and young people
Wallace Gray: a child of the hills
Johnnie's goats; or, filial affection rewarded: a story for boys and girls
Pansy: or, a little child shall lead them: a tale of the Cumbraes
Cabango: the rescued slave: a tale of the sea
The boy knight; or, kindness rewarded
The centenary of Glasgow Primitive Methodism, 1826-1926
Family
Joseph married Sarah Ann Longstaff (1858-1928) in the summer of 1879 at Sunderland, Co Durham. Census returns identify three children.
Harold (1880-1955) – a commercial traveller (1901); later a fruit and flower merchant; emigrated to Australia in 1951
Arthur (1882-1959) – a cashier
Edgar (1884-1941) – a tailor; emigrated to Australia in 1908
Joseph died on 13 August 1932 at Milngavie, Scotland
Circuits
1874 Blyth
1878 Crook
1882 Bishop Auckland
1886 Motherwell
1891 Aintree
1898 Paisley
1901 Motherwell
1906 Editor
1911 Luton
1914 Motherwell
1918 Glasgow (Sup)
References
Primitive Methodist Magazine 1910/759; 1914/2; 1916/665; 1929/119 (Sarah Ann); 1932/96
PM Minutes 1933/239
R Newman Wycherley, The Pageantry of Methodist Union, 1932, p174
W Leary, Directory of Primitive Methodist Ministers and their Circuits, 1990
Census Returns and Births, Marriages & Deaths Registers