Roberts, Thomas (1815-1885)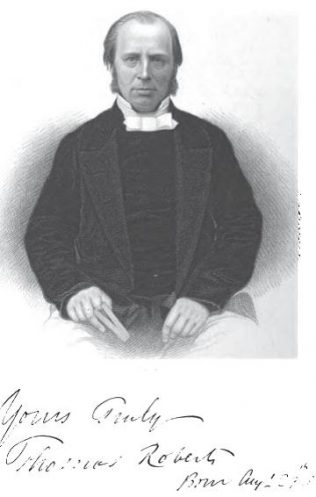 Copy provided by Steven Carter
Early Years
Thomas was born on 29 August 1815 at Sandhills, Nottingham. He was brought up in church and Sunday School. As a youth he strayed from the church and was greatly addicted to pugilism, breaking an arm in one fight. However by the age of 18 he had reformed and had become a local preacher.
Ministry
Thomas was about twenty when he started to travel. His first appointment was assisting Abraham Worsnop in and around Grantham.
His obituary records:' His preaching was not eloquent, philosophical, learned or oratorical, but was plain, sound, experimental and practical.'
Family
He married Jane Jones (1820-1907) on 19 Apr1841 at Buxton. They had no children.
Thomas died on 19 May 1885 in Leicester.
Circuits
1835 Chesterfield
1836 Retford
1838 Burton on Trent
1839 Ashby de la Zouch
1840 Winster
1841 Belper
1842 Bridgeford
1843 Nottingham
1844 Ilkeston
1846 Sleaford
1848 Leicester
1850 Ashby de la Zouch
1853 Melton Mowbray
1856 Hinckley
1858 Belper
1861 Mansfield
1864 Leicester l
1867 Ashby de la Zouch
1871 Lincoln
1875 Leicester lll (S)
References
Primitive Methodist Magazine 1861; 1885/689; 1907/827 (Jane)
PM Minutes 1885/14
W Leary, Directory of Primitive Methodist Ministers and their Circuits, 1990
Census Returns and Births, Marriages & Deaths Registers