Rose, William Charles (1865-1950)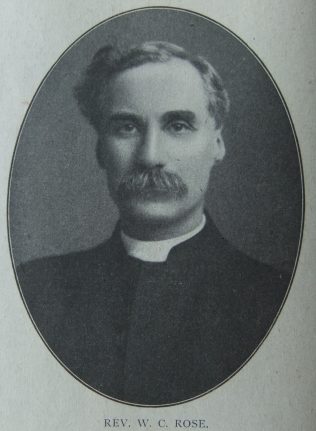 Early years
William was born on 4 January 1865 at Wimborne, Dorset. His father died when William was aged two. His mother was Helen, a boot and shoe dealer.
William was educated at Wimborne Grammar School.
William was converted at sixteen in the Wesleyan Church and almost immediately placed on the plan. He preached in huts, homes and the open-air services to navvies with striking success. William was received by Rev Thomas Champness, a well-known evangelist, into the Joyful News Home, and was then sent to take charge of a derelict cause at Camden Town. Later he went to Roker Lane Church, Pudsey. Transferring to the Primitive Methodist Church, William became West Midlands District evangelist for almost twelve months be fore becoming a candidate for the PM Ministry.
Ministry
William served with ability and acceptance in town and country alike, his ministry being exercised in a wide range of circuits. Preaching with power, he was a faithful and beloved pastor. He took a keen delight in Nature.
Whilst at Motherwell, William was forced to give up active work through a breakdown in health, and retired to Worcestershire, where, as long as he could, he helped the cause he loved so well.
Family
William married Florence Munslow (1874-1949) in the summer of 1895 at Redditch, Worcestershire. Census returns identify one adopted daughter.
Florence Greenaway Rose Barrett (1909-1994) – married George Frederick Hunt in 1935
William died on 6 August 1950 at St Neots, Huntingdonshire.
Circuits
1891 Leominster
1893 Redditch
1895 W Bromwich
1900 Kings Cross
1902 Dartford
1903 Leigh
1906 Bristol VI
1909 Hull II
1912 Brighton
1915 Bradford VI
1918 W Bromwich II
1921 Brough
1922 Motherwell
1925 Worcester (S)
References
Primitive Methodist Magazine 1921/339
Methodist Minutes 1951/120
W Leary, Directory of Primitive Methodist Ministers and their Circuits, 1990
Census Returns and Births, Marriages & Deaths Registers
Downloads
Transcription of obituary published in the Minutes of Conference.