Raistrick, William (1854-1925)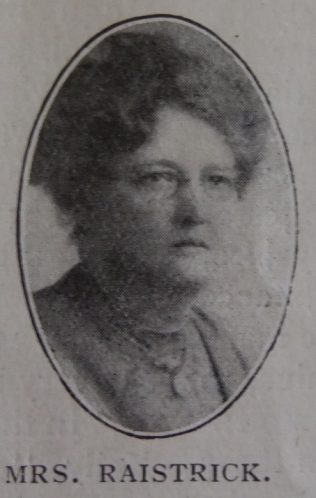 Early years
William was born in 1854 at Loftus, Yorkshire, in a house next door to the old Primitive Methodist Chapel.
At the age of sixteen, William became a Sunday School teacher, and shortly afterwards, school secretary. He became a member of the Church at the age of seventeen. The delivery of an address to the Sunday School led to recognition of his gifts; and the Quarterly Meeting, without consulting the youth, authorised him to accompany Mr James Dack on his preaching appointments. William entered the Sunderland Institute to prepare for ministry in 1877.
Ministry
When William went to Reading in 1908, the circuit was confronting a very grave situation, but through courage, tact, and splendid patience, he consolidated the circuit and set if firmly on its feet. When he superannuated, William returned to live in Reading among the friends he had made.
His obituary records that his sermons, while rich in creative thought, were practical for the highest ends, for he never forgot that the chief end of all effective preaching was the bringing of man and God together in spiritual union and fellowship.
Family
William married Margaret Ann Ramsey (1860-1933) in the summer of 1882 in the Auckland Registration District. Census returns identify six of seven children.
William Ramsey (1883-1957) – a bank clerk (1911)
Blanche Eva (1885-1959) – a teacher (1911)
Beatrice Annie (abt1886-1891)
Arthur Thomas (abt1888-1942) – a Chemist's assistant (1911)
Margaret Elsie J (1889-1974)
Mabel Annie (b1891) – married Arthur W Smith in 1918
William died on 8 February 1925 at Reading, Berkshire.
Circuits
Sunderland
1878 Margate
1880 Redhill
1882 Market Rasen
1883 Driffield
1886 Thornley
1889 Barnard castle
1893 Shotley Bridge
1898 N Shields
1901 Louth
1905 Driffield
1908 Reading
1912 Carlisle
1915 Redruth
1919 Gloucester
1922 Reading (S)
References
Primitive Methodist Magazine 1914/674
PM Minutes 1925/267
W Leary, Directory of Primitive Methodist Ministers and their Circuits, 1990
Census Returns and Births, Marriages & Deaths Registers