Smith, William FRAS (1844-1927)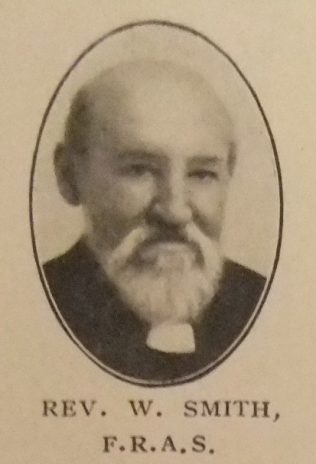 Early years
William was born on 6 October 1844 at Warrington, Lancashire, the eldest son of William and Elizabeth. When William was four, the family moved to St Helens and joined the PM Society there. William, senior, worked as a boilermaker.
William was converted under the ministry of Rev. John Mould. He became a local preacher when aged eighteen. William finally yielded to a call to ministry in the September 1867 Quarterly Meeting. Having passed several examinations he was sent to Blackburn and was pledged by that circuit.
Ministry
William continued to study when he joined the ministry. He gave much attention to Greek and Latin, natural and physical science, and systematic and comparative theology. Astronomy was his favourite subject, on which he wrote and lectured for many years. He was elected a fellow of the Royal Astronomical Society in January 1880.
William was a member of the Candidates and Probationers' Examining Committees and was Secretary of the Equalisation Fund.
William's obituary records that as a preacher of the Word, his attainments were above the average, and his sermons gave proof of careful and painstaking preparation. In all business matters, he was orderly and punctual, giving close attention to the details of circuit work.
Family
William married Mary Rowe (b1848) in the summer of 1872 at Oldham, Lancashire. Mary was the daughter of Rev William Rowe. Census returns identify four children.
Elizabeth Ada (1876-1897)
William Rowe (b1877) – a traveller in musical instruments (1911)
George Percy Rowe (b1881) – a soldier (1901)
Henry Pimlott Mather (1882-1977) – an Anglican clergyman
William died on 3 March 1927 at Hove, Sussex.
Circuits
1868 Chester
1869 Bolton
1871 Manchester II
1872 Knowlwood
1874 Castletown
1876 Bradwell
1879 Chorley
1884 Boston
1886 Haslingden
1889 Wrexham
1894 York II
1895 Blackheath
1899 Hastings
1901 Halstead
1902 Bromyard
1904 Church Stretton
1905 Donington
1908 Old Leake
1910 Old Leake (Sup)
References
Primitive Methodist Magazine 1906/87; 1927/587
PM Minutes 1927/271
W Leary, Directory of Primitive Methodist Ministers and their Circuits, 1990
Census Returns and Births, Marriages & Deaths Registers