Softley, William George (1870-1949)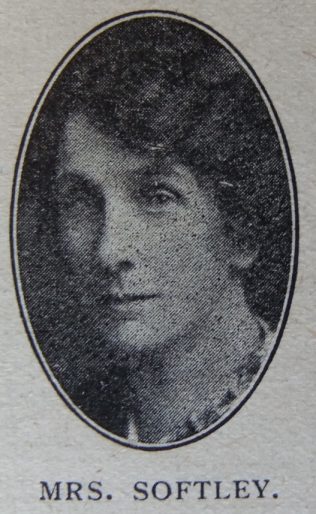 Early years
William was born in 1870 at East Walton, Norfolk, to parents William and Mary Ann. William, senior, worked the land and was a PM local preacher.
When a child, the family moved into the Docking circuit. William started work at nine years of age on a farm. He gave himself to Christ at the age of fifteen. He served in the Sunday school as teacher and secretary, and at nineteen commenced to preach, going 'on note' with his father. At twenty-one, William became a hired local preacher at Manea and afterwards served several other stations. He entered Hartley College in 1897.
Ministry
During the second year of his probation at Wrockwardinewood, the circuit was divided and William remained as superintendent of the new circuit, Newport, till the end of his probation.
Whilst at Fakenham, William rendered service as officiating chaplain to an adjoining RAF Camp. Later he spent eight years in the Newmarket circuit, where he did much to revive a number of village causes.
Fond of music, William formed many music classes in many of his circuits, to the improvement of village choirs.
His obituary records that William was a good mixer, which made him welcome in the homes of his people. The bent of his mind was towards the practical rather than the speculative. He sought accuracy and abhorred over-statement. His disposition was calm, equable and tolerant. As a Circuit Superintendent he was prudent and firm.
Family
William married Fanny Sowerby (1869-1950) on 21 June 1904 at the PM Chapel, Belle Vue, Sandal Magna, Yorkshire. Fanny was a sister of Rev Thomas Sowerby, who officiated at the wedding. Census returns identify one child.
Clifford Reginald (1905-1982) – a bank clerk (1927)
William died on 5 May 1949 at Swainsthorpe, Norfolk.
Circuits
Hartley
1899 Wrockwardinewood
1903 Hasbury
1905 Spalding
1910 Manea
1912 Leeds X
1916 Fakenham
1919 Peterborough I
1922 Newark
1925 Newmarket
1933 Kingstone
1935 Weardale
References
Primitive Methodist Magazine 1927/410
Methodist Minutes 1949/144
W Leary, Directory of Primitive Methodist Ministers and their Circuits, 1990
Census Returns and Births, Marriages & Deaths Registers