Spedding, William (1860-1921)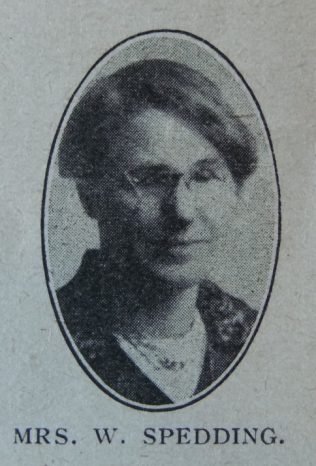 Early years
William was born in 1861 at Leyburn, Yorkshire to parents Robert and Ann. The 1871 census identifies Robert as an insurance agent.
At the age of nine William was working fourteen hours a day selling newspapers on the steps of Middlesbrough Town Hall. At eleven he was placed in the parcels office at Middlesbrough station. William lost his mother when he was little more than a child and his father when he was thirteen. He was the eldest of four children.
William became associated with the PM Church and Sunday school at Middlesbrough when still quite young. Whilst striving after spiritual instruction and development, he also sought to inform his mind. He read many books, studied early and late and even attended a Greek class before going to work in the morning.
William was a local preacher at seventeen. In 1883 he was called into the ministry. Kind friends paid his fees and generously helped him through his term at Hartley College.
Ministry
Among his chief interests, William was concerned for the welfare of the young. He became a prominent member of the National Christian Endeavour organisation. He served as General Sunday School Secretary for five years from 1912. On completion of his term, illness forced superannuation.
His obituary records that as a preacher he was able. Being blessed with a free, mellifluous flow of language he gave attention to being thoughtful in his utterances; and also, having a considerable power of originality, he was arresting and interesting as a speaker, and indeed powerful.
Writing in 1932, Rev J G Bowran comments on how the war affected William. He could not bear to think of the slaughter of the young of all nations. The very sight of soldiers distressed him. He hated militarism because to him it was darkness, and only in the light could he breathe.
Literature
William authored the following.
The Genius and the Genesis of Christian Endeavour, 1904
Family
William married Mary Jane Kewley (1863-1926) on 17 July1889 at Douglas, Isle of Man. Census returns identify three of four children.
Robert Kewley (1890-1961) – a bank clerk (1911); a PM Minister & WW1 Chaplain; resigned in 1937 to become a Unitarian Minister
Sydney Joseph (1895-1976)
Douglas William (1900-1947) – a PM Minister
William died on 12 May 1921 at Blackburn, Lancashire.
Circuits
Hartley
1884 Douglas II
1886 Winsford
1889 Blackburn II
1892 Maryport
1895 Chester II
1898 Blackburn II
1903 Ellesmere Port
1906 Birkenhead
1912 Leeds SS Sec
1917 Harrogate (S)
References
Primitive Methodist Magazine 1917/560; 1922/213; 1924/756; 1927/72 (Mary Jane); 1932/602
PM Minutes 1921/279
R Newman Wycherley, The Pageantry of Methodist Union, 1932, p177
W Leary, Directory of Primitive Methodist Ministers and their Circuits, 1990
Census Returns and Births, Marriages & Deaths Registers
http://www.unitarianhistory.org.uk/ministerobit4.html