Suttle, William (1851-1904)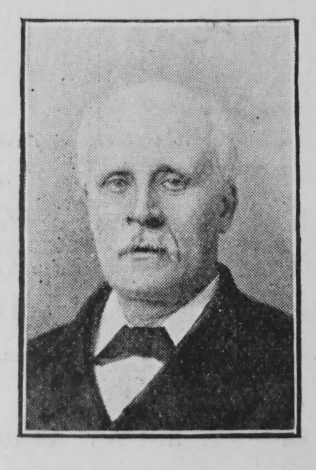 Transcription of Obituary published in the Primitive Methodist Magazine
Our Church suffered a great loss in the death of Rev. William Suttle at the premature age of fifty-three. He belonged to a class of men whom any church can ill-spare because of their simple faith, unswerving loyalty, singleness of purpose, intense devotion and diligence in promoting the interests and work of God.
Those who were privileged to enjoy his friendship know how intensely real and transparent William Suttle was. He retained the excellencies of youth without its weaknesses, and at the same time was characterised by that robust manliness which made him a king among his brethren. At no time in his career was there any pretence to brilliance or greatness, and yet he won the admiration and love of all by his pure life and lofty purpose.
When entering on his teens he was converted to God in the year 1864, and joined the Primitive Methodist Church at St. Ives, Hunts, in May of that year.
It was soon evident after his conversion that William Suttle possessed some capacity for preaching the gospel, and it was not very long before the quarterly meeting of the Circuit with which St. Ives society was then associated, authorised him to preach, and by the time he was sixteen years of age he became an accredited local preacher of the Primitive Methodist Connexion.
When about eighteen years of age the way was opened for him to take up missionary work in the city of Norwich, where he laboured with great success for upwards of a year. God put His seal upon him and blessed his ministry to the salvation of many souls.
From thence he removed to Boston, where he commenced probation as a Primitive Methodist minister. His next appointment was Burton-on-Trent, and the last two years of his ministry were spent at Ilkeston.
All through his probation, God blessed young Suttle with tokens of His favour, and gave him success in soul-winning, which was always his .delight
The Conference of 1875 having received him on the Approved List appointed him to superintend Bottesford circuit. His next appointment was Sleaford, where he laboured most assiduously for four years. In addition to winning many souls to Christ and building up the membership and finances of the circuit, he erected a new chapel and saw the entire cost raised before leaving for Lincoln II. circuit, where he again spent four successful years.
During his term here the circuit was visited with a gracious revival, and he saw scores of souls, young and old, converted to God. It was during his superintendency of this circuit that Carr Holme Road Chapel was erected. His next appointment was Derby II. circuit (Kedleston Street), where he found a congenial sphere of labour for three years. He had the great joy of seeing many people led to Christ during his ministry here. Removing to Louth, where he remained three years, his labours were again greatly owned of God in the salvation of sinners and permanent additions were made to the Church.
The next two years were spent at Grimsby I. Circuit (Hainton Street) from whence he was called to London (Hammersmith) where he laboured with marked success for five years. The membership was doubled, and the debt on the Dalling Road Chapel, which was opened shortly before his removal to the Circuit, was materially reduced.
It was whilst at Hammersmith that he took up public work and was elected a Guardian of the Poor. This work he found congenial, because it gave him exceptional opportunities for blessing and helping the poor of Hammersmith, by many of whom he is remembered with esteem and gratitude to this hour. Contrary to the wishes and judgment of many of his friends he decided to leave London, and accepted an invitation to Hull III. circuit, where he only remained a short time. The Conference then stationed him at Baldock, or what is now known as Hitchin Circuit.
Immediately after his arrival he saw possibilities of extension and development in the town of Hitchin. Renting a room at the Town Hall he established a society of twenty-five members on the first Sunday. An eligible site was secured and a new chapel erected, and now a prosperous society at Hitchin is the head of what was once the Baldock Circuit.
Returning to London where he was so well-known and wldely esteeined he became superintendent of Poplar Circuit, and during his three years here he supervised the rebuilding of Benledi Street Chapel.
Bedford I. Circuit was his next and last sphere of labour. He undertook the supertendency of this Circuit with the fervent hope of being able to build a new chapel for the Hassett Street Society – a long-felt need – but here again, "Man proposes, God disposes." He had not been on the Circuit long before signs of failing health were manifest. Diabetes had entered his system, and the disease soon revealed its grip of our brother's constitution. He preached and laboured as long as he could. His final effort in preaching the gospel was made on the last Sunday in October, 1903, and for nearly six months he patiently "endured, as seeing Him who is invisible."
And now that our Brother Suttle is no longer with us in the Church militant what is the testimony to his character and work?
The General Committee, in a resolution full sympathy and appreciation forwarded to Mrs. Suttle a few days after God had called her beloved husband home, says, "He has gone from us when he was at his best for the Church, in whose interests he has laboured with earnest spirit and patient effort."
Rev. George Cook writes: "We regarded him as a most devoted servant of God, a laborious and useful minister of His Gospel, and a credit and honour to the Primitive Methodist ministry." Rev. R.W. Keightley writes: "I never had a better colleague. . . His life was full of consecrated labour."
Rev. H.G. Button, since called home to God, wrote to Mrs. Suttle on receiving the tidings of our brother's decease a letter brimfull of appreciation, and among other things said, "He was one of the best colleagues with whom it has been my privilege to labour. I always found him to be genuine in spirit, consistent in conduct, earnest in work, and deeply devoted to the service of God."
Rev. R.S. Blair writes: "I have admired his manly Christian character ever since I first knew him, and among my brethren whom I esteem for honour, integrity, and devotion to God and the Church, he has a very high place, indeed, one of the highest."
Rev. B. Fell writes: "He was indeed a lovable spirit, and so good! – a sunbeam wherever he went."
Rev. Henry J. Pickett writes: "The memory of his earnest, devoted and untiring service for others will always be precious."
Rev. J.F. Porter says: "He has done a good day's work."
Rev. Jonathan Goldthorpe writes: "His cheery spirit, his earnest words, and his willing work, will ever be in our memory."
Mr. E.C. Rawlings writes: "Our dear brother lived so well, served his generation so faithfully, and loved our Lord so much."
Rev. R.R.  Connell says:  "He was a valued and loved friend. He was a hard worker in all his stations, and indeed a useful minister of our Church."
Rev. T.J. Gladwin writes: "We respected his clear and firm judgments, and admired his sterling and Christian character."
After much suffering, submissively borne, the choice spirit of our brother entered into the larger service of the kingdom on Wednesday, April 6th, 1904, and three days later his remains were reverently laid to rest in St. Ives cemetery amid the scenes and surroundings of his early life. We miss him much. He was a loyal friend, and his removal from us so soon has impoverished our circle of friends. May we meet him "within the veil."
JOSEPH JOHNSON (2).
Family
William was born abt1851 at Stowmarket, Suffolk, to parents William Suttle, a labourer, and Hannah Roper.
He married Susannah Wallis Waits (about 1854-1911) in the summer of 1875 at St. Ives, Huntindonshire.
William died on 6 April 1904 at Bedford, Bedfordshire.
Circuits
1871 Boston
1872 Burton on Trent
1873 Ikeston
1874 Coningsby
1875 Bottesford
1876 Sleaford
1880 Lincoln II
1884 Derby II
1887 Louth
1890 Grimsby I
1892 Hammersmith
1897 Hull II
1898 Baldock
1899 Poplar
1902 Bedford
References
Primitive Methodist Magazine 1905/824
PM Minutes 1904/39
W Leary, Directory of Primitive Methodist Ministers and their Circuits, 1990
Census Returns and Births, Marriages & Deaths Registers