Travis, James (1840-1919)
Seventy-five years: the life and work of James Travis, 1914
Seventy-five years: the life and work of James Travis, 1914
Seventy-five years: the life and work of James Travis, 1914
Seventy-five years: the life and work of James Travis, 1914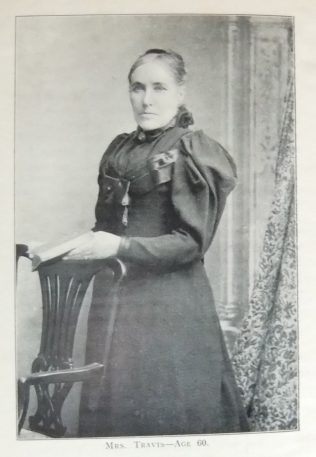 Seventy-five years: the life and work of James Travis, 1914
Early years
James was born in 1840 at Bentspool Farm, Blatchinworth and Calderbrook, nr Rochdale, Lancashire to parents Joseph and Mary. Joseph worked as a general contractor and was not a member of a church. Mary was one of the first Primitive Methodist converts when Knowlwood PM's missioned Summit. Prior to that James attended the Congregational Sunday School.
The 1890 biography records that James youth was full of fun, just a little boisterous, only slightly fond of mischief, with a shrinking from actual vice.
James was converted aged 14. Almost immediately he was appointed to conduct cottage meetings to continue the revival in which he had been converted. He also started to work in the Primitive Methodist Sunday School. James went on the plan about a year after conversion and was known as "The Little Preacher".
Ministry
In 1858, James was sent to Liverpool, but almost immediately he was sent to Douglas, Isle of Man, to supply the place of a probationer who failed on his pledge. James was District Meeting Secretary for the Manchester and Liverpool District for two years, and continued in that role within the Liverpool District upon its formation.
James served as President of the National Free Church Council in 1903/4
James was in great demand as a preacher for all occasions. Plain, pointed and practical expositions of evangelical truth, his sermons were often white hot with spiritual passion.
After superannuation, James lived with his daughter.
Contribution to the Connexion
James was Secretary to the Reading Conference in 1885 and President of Conference in 1892. He was appointed as Secretary of the General Missionary Committee in 1889.
James is credited with being the originator of several pieces of Primitive Methodist legislation in the areas of missionary affairs, chapel debt and liquidation schemes, ministerial education and the Jubilee Fund.
Literature
James wrote the following.
The local preacher's manual
Seventy-five years: the life and work of James Travis , 1914
Family
James married Ann (1840-1871). Census returns identify two children.
Edith (1867-1872)
Lillian (1871-1945) – married Arthur William Vernon, a builder
James married Jane Killip (1834-1911) in 1872 at Douglas, Isle of Man.
James died on 8 December 1919 at Chester.
Circuits
1859 Liverpool
1861 Manchester l
1862 Oldham ll
1863 Manchester lll
1865 Chorley
1871 Bolton
1874 Manchester lll
1878 Liverpool lll
1882 Chester l
1889 Sec of GMC
1894 Oldham l
1899 Chester l
1906 Chester (Sup)
References
Primitive Methodist Magazine 1890/385; 1894/563; 1920/199
The Primitive Methodist 1892/385
PM Minutes 1920/271
H B Kendall, Origin and History of the PM Church, vol 2, p454
B A Barber, A Methodist Pageant, 1932, p244
R Newman Wycherley, The Pageantry of Methodist Union, 1932, p175
W Leary, Directory of Primitive Methodist Ministers and their Circuits, 1990
Census Returns and Births, Marriages & Deaths Registers
Downloads
Article published in the 1923 Christian Messenger.