Wallis, Theophilus (1846-1927)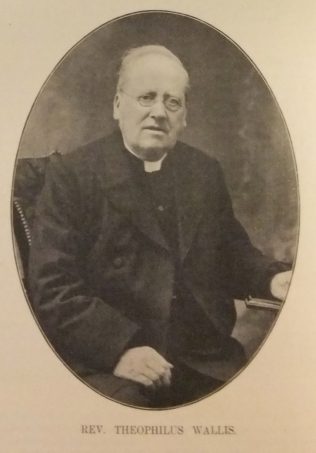 Early years
Theophilus was born on 26 July 1846 at Banbury to George Wallis and Harriet Maslin. George was a PM Minister. His brother, Frederick, also became a PM Minister.
Theophilus was educated at private schools at Faringdon and Swindon, under the tutorship of two Baptist ministers. He made his public commitment to Christ when twelve years old. Twelve months later he became a Sunday School teacher, and subsequently superintendent. Theophilus graduated as a local preacher under the tutelage of Rev George Fowler at Leamington and studied at Sunderland before entering circuit ministry.
Ministry
His obituary records that Theophilus had able preaching gifts, good business abilities, a genius for friendship, with an abundant humour, and a great gift of tact. His library, his conversation, and his public efforts alike testified to the keenness of his mind and his catholic tastes. He had gripped and assimulated evangelical teaching and delighted in its declaration.
Theophilus served on the Ministerial Candidates Examination Board.
Theophilus suffered from impaired health, and after thirty four years active ministry was compelled to superannuate. He finally settled in Horsham, where he suffered family losses, and gradually became blind.
Family
Theophilus married Sarah Ann Cousens (1851-1919) in the summer of 1874 at Highwood, Wiltshire. Census returns identify four children.
Gertrude Cousens (1875-1970)
Florence Emily (b1877) – a school mistress (1901)
Arthur Maslin (1882-1906)
Ernest Leonard (b1888)
Theophilus died on 20 May 1927 at Horsham, Sussex.
Circuits
Sunderland
1870 North Cave
1872 Mexborough
1873 Alford
1874 Driffield
1876 Barton on Humber
1878 Winterton
1881 Brigg
1884 Northampton
1887 Retford
1889 Chesterfield III
1892 Wellingborough
1895 Saffron Walden
1899 Baldock
1901 Hull VI
1902 Halstead
1904 Horsham (S)
References
Primitive Methodist Magazine 1907/297; 1928/182
PM Minutes 1927/276
W Leary, Directory of Primitive Methodist Ministers and their Circuits, 1990
Census Returns and Births, Marriages & Deaths Registers