Watson, Thomas Jameson (1855-1922)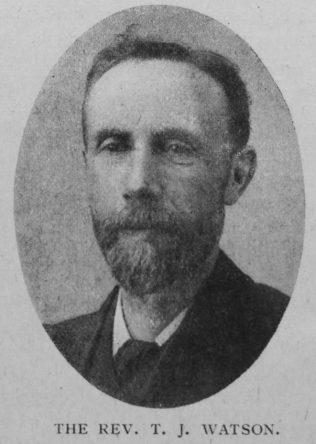 Supplied by Judith Rogers
Transcription of obituary published in the Primitive Methodist Magazine by John Forster
In the passing of Thomas Jameson Watson on August 15th, 1922, at Aspatria, at the house of his son-in-law, the Rev. Alex. McDonald, the ministry of our Church has lost one of its finest and noblest spirits. Mr. Watson was a native of Weardale, and there are few places where Primitive Methodism has taken deeper root or produced nobler fruits. He was born at Ivestone, Wearhead, on October 12th, 1855, and was the eldest son of Ralph and Elizabeth Watson. His parents were in comfortable circumstances, living on their own farm, and belonged to the Wesleyan Methodist Church. Their son, however, elected to cast in his lot with the younger Methodist Church, and became a Primitive Methodist, with the full approval of his parents. 
Among those who influenced his early Christian career was the well-known and highly esteemed Joseph Featherstone, of Wearhead, with whom he came on the plan in 1876. He spent some time at a college in Leeds in the study of agriculture, but it soon became evident that his aspirations were in another direction, and in 1878 he entered the Theological Institute at Sunderland. 
His first circuit was Bristol, where he spent the whole of his probation. At the close of his probation he was married to Miss M.A. Walton, who died at Blackburn in 1919. His subsequent circuits were Frome, St. Helens Auckland, Shotley Bridge, Brompton, Allendale, Wingate, Lemington-on-Tyne, Houghton-le-Spring, and Blackburn I. In this last circuit his health seriously broke down, and he was obliged to superannuate. He settled down at Aspatria at the home of his son-in-law and daughter, the Rev. Alex. McDonald and Mrs. McDonald. His partial recovery enabled him in a measure to resume preaching, and during this time he greatly endeared himself to the people. But it was but the short Indian summer of his life. He had a second breakdown in June, 1920, from which he only partially recovered. His third breakdown, reducing him to complete helplessness, occurred in January, 1922, and he died on August 15th of the same year at the age of sixty-six years.
Our brother was a typical dalesman, plain and unpretentious, brotherly and accessible to his brethren and his people, whose confidence he always enjoyed. In his circuits he had peace and prosperity. He was happy in his domestic life and in his family, of whom two daughters and a son, and one sister survive to mourn his loss. The friends he made, and they were many, he grappled to his soul with hoops of steel; of enemies he had none. He was well read in the best literature, and was Chairman of the Sunderland and Newcastle District Synod in 1913 and Secretary of the "North of England Preachers' Association" for several years. 
He was buried at Aspatria on August 19th, 1922. The service was conducted by the Rev. J. Tweddle, and an address given, at his own request, by the present writer, and the Revs. G. Armstrong, A.J. Bull and W. Atkinson took part in the service, which was largely attended.
Family
Thomas was born on 12 October 1855 at Irestone, Stanhope, Co Durham, to parents Ralph Watson, a farmer of 164 acres (1861),  and Elizabeth Jameson. He was baptised on 2 December 1855 at High House, Stanhope, Co. Durham.
He married Mary Ann Walton (abt1858-1919) in the summer of 1883 in Weardale, Co. Durham. They had four children.
Charles Norman Somerset (1884-1889)
George Arnold (1886-1960) – married Florence Brown in 1919; a works engineer (1939)
Annie Jameson (1887-1968) – married Harry Smethurst in 1919

                      

Ethel Elizabeth (1889-1944) – married Alexander Mcdonald, a PM minister, in 1912

                           
Thomas died on 15 August 1922 at Aspatria, Cumberland.
Circuits
Sunderland
1880 Bristol I
1883 Frome
1884 St Helens Auckland
1889 Shotley Bridge
1893 Brompton
1897 Allendale
1901 Wingate
1904 Lemington
1908 Houghton le Spring
1913 Blackburn
1916 Blackburn (S)
References
Primitive Methodist Magazine 1923/363
PM Minutes 1923/289
W Leary, Directory of Primitive Methodist Ministers and their Circuits, 1990
Census Returns and Births, Marriages & Deaths Registers