Williams, William (1822-1909)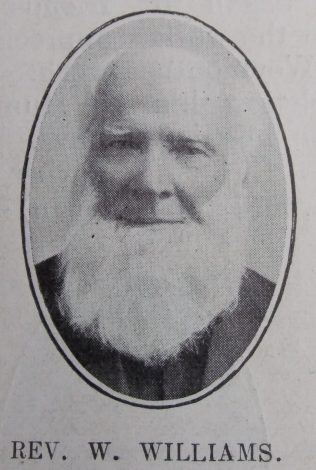 Early years
William was born on 12 July 1822 at Faccombe, Hampshire. His parents were agricultural labourers and William spent his early days working on the land.
William was converted in 1843 and then worked hard to improve his education. He soon became a local preacher.
Ministry
His obituary records that William erected 8 places of worship during his ministry.
A painful affliction of his feet caused William to superannuate in 1879.
The Mayor of Newbury, T W Turner writes; 'He was indeed a lovable man, his sincerity was transparent and altogether without guile. His simplicity of life and serenity of character seemed to belong to another age. His only enthusiasm was when in the prayer meeting or in the pulpit.'
Family
The 1861 and 1871 census returns identify William as being married but do not show his wife. He is a widower in 1881.
William married his housekeeper Eliza Morry (b1857) in 1902 in the St Thomas Registration District, Devon.
William died on 3 May 1909 at Sutton, Surrey.
Circuits
1849 Oxford
1850 Southampton
1851 Maidenhead
1853 Hawksbury Upton
1855 Newbury
1857 Stratford
1859 Chinnor
1862 Poole
1864 Highworth
1866 Chinnor
1868 Oxford
1871 Salisbury
1875 Southampton
1879 Salisbury (S)
1882 Croydon
References
Primitive Methodist Magazine 1876 (portrait); 1909/646
PM Minutes 1909/25
W Leary, Directory of Primitive Methodist Ministers and their Circuits, 1990
Census Returns and Births, Marriages & Deaths Registers