Widdowson, William Reuben (1826-1910)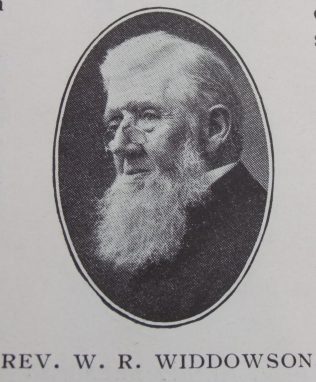 Early years
William was born in 1826 at Hardstoft, Derbyshire to parents William Widdowson and Margaret Haslam. He was baptised on 28 August 1826 at Ault Hucknall, Derbyshire. His father was identified as a whitesmith on the baptismal record. Later the family moved to Kimberley where William's father established a windmill.
He joined the Wesleyans in his 13th year and the Primitive Methodists during the ministry of William Carthy and John Eckersley in that district (circa 1847/8).
Ministry
William was a member of the General Committee from 1870. In 1908 he was elected a permanent member of conference.
His obituary records that his love for Primitive Methodism became a ruling passion and his highest delight was found in its manifold forms of service.
William undertook a collection of photographs of all the Presidents of Conference from the earliest available date. At the time of his death about 70 pictures had been gathered.
Politically, William was a keen and enthusiastic Radical.
Family
William married Sarah Shepherd (1826-1908) in the spring of 1854 at Nottingham. Census returns identify five children.
William Haslam (1855-1902) -a railway clerk
Alfred Shepherd (1856-1909) – emigrated to Australia and set up a grocery and bakery business
John Edwin (1858-1937) – a stationmaster
Margaret Haslam (1859-1938) – married Albert Chamberlain and emigrated to Canada
Thomas Shepherd (1863-1897) – a schoolteacher
William died on 9 July 1910 at Watford, Hertfordshire.
Circuits
1849 Belper
1850 Leicester
1851 Lincoln
1853 Ashby de la Zouch
1854 Nottingham ll
1855 Spalding & Holbeach
1857 Coningsby
1859 Jersey
1861 Ramsey
1862 Haltwhistle
1865 Penrith
1867 Buckingham
1870 St Albans
1872 Watford
1874 Berkhamsted
1876 Richmond
1877 Southend
1880 Redhill
1881 Glastonbury
1884 Chelmsford
1885 St Albans
1887 Walthamstow
1892 Walthamstow (S)
1894 Briston
1896 Balham
1897 Clapham
References
Primitive Methodist Magazine 1876 (portrait); 1908/654 (Sarah); 1910/985
PM Minutes 1911/40
H B Kendall, Origin and History of the PM Church, vol 1, p468
http://www.astrovisuals.com.au/Roberttoalfred.pdf , The Widdowson Name
W Leary, Directory of Primitive Methodist Ministers and their Circuits, 1990
Census Returns and Births, Marriages & Deaths Registers
Downloads
Transcription of an article in the Christian Messenger 1904