Wilson, Jacob (1837-1914)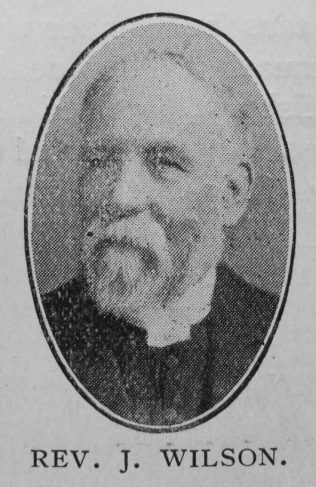 Ministry
A transcription of the obituary published in the Primitive Methodist Magazine by E.D. is attached. The writer records the following.
"He was a diligent student of good literature, had a good command of language, was fluent in speech, independent in thought, fearless in expression, and possessed of a great passion to save men. He was soon popular and successful. He commanded some of the best circuits in the Connexion, and not seldom in both District Meetings and Conferences there were struggles by representatives to secure his appointment to their particular circuit. His devotion to the varied interests of his circuits was highly commendable. He was in the truest sense a circuit minister. He had no ambition for district or Connexional offices. Sometimes they were pressed upon him, and then he discharged the duties conscientiously and efficiently; but he was most at home when he was attending to the interests of his own circuit. He fulfilled the various duties of the ministerial office without fear, and he coveted no favour. His government of official courts and his conduct of circuit affairs were sometimes criticised, but he was never diverted from any course of procedure that he believed to be just and right. He was sometimes misunderstood and, in consequence, his plans opposed, but however strongly any official might oppose him, every man cheerfully credited him with purity of motive. He served the church of his choice and love well in the active ministry forty-three years. His work very seldom found a place in a public or Connexional periodical, and was never flattered or boomed on a conferential platform. He was perfectly content to have his record on high. During the whole of his long ministry he was a conscientious, ardent and successful church builder."
Family
Jaco was born in 1837 at Hayton, Yorkshire, to parents Joseph Wilson and Hannah Welborn.
He married Emily Jane Norrison (1939-1929) in the summer of 1863 in the Hull Registration District, Yorkshire. Census returns identify four children.
Maria Hannah (1864-1956) – a house-keeper (1911)
Lorenzo Richard (1867-1946) – a schoolmaster
Edith Emily (1875-1939) – married John Waterhouse Kitwood in 1904
Elsie Mildred (1878-1959) – married George Hind, a PM minister, in 1909
Jacob died on 14 June 1914 at Newport Wallingfen, Yorkshire.
Circuits
1859 Patrington
1861 Hull I
1863 Doncaster
1865 Pocklington
1867 Grimsby
1868 Tetney
1870 Tadcaster
1873 Driffield
1875 North Cave
1879 Bridlington
1881 Swinefleet
1885 Epworth
1889 Howden
1894 Winsford
1896 Welshpool
1899 Wem
1901 Hull I (Sup)
1904 Brough
References
Primitive Methodist Magazine 1915/408
PM Minutes 1914/258
W Leary, Directory of Primitive Methodist Ministers and their Circuits, 1990
Census Returns and Births, Marriages & Deaths Registers