Leighton Buzzard Circuit, Bedfordshire
Christian Messenger, 1919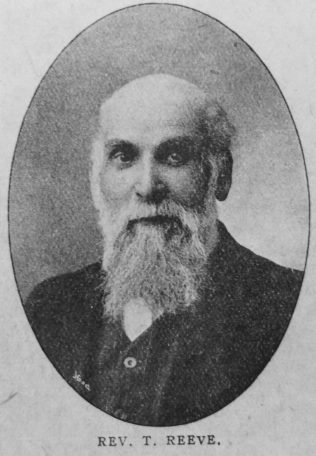 Transcription of Article in the Christian Messenger by Rev T Collins
LEIGHTON BUZZARD CIRCUIT zig-zags in and out along the border of Bucks and Beds. in a curious way, and it would be difficult to say off-hand which county has the honour of housing the larger part. With the recent addition of Woburn Sands, Lidlington and Wavendon, we have a circuit of considerable area, consisting of ten places, with two ministers resident at Leighton and Bletchley.
The circuit was formed from Aylesbury Mission in 1862, and the first chapel at Leighton Buzzard was built in 1851.
Of the many veterans whose labours have long and worthily maintained the circuit's life, some, including William Parrott (our late Circuit Steward to whom we specially refer later), Albert Parrott, Joseph Giltrow, Thomas Chandler, Thomas Turney, George Denchfield, John Cook, Thomas Higgs, are gone, but their names are sacred with fragrant memories. Others, to name only a few – Thomas Reeve, Thomas Rickett, Alfred Atkins, Calib Copperwheat, W. Walker, Charles Chance, James Gower, William Dudley, Sebo Young, Thomas King, J. Smith, and J. Peppitt – still remain to enrich us with their presence.
Leighton Buzzard, the natural head of the circuit, is a quaint old-time town comprised of Leighton and Linslade, and boasting a good market and spacious market-place. It forms the railway and business centre for a wide circle of villages, including Stewkley, the head of the Stewkley Circuit.
Our present Church in North Street, Leighton Buzzard, built 1890, is of medium size and good appearance. Its erection was necessitated by the complete destruction by fire of the old Chapel in Mill Road. The old premises were inadequately insured, and the Society, rendered homeless in a night, was in a parlous condition. These calamitous circumstances, however, were bravely faced under the leadership of the Revs. Geo. Mitchell and T. Reeve,  and the present substantial building was placed upon the beautiful site it occupies in North Street. And now that we have built a handsome circuit manse on the site of the old Pound for stray animals, , adjoining the Church, it is not difficult to believe that a kindly Providence has overruled all, including the destruction of the old Chapel, for good. All honour to the ministers and officials who so courageously wrestled through those dark days and won for us our present advantages.
At North Street we are still smarting under a keen sense of loss occasioned by the recent death of William Parrott, our late Circuit Steward, who departed this life as recently as November, 1918, after over fifty years loyal service as Sunday-school Superintendent, Local Preacher, Trustee and Circuit Steward. Time, money and strength were placed unstintedly at the disposal of his beloved Church. Even his business interests when they collided with the claims of the circuit, had invariably to give way. His large loyal-heartedness, his unfailing cheerfulness, blended with agile tactfulness, freely mixed with a quality of quaintness all his own, made him for half a century a vital part of the Leighton Buzzard Circuit. At the first Quarterly -Meeting after his death, it was unanimously decided, in order to commemorate his name, to inaugurate a William Parrott Manse Memorial Fund, and by raising £200, extinguish the debt on the Circuit Manse. We confidently anticipate that in a few months this will be an accomplished fact. At his funeral three former ministers of this circuit, Revs. T. Reeve, Charles Spooner and N. Boocock, along with the present Superintendent minister, took part in the service. Many were the loving tributes paid to this remarkable man that day.
Fortunately for us he leaves behind a son, Mr. Fred. Parrott, who, as a Sunday-school Superintendent, Local Preacher, Trustee, and now as the unanimously elected Circuit Steward, is following faithfully in his father's footsteps, and he is also like his father in his concern for all the interests of the circuit and of Primitive Methodism generally. He is quiet and unassuming in manner, hardworking and successful in business, but unspoiled by success, he places himself unreservedly at the call of his own people. With his stewardship we anticipate for the circuit a period of special prosperity in the new times immediately ahead of us.
For many years the Rev. T. Reeve has served North Street with commendable zeal as Society Steward. In the year 1868 he entered our Ministry from Leighton Buzzard, after having enjoyed a profitable term of tuition at Elmfield, York, under the principalship of Rev. John Petty. After fifteen years of successful service spent at Poole, Basingstoke, Reading (Bradfield Branch) and Leighton Buzzard, he was compelled, for reasons of ill-health to superannuate. Since his retirement in 1883, he has resided at Leighton Buzzard, his native town, and during all these years, though never robust in body, he has rendered valuable service. Mentally alert, he is still a good and acceptable preacher, and takes appointments regularly at Leighton Buzzard and Linslade, and occasionally at Bletchley also. May it please God to spare him to us for many years!
On several occasions North Street Church has worthily entertained the Synod of the London First District, but never with more conspicious success than in April, 1918. War-time conditions created difficulties, but it was done, and, indeed, well done.
The Ex-Vice-President of Conference, Chas. Lewis, Esq., J.P., of Northampton, was elected Vice-President of the Synod and successfully nominated for the Vice-Presidency of the Conference. It was here at North Street that our Northampton friends made their first beginnings with their famous £20,000 Lightning Fund for the S.M.W.&O. Better than all was the impressive season enjoyed at the Sunday evening Love Feast, when more than a score of penitents, in old-time style and amid joyful scenes of old-time fervour, were won for Christ and scores of others were marvellously quickened.
Our Linslade Chapel, near the station, was built in 1861, largely as the result of the labours of a man of strong personality, named John Wilson, who laboured here as town missionary, marvellously assisted on the spiritual side of his work by John Butler. A great revival was followed by an epoch of Chapel building, and halcyon days of prosperity. Owing to the War and especially to the much lamented deaths of Mr. and Mrs. Albert Parrott, a year or so ago, the Society has fallen upon a trying period. A small band of devoted workers, however, Charles Chance, T. Taylor, Mrs. J. Page, Mrs. Tring, Mrs. Darch, and others are successfully carrying on. With demobilisation, and the return of several of our leaders, better days, we anticipate, await us.
Hockliffe, three-and-half miles from Leighton Buzzard, where we have a small cause, is a notoriously backward village. We have however, out-lived two other Free Churches, and at present we are worshipping in the vacated Congregational Church, far more convenient premises than our own.
Lack of loyal workers is our greatest hindrance, otherwise the future would be specially promising. We pray the Lord of the harvest that He will send forth labourers. With a few good workers a world of prosperity lies ahead.
Stanbridge, also three-and-a-half miles from Leighton, is of historic importance so far as Primitive Methodism is concerned. Wonderful revivals, which have permanently affected all the neighbouring circuits, took place here. It was here that our evangelistic Ex-President, Rev. Joseph Odell, was converted as a boy, and became a boy preacher of great power. A few months ago, under the vigorous leadership of Ex-Police-Inspector Franklin, our small society decided to extinguish its debt of £50, and the old-standing debt, hoary with many years, is now a thing of the past.
Doubtless the most important development and the most promising prospects of the immediate future are bound up with the Bletchley section of the circuit. At the Northampton Conference we completed arrangements by which Woburn Sands, Wavendon, and Lidlington were transferred to the Leighton Buzzard Circuit from the Wolverton and Stantonbury Mission, and a second minister was placed at Bletchley. No doubt Bletchley is the strategical centre of Primitive Methodism for the whole of that neighbourhood. We prepared for this new phase of the circuit's career by completing the extinction of debt movement commenced at Bletchley some three years ago, so that the present School-Chapel, built in 1896, and the splendid corner site for a new Church situate on the main road near the railway station, are now quite clear of debt, and better still, a substantial start has been made with a New Church Building Fund, It is a far-cry from the time when Bletchley was first missioned, and was glad to meet in a little iron building erected in 1884, to the promising conditions and opportunities possessed by the present Church, some seventy or eighty members strong. My colleague, Rev. W.T. Edwards, has already made a promising beginning, and his influence is being evidenced in increasing congregations and finance, and we are confident that far-reaching consequences will confirm the wisdom of this reconstruction of the circuit. Our efforts are being brilliantly seconded by Mr. R.H. Daniel, our Bletchley Society Steward, to whom we are largely indebted for the success of the debt reduction scheme above referred to, and also by Mr. William Muckley, our Choirmaster, whose remarkable musical abilities are known and appreciated for many miles around. He holds a number of prizes, including a magnificent silver cup won by his Railway Prize Choir. He is the chosen condutor of the United Choir, consisting of Church of England, Baptists, Wesleyan, and Primitive Methodist Choirs of the neighbourhood. Our Sunday-school is, we understand, the largest in Bletchley or Fenny Stratford, and its boys and girls provide us with abundance of splendid raw material out of which to build new membership. In Mr. Litchfield we possess a first-rate Superintendent who really loves the work and makes everything bend to its interests. With the advent of Peace extensive financial efforts will be made, and we confidently predict that the offerings of the people will raise a permanent memorial of their thanksgiving, in the form of an architecturally beautiful Church. The neighbourhood is young and growing, and we have a stronger hold upon the people than any other denomination. It affords us our supreme opportunity, and we propose to make the most of it.
Of the three weak societies comprising Woburn Sands, Wavendon, and Lidlington (valiantly sustained by heroic workers, Mr. J. Smith, Mrs. Tomlin, Miss Paternoster, Mr. F. Peppitt, Mrs. Wright and Mr. C. Lane and others) now incorporated with this circuit, we are not able to say much in detail. Geographically, with the exception of Lidlington, they naturally belong to us, and with the return of normal railway facilities we shall be able to serve them much better than has been previously possible.
Fenny Stratford (built 1866) has its own real difficulties, and is, moreover, uncomfortably near to Bletchley, but it holds on its way with wonderful tenacity. With laymen like Messrs. Colgrove, Burton, Young, Busler, Lovell, Warr, Foolkes and Bevis, and with sisters of the calibre of Mrs. Young, Mrs. Coleman and the Misses Eames, success ought to be assured. The following instance speaks for itself. In the early part of 1918, it was decided that a new organ was needed. It was collected for, bought, and paid for by Miss Eames, the organist, by the time of the Sunday-school Anniversary. We understand that the long-standing debt of £75 is to be similarly and summarily dealt with.
Fortunately for the circuit, we have no large debts. The total debt of the whole circuit stands at £950. If the Manse is cleared of debt as proposed, over £450 will have been paid off during the three years ending 1919. Taking all into account, we feel we have abundant reason to thank God and take courage as we face the future. The circuit is inspired by the highest traditions. There are memories which are abiding incentives. Our young people are loyal to the best in the past, and ardent with hope for the future.
References
Christian Messenger 1919/232