Clay Cross Circuit, Derbyshire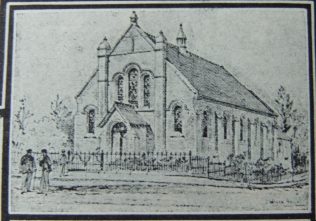 Christian Messenger 1910/249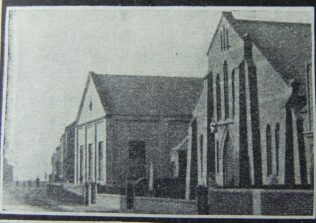 Christian Messenger 1910/249
Christian Messenger 1910/249
Christian Messenger 1910/249
Transcription of article in the Christian Messenger by Rev. Henry Jones
To write fully the history of this Circuit would require a goodly number of pages. Indeed we would like to record more interesting facts, give examples of unfaltering loyalty, of great self-sacrifice and untiring devotion to the Church, than we are able through our limited space in this magazine. This part of the county of Derby must have been missioned early in our history, as societies were established early in the twenties and formed part of Chesterfield Circuit. This station was made a branch of Chesterfield in the year 1862 with nine preaching places and 231 members. The account book for the September quarter says the minister received £16 5s. as salary, and in addition £9 2s. for the olive branches that gathered round his table. Some curious items are to be found in the minute books of those days, some grave and gay, some suggestive, corrective and admonitary. It was separated from the parent Circuit in 1867 with the Rev. Wilson Barrett as its Minister. He was in labours abundant, and realized a good measure of spiritual, material and numerical success. During the period that has elapsed, the station has had varied experiences. There have been many blessed and precious seasons of revival, when some of the roughest and most abandoned have been saved and reformed, and rendered most valuable service to the Church. There have been times of depression, and conditions of trade have greatly affected the numerical and financial state of the Churches. The Circuit has greatly suffered through removals, and in some instances left us almost without any members. But all honour to the men who have remained, and worked and guided the Circuit through its difficulties. To mention names of men who have served and who now serve would be to make invidious distinctions. The roll is a very long one. The earlier Ministers did heroic service, and they have been followed by others more or less worthy to enter into their labours. Too much praise could not be given to the splendid band of local preachers who have so creditably and faithfully filled the pulpits. We have now fourteen Connexional chapels in the Circuit, and each has a history of its own. The chapels. etc. have cost about  £11,682, and have now a  debt of only some £2,710. The raising of so much money represents much self-denial, effort and planning. As early as the thirties Primitive Methodism made its appearance in Clay Cross, The Rev. J. Hirst, father to the present Circuit Steward (Mr. J.H. Hirst) conducting the first Society Class in 1839. Preaching was first held in a cottage in the Long Rows.
In 1849 the present chapel was built. Two cottages were accommodated on the ground floor and a large preaching room above. This was a peculiar arrangement, and soon found to be inconvenient. In 1874 the school was built, and the chapel altered to its present appearance. The church has a membership of about 100, and still does a good deal of real mission work. The school has outgrown its accommodation, but arrangements have been made for enlargement together with class rooms. It is anticipated that the work will be completed by the end of June.
After Clay Cross was established, it appears that Ling's Row was missioned by Mr. Enoch Banister, Mr. William Daft, and others. The Colliery Co. allowed them a room in which to hold their meetings. Mr. Ward  who was connected with the Company, rendered great service in the Sunday school for many years. And we are glad to record the fact that his daughter still manifests great interest in the chapel. It was a great loss to the Society when Mr. Banister removed to Stavely, but he still rendered help by forwarding weekly contributions. The first church was erected in 1864. Here some splendid work was done and glorious meetings held. The building is now used for Sunday school work. We have recently overhauled it, improved its appearance, stuccoed the outside walls to preserve it, and put in a better system of heating it, costing altogether nearly £90, and the whole is paid.
A new church was erected in 1903 at a cost of £1,500, with a debt of about £550 which is annually reduced.
WOOLLEY CHAPEL was built in 1841, and in 1909 a school room had been erected and furnished, and the total cost defrayed by Mr. J. Bradley, who has been a friend to the cause for many years. Our thanks are due to him for his kindness, thoughtfulness and generosity in this Centenary gift.
LITTLEMOOR is only a small chapel built in 1855, but has done good service, not withstanding that the membership has had great fluctuations. There are a few who stand staunch and true.
It is with a touch of pride, that MILLTOWN is mentioned. It dates from the beginning of our church. It was missioned by preachers from Staffordshire. The chapel was built in 1824, and has the distinction of being opened by Hugh Bourne. Strangely built at first, it was enlarged in 1840. It has a chequered history. A long list of honourable names could be furnished who have helped to keep the doors open.
GRASSMOOR is an adjoining village to Ling's Row, and a few members of the above decided to establish a cause in their own place. Mr. Michael Wheeldon opened his house for services. As the numbers grew, the club room was freely placed at the service of the infant society. A site of land was secured and a school chapel erected, and in 1879 a larger building was completed to hold the increased congregations. Owing to the Day School authorities utilizing the building, it was found more convenient to erect a new church. This was done in 1899. In a few years a strong and vigorous church has been built up, possessing a property valued at over £3,000 and under £600 debt thereon.
At NEW TUPTON, Mr. Turner Haslam and a few others engaged a cottage and gathered many adherents. It soon became an important Society. The generous financial aid of Mr. Knighton and Mr. R. Banister, did much to guarantee success. The Society has greatly suffered through removals. The chapel was bought from the U.M.F.C. in 1892. Distressing and trying circumstances marked the beginning of Stonebroom Church, but the Rev. W. Barrett faced the difficulties and mastered them. The Society began by holding services in a large wash house. After a few months they built a church in 1868 and enlarged a few years after. About 1878 a great wave of revival passed over the neighbourhood. Scores were converted. The membership rose to 180, with twenty local preachers. Many of these are with us to-day in various parts of the country, and are substantial pillars of the church. Faith, courage and devotion are still manifest by the Society.
DANESMOOR was commenced by ten members in 1866 holding their meetings in a large wash house. In 1869 the present chapel was built, the foundation stones being laid by Mr. R. Banister. The Society experienced a testing time in 1882 when the pit fired on November 7th, 45 men and boys losing their lives. This disaster almost closed the chapel and for some time teachers could not be found to continue the school. However, the society struggled along notwithstanding its difficulties. In 1908 and 1909 considerable alterations were made to the property, greatly improving it, also securing additional land, thereby increasing its value, costing altogether nearly £140 and only adding £50 to the debt.
HEPTHORNE LANE was opened in 1870 by Mr. R. Banister, who gave land for the building. The chapel, etc., are now too small for the school and congregations. Land has been purchased, and part of the boundary wall erected at a total cost of about £160. The debt on the church is cleared, and a fund is being raised for the erection of up-to-date premises for congregation and school. It is anticipated that building operations will shortly be commenced.
At PILSEY a few men met in a blacksmith's shop for prayer in 1874. In 1878 they built a school chapel known as " Pickhelves Chapel." It has had many trying experiences. A piece of bog land was all they could secure on which to build. The members got out the foundations, eight feet deep and laid it with concrete. One of our oldest members, Mr. W. Banks, has pleasing memories of his early associations with Hugh Bourne. The society has a long known struggle. We are glad to say a brighter day is dawning. Within the past two years or so £60 has been paid for new Vestry, boiler house, etc., and the debt of £130 extinguished, so that the way is becoming clearer for the erection of a better chapel with vestries.
It has always been difficult to maintain a Nonconformist cause at SHERILAND. This Church and ALFRETON have made several attempts. In 1884 the July meeting was invited to restart a cause; Mr. J .C. Lee was requested to take the oversight. For twenty years he laboured heroically. In 1900 the present chapel, etc, were purchased at a cost of £260, and now there is only a debt of some £90,
At PARKHOUSE GREEN we have a small society; many were the struggles at the start. Brighter days dawned however when Mr. T. M. Bryan bought the U.M.F.C. Chapel and offered it on most reasonable terms in 1900, and now we have only £75 debt. A good work has been done.
HOLMWOOD is a village of recent growth. Mr. W. Dunkley and a few other Primitive Methodists attracted to the new colliery took a cottage, opened a Sunday School and held preaching services. Land was secured and an iron chapel placed thereon. In 1905 splendid new premises were opened valued at about £1,800. The Church Extension Fund made this possible. We are  greatly indebted to the Hardwick Colliery Co., etc., for the position we hold. The Trustees, members and adherents by their gifts and labours have made themselves a credit to any church or Circuit. The debt is being reduced £50 per year. Much more might have been written. Such prosperity demands our gratitude to God and calls for renewed consecration. Great things have been done and still greater need to be. The present ministers are Revs. H. Jones and W. Brown, together with forty-seven local preachers who are carrying the Gospel to congregations assembling in our fourteen chapels week by week. May the future be more glorious than the past.
References
Christian Messenger 1910/249