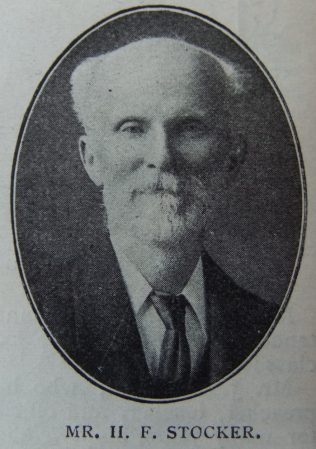 Transcription of article in the Christian Messenger by Rev. James Burton
Amid the natural beauties of Matlock, to roots of our Church have gone deeply down, and we occupy a position of which we have no reason to be ashamed. The lines have not always fallen to us in such pleasant places.
William Alcock was the chosen of God to introduce Primitive Methodism into Matlock, which he did on June 1st, 1821, preaching on that day to about 1,000 persons. Next day he repeated his visit, when the constable who had ordered him down the day before, appeared on the scene just as he was finishing his sermon, and made such a din by beating his staff on a watering can that preacher and people were well nigh deafened. So, we are told, they sang a hymn, and the interested people disposed of the constable, but we are not told how they disposed of him. Let us hope they belonged to the Humane Society.
Services were afterwards held in cottages and in an "upper room." The first chapel was built in 1838, small, but suited to the little village that Matlock then was. The opening of Matlock as a health resort, and its subsequent development, led to several alterations in, and additions to the premises, with the result that to-day we have a splendid pile of useful buildings costing, together with the manse, about £6,000, the present debt being £1,074. The church, which seats 550 is nearly filled Sunday by Sunday, and we never have occasion to complain that primitive Methodists who come here for rest, forget, for the time being, which church has the first claim upon their presence and support. A great help to the effectiveness of our services is the singing of our excellent choir, which, under the leadership of Mr. L.G. Wildgoose, the organist, has during the past three years won quite a number of prizes in choral competitions, and for two successive years has secured a competition shield at Coalville.
The officials wish to make their minister happy and comfortable, and have spent about £1,000 on the erection and furnishing of the manse, with a well-arranged garden, where the minister gets rid of "Preacher's Blue Monday."
The people and officials are most appreciative, considerate and trustful, giving the minister their entire confidence in the working of the station. The business meetings are not times to be looked forward to with dread, but are means of grace. The writer delights to speak of such co-workers as Councillor J.W. Wildgoose, the Circuit steward, devoted, generous, shrewd, a successful builder and contractor, who in addition to being steward, is school superintendent, and local preacher; Mr. D.M. Wildgoose, who is geniality itself; a Sunday school teacher, conductor of Band of Hope, local preacher, and school treasurer. The same is true of the following:
Mr John Slater, who recently retired from the school superintendency after holding the position thirty-five years. Among his most valued possessions is a silver tea and coffee service, presented to him by the teachers.
Mr. Joseph Ash, assistant school superintendent, a very acceptable local preacher and class leader.
Mr. J.L. Dean, who has been a local preacher, teacher, and official in the church for many years, his forte having been to influence young men to nobility of life and character.
Mr. H.F. Stocker, the society steward, always obliging and attentive to his duties. A man of gentle disposition, whom to know is to love.
These, like the small bag of grain taken by the merchant to the Corn Exchange, ar ebut samples of the bulk, and whose names and excellencies time and space forbid me to tell. "Their record is on high."
In the Roll of Honour of past workers who have already crossed the river and entered the spirit world, mention must be made of such men as Jas. Hawley, J. Barnsley, J. Ballington, J. Blood, J. Allwood, O. Allen, P. Gregory, Jas. Slater, G. Allen, J. Woodhouse, G. Fox, J. Knowles, and of such godly women as N. Ballington, L. Hawley, Mrs. T. Davis, and if space permitted, of many others.
A few old-time members are with us to this day, and are spending their eventide of life amid manifest tokens of loving affection from the workers and leaders of the present time, among them being Mr. Wm. Fox, Mr. and Mrs. Sidney Woodhouse, Mr. and Mrs. Jas. Bridgett, Mr. R. Taylor, Mr. R. Robinson, Mrs. Jas. Slater, who has been a member of this church without intermission for seventy years, and Mrs. Wildgoose, Senr., who for fifty years went with the choir Christmas singing. She has given to our church a band of splendid workers and supporters in her children, and for over twenty years has given the provisions for the Harvest Festival public tea meeting.
The circuit was formed in 1883 from the Winster Station, and has made steady progress from that time to the present. During the past few years, the building of new churches has been to the front.
FOX MEMORIAL CHURCH, STARKHOLMES. – At Starkholmes we have had a church since 1823, but the building was placed in such a position that to worship in it meant "climbing up Zion's hill" to an alarming extent. It was a "Sweating Industry" to get there. In the deed conveying the land to us, we were described as "Ranters." Here, in later years, there was an energetic soul in the person of Councillor Luke W. Fox, whose heart was set upon a new church more easy of access. To bring this about he generously gave a site valued at £100, and when the foundation stones were laid in 1905 his wife contributed an extra £20. But how soon our joy was turned to sorrow! This energetic, generous soul, within three weeks of the stone-laying was carried to his grave, and here was a small country society bereft of its leader, and committed to a somewhat extensive building scheme. However, our halting faith was rebuked as friend after friend came forward with sympathetic help, so that whilst the cost of the new enterprise was £1,493, no debt was left on the church and school.
MATLOCK MOOR. – The erection of a church on Matlock Moor is a beautiful illustration of the prophecy that "a little child shall lead them." A farmer there offered to give a site if we would build a Sunday school so that his little girl could attend, she being too far away from other schools. We accepted the offer, in 1903 built a church, formed a society, and opened a Sunday school. The building cost £830, and was opened free of debt. We have there now 28 members, 60 scholars, a junior members' class, and a Band of Hope society.
HACKNEY. – This place was transferred to us three years ago from the Winster Circuit in exchange for Bakewell. In this ancient and cramped building, which bears the date 1848, we have to crowd 120 scholars. On the Sunday afternoon for the public service, it is almost necessary to put up a notice "No room for Adults." It has been decided to mark the Connexional Centenary by erecting here a "Centenary Memorial Church." A site has been secured and paid for, and the friends are very busy collecting the necessary funds.
When there is a building project afloat, all the churches in the Circuit unite to make it a success.
It is well sometimes to "see oursels as others see us." The following extract is from a, to us unknown writer, in a Wesleyan Methodist Magazine on the subject of Methodist Union, and appeared about two years ago: – "The popular minister at a well-known health resort in Derbyshire, is a Primitive Methodist. His church is the meeting place of Methodists of all shades, and of many who otherwise know nothing of Methodism. One of his most generous supporters is a Wesleyan layman who frequently visits that beautiful town. We have on several occasions felt "strangely warmed," as we stood to sing, surrounded by Wesleyans and members of other churches (who by their presence and support were aiding a denomination other than their own), and have felt that this minister, of whom any church might be proud, was, perhaps unconsciously, braking down the barriers dividing his church from the other churches of Methodism."
The Circuit has been well served since its formation by the following ministers: – Geo. Mitchell, Jas. Dobson, A.L. Humphries, M.A. and A. Beavan. The present minister remains an eighth year, when, in 1909, he will be succeeded by Rev. J. Harriman Taylor, M.A., of Manchester. All Connexional claims are loyally met, and the Circuit's revenues for the Missionary Society is the highest per member in the Sheffield District.
References
Christian Messenger 1907/337