Gainsborough Circuit, Lincolnshire
Christian Messenger 1908/283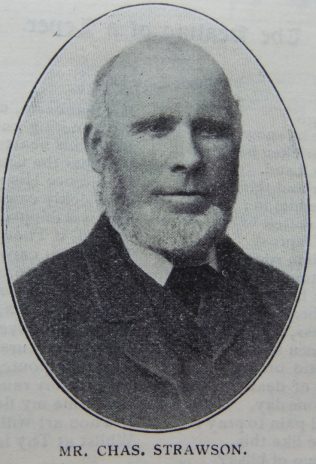 Transcription of Article in the Christian Messenger by Rev. J Burkitt
Few places are richer in historical interest than Gainsborough. The derivation of the name is Ganii's Burgh; the burgh of the Ganii, a Saxon tribe located here in the twilight days of English history. The Old Hall, partly built by John O'Gaunt, and one of the oldest buildings in the country, is in an excellent state of preservation. It is a curious oak timber frame building, forming three sides of a quadrangle, and having a tower 78 feet high. In the palace that preceded the Old Hall, Alfred the Great met the lovely Elswitha, who became his bride and proved a worthy mate for her great husband. Here also dwelt Sweyne, the Danish King, whose triumphant career came to a sudden and tragic close at Gainsborough in 1017, and here Canute, his son, was acclaimed king.
Situate on one of the main routes, the town was frequently visited by the English monarchs in their journeys between the metropolis and the North. Edward II., Henry VII., Elizabeth and others have shared its hospitality.
In the early days of Puritanism, Gainsborough again came into prominence. At Gainsborough Fight on July 28th, 1643, where young Charles Cavendish was slain in arms, Cromwell won his spurs, and as Dr. Horton says:-"The name which was to ring through Europe was first distinctly heard."
Lovers of liberty and particularly religious liberty, look to Gainsborough with gratitude and affection, because of its being so largely the home of the Pilgrim Fathers. In the Separatist Community meeting in the Old Hall, ministered that lovable personality, John Smyth, and every Sunday for years, William Brewster, William Bradford and other kindred souls, journeyed from Scrooby and Austerfield, some ten or twelve miles, to worship with John Smyth's congregations. From this locality went forth those noble souls whose piety and character formed the bed-rock of America's national greatness. John Robinson, Pastor of the Separatist Church at Leyden, was a native of Gainsborough. Gainsborough is of interest to many because it is the scene of George Eliot's clever, but pathetic story, "The Mill on the Floss." The Floss is the Trent, and the old mill stands silent and forlorn on its banks to day. Modern industry and commercial enterprise have decided that the name of Gainsborough shall still go out to the ends of the earth. The once considerable shipping trade is almost gone but it is now a great centre of agricultural engineering. The famous firm of Marshalls, Sons and Co., Ltd. employ over 4,000 hands and their machinery is found wherever land is brought into effective cultivation.
It is not surprising that in this ancient town, with its Puritan traditions and artisan population, Primitive Methodism has found congenial soil and developed into a strong and healthy plant. William Braithwaite and Thomas Saxton came here from Nottingham in December, 1818, and preached in the Market Place. Thomas Cooper, the famous Chartist, who was one of the first to some under their influence, describes in vivid manner their early labours; how they remained in the town for weeks, preaching in the open air and in houses and the crowd, young and old, were greatly affected. "Soon a society was formed and they began regularly to preach in the very small chapel, which John Wesley himself caused to be built in a small square in Little Church Lane, but which has been occupied as a warehouse for some time." How the imagination kindled and visions of the olden time appeared as we stood in this historic little building a few days ago. Time would fail us to tell the story of W.G. Bellham, George Rex, J. Hawksworth, and other Primitive Methodist notabilities in Gainsborough. W.G. Bellham's account of his first hearing a Primitive Methodist preacher in Gainsborough on October 23rd 1820, is, however, too good to be passed over. He says:- "I thought I never saw so much of God in a man before, he was all love; and every word he uttered was like honey dropping from the honeycomb. I felt so happy in my own soul that I thought I could live and die with this people." And he did.
In 1837, the chapel in Spring Gardens was built. It became the scene of many spiritual triumphs and much affection and sentiment gathered about it. When the new church was built in Trinity Street in 1878, although only a few yards away, some of the older people refused to go, and services had to be regularly conducted in the two places/ Trinity Street Church is a handsome structure seating 1,000 persons, and cost originally £5,380. The bold policy, as usual, proved wise and successful. A debt of £3,600 was a serious financial problem for a working class church and congregation, but faith, courage and self-sacrifice found the solution.
We have now a membership of 315, and a congregation which often taxes the accommodation. A few years ago the trustees put a fine new three-manual organ into the building at a cost of about £900. Mr. Rowbottom, Mus. Bac., F.R.C.O., is organist and choirmaster, and under his able leadership the choir renders valuable service..
A new chapter in the history of Primitive Methodism in Gainsborough was begun three years ago, when a new cause was formed in Shakespeare Street at the southern extremity of the town. Land was kindly given by Sir Hickman A. Bacon, premier baronet of England. A school-chapel has been erected at a cost of £1,557, and a valuable site adjoining it reserved for the new church. Land has also be secured at the northern end of the town and early extension is contemplated. The Trinity Street Church has begun to swarm. The Circuit is fairly extensive and divided by he Trent into two almost equal halves in the respective counties of Lincoln and Notts. The cycle helps us get to places, and if we are not as fatigued as the early preachers were are sometimes "tyred." A phenomenon of great interest here is the "Eagre," a tidal wave rising to a height sometimes of six or eight feet, and travelling at the rate of ten miles an hour. Like some great and terrible thing of life, it sweeps up stream with a roar, and great caution and care are necessary among the river traffic, or serious loss to life and property would result. "War' Eagre" ("Beware Eagre") is the warning cry at its approach, and as it lashes up the banks some who have come to view it are soon running from it. The preachers cross the river to their appointments, generally by ferry. This is pleasant enough in the summer-time but less so in the dark, cold nights of winter, or "when the stormy winds do blow." At one place the boatman is somewhat of a philosopher, and his philosophisings do not tend to speedy transit. On a winter's night the preacher appears on the opposite bank and cries "Boat ahoy!" The boatman seated comfortably in his cottage or elsewhere, hears the repeated call with perfect tranquillity. He knows the river is wide, the tide strong, the wind cold, the night dark and does not believe in more journeys than are necessary. Laissez faire is his policy. When a little group of would-be passengers has accumulated and "Boat ahoy!" rends the air in repeated and vigorous chorus, he opens the door, and saunters gently to the landing stage. Better this, however, than to reach the middle of the stream, and suddenly the cry "War Eagre" fall upon the ears.
Gainsborough Circuit contains some model village chapels, as Gringley, Morton, West Stockwith, Springthorpe and Willingham, for example. At Walkeringham, Rexby, and Marton we have the little square conventicle of former years. We have valuable property at Misterton, and a vigorous village society of 108 members. Wheatley is where the flowers and fruits grow, and they are not all earthly. Corringham is forging ahead with a new church scheme; and here again Sir Hickman Bacon has come to our help. There is a spirit of progressiveness in the Circuit, although the decline of the villages has been felt in some places. To one accustomed to the more difficult conditions of religious labour in large centres, the simple faith and warm-heartedness of this religious peasantry are refreshing. Gainsborough Circuit has a history to be proud of, but its best days are yet to come. The present ministers are the Revs. J. Burkitt and H.R. Didcock, and they are assisted by a large and willing band of excellent laymen.
References
Christian Messenger 1908/283