London Primitive Methodism
Primitive Methodist Magazine 1908/550
Primitive Methodist Magazine 1908/550
Primitive Methodist Magazine 1908/550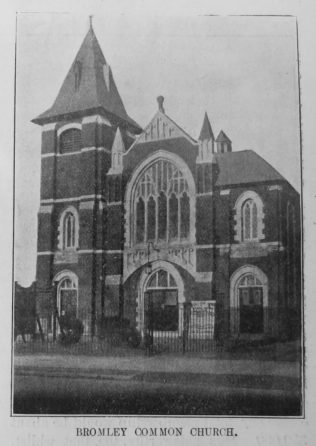 Primitive Methodist Magazine 1908/550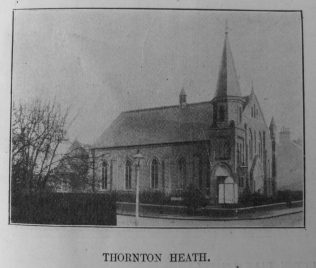 Primitive Methodist Magazine 1908/550
Primitive Methodist Magazine 1908/550
Primitive Methodist Magazine 1908/550
Primitive Methodist Magazine 1908/550
Primitive Methodist Magazine 1908/550
Transcription of Article published in the Primitive Methodist Magazine by Rev. E.J.T. Bagnall
LONDON is the wonder of the world. More than a city, it is a nation, a world centre, and it focuses the commercial and financial interests of mankind.
The whole civilised world feels its heart throb and the ear of every Government awaits its judgment. It is impossible to adequately grasp its mighty population of 6,983,249 – more than the combined populations of Paris, Berlin, St. Petersburg, and Moscow.
Put together the populations of Birmingham, Bradford, Bristol, Brighton, Cardiff, Derby, Hull, Leeds, Leicester, Liverpool, Manchester, Newcastle, Norwich, Nottingham, Portsmouth, Sheffield, Southampton, Edinburgh, Glasgow, Aberdeen, Dublin and Belfast, and you have 40,000 less than London. Its inhabitants are more than those of federated Australia or Canada, more than the whole of Scotland or Ireland. Every twenty-four hours a million people enter and leave the City. There are about 2,000 tramcars, 3,500 omnibuses, 7,500 hansoms, 3,700 cabs and 250 miles of railway within the County of London. Every year over 1,600,000 persons are either in or outpatients of London  hospitals and a million pounds are spent yearly for these sufferers. In the history of the world London stands magnificently unique, and travellers from every land are amazed and fascinated by its moving panorama of millions.
Every decade 300,000 persons are added, and every year the green fields are invaded in far off suburbs and long rows of dwellings are erected which stretch out like the huge arms of an octopus. It was to a London much smaller than this (with a population of about 1,500,000) that Paul Sugden and William Watson, our first missionaries, came in 1832, though Hugh Bourne, James Crawfoot, and John Benton had previously reconnoitred the city. The story of their commission by the Leeds Circuit December Quarterly Meeting of that year is one of the classics of our Church. They arrived by coach at the "Swan with two Necks," in Gresham Street, then called Lad Lane. The only shilling they possessed between them was given to the driver as "backsheesh," so that, when the guard also touched his hat for a tip they had to explain their position and the mission they had undertaken. The guard, with a fine Christian spirit, took the strangers home for the night, gave them breakfast, bought a hymnbook, and started them on their campaign. They were apostolic, at any rate, in being provided with "neither gold nor silver in their purses." These circumstances would have discouraged less brave-hearted men.
Cooper's Gardens Chapel, off Hackney Road, was the first opened in London. In January, 1824, William Clowes took charge of the London Mission and remained until September of the next year.
Coming as he did, from the northern evangelistic fire, even his great soul seemed to be chilled by the small success and cold indifference of London. He says, "London is London still, careless, trifling, gay, and hardened through the deceitfulness of sin." Again, "the pride, levity, and corruption of London appeared to be unassailable; the powers of hell reigned fearfully triumphant. Oh, for God's mighty arm to be outstretched to shake the mighty Babylon to its centre!" Many a fervent soul has since uttered this prayer, and but for the mighty agencies for spiritual uplifting and the brooding Spirit over this moral chaos, London would be the earthly official seat of the Prince of Darkness. Even at Westminster when preaching in the open air, he says, "The Philistines were again upon me; the abandoned of God and man, like incarnate devils, raged and howled around; however, I cried to the infuriated multitude to repent and believe the Gospel, and contrary to my expectation, I finished my address and retired without suffering any injury."
In passing judgment upon our fathers concerning the out-of-the-way buildings they secured for worship (some of which are still our inheritance) let us not forget the tremendous difficulties of their pioneer work. In September, 1825, the total membership in London reached only 170.
From 1828 to 1834 London was attached to the Norwich District, and in 1842 we find it formed part of Hull District. It is impossible in this brief article to tell the story of each decade even – it is a record of arduous toil amid mountains oF difficulty which only prayer and faith could overcome. In this pioneer work must be mentioned John Flesher, John Coulson, Thomas Ratcliffe, Thomas Holiday, William Harland and John Ride. In 1848 London was formed into one independent circuit, the Rev. George Austin becoming its first superintendent.
The preachers' plan of 1847 lies before me, and it includes the whole city and its suburbs. In 1850 a second London circuit was formed. In 1853 a third circuit, and later on a fourth was made possible. We now became an established Church, and the subsequent history is one of remarkable enterprise and extension, unequalled perhaps in our church. At the present time we have 45 stations, 55 ministers, 120 chapels and preaching places, 9,431 members, 14,472 hearers, 20,000 Sunday School scholars, and Trust property costing £290,000. The story of recent developments of London work has yet to be written, and a brief glance at the chief lines of extension is all that is possible here. Since 1890 forty-four new chapels have been erected, fifteen being entirely new enterprises, six taking the place of rented halls, eleven permanent buildings superseding iron structures, and thirteen superseding former chapels.
Of these a few sample cases of recent outstanding success may be mentioned. Harringay New Church, built at a cost of £5,348, of which only £1,800 remains as debt, is a testimony to the enterprise of the Rev. T.J. Gladwin – Camden Town, built at a cost of £5,828, and the debt entirely extinguished is a witness to the enterprise of the Rev. W. Mincher – Stoke Newington, costing £5,444 with only £355 debt, is a tribute to the great service rendered by the Rev. J. Johnson – who is now in charge of St. George's Hall – Manor Park, costing £5,000 and numerous other places testify to the long and devoted service of Rev. R.S. Blair upon whose heart London is heavily laid – Willesden Green, a beautiful church costing £5,200, College Park and other places are permanent memorials of the work of the Rev. G. Shapcott, to whom north-west London owes so much. In the East the Rev. J.F. Porter has also laboured with splendid results.
Among the entirely new causes which have proved successful are Leytonstone, Bush Hill Park, Thornton Heath, Forest Gate, Brixton and Tooting. Other successful cases of rebuilding and extension may be seen at Hammersmith, West Hendon, Bromley Common, East Dulwich, Leyton, Erith, Cubitt Town, Woodbery Downs, Finchley, Brentford, Ealing, West Ham Park, Enfield, East Wickham, Streatham, South Norwood, Hamilton Road, South Lambeth, Balham, Wimbledon and Wandsworth Bridge Road. Besides these there are two great missions – Whitechapel, with property originally costing about £24,000, the only debt being the recently purchased Brunswick Chapel – and St. George's Hall costing £16,772, now entirely paid for. These excellent premises were secured by the enterprise and courage of the Revs. T. Jackson and J. Flanagan. In all about £80,000 have been raised for new estates since 1890. Nor should great efforts for debt reduction be overlooked, for these have demanded equal, if not more, determination and energy than the erection of new buildings. London can boast of a few debtless chapels, viz., Stepney Green Tabernacle, Poplar, Millwall, Wood Green, Cobbold Road, Upton Park, Feltham, Notting Hill, Hamilton Road, Kingston, Norbiton, Worcester Park, Hampton Hill, Rotherhithe, East Street, Clapton Tabernacle, Southwold Road, Chapel End and Smeed Road. In other cases debts have been greatly reduced, such as Caledonian Road, Canning Town, Grafton Road, West Hampstead, King's Cross, Plumstead, Surrey Chapel (where the debt has been reduced by £2,700), Higham Hill, Forest Hill and London Fields.
The motto of London Primitive Methodism is "Forward." Since 1871 there has been an increase of 5,142 members or 238 per cent., a larger proportion than any other home district. Indeed, if our church generally had shown the same proportionate increase our total membership would be about 350,000. It is noteworthy, too, that whilst, according to the "Daily News" census the Episcopal, Baptist, Congregational, Wesleyan, Presbyterian and Salvation Army all showed decrease in attendance at public worship, our own church had an increase of 20 per cent. This progress has not been made without men of steadfast purpose and holy daring, only a representative few of whom illustrate this article, together with some recent erections.
With all this advance, however, our position is far from satisfactory in this great city. What are 15,000 members and adherents among these millions? There are aspects of our work in London which call for very serious consideration, and a special Conference Committee is considering the whole question. Our fathers did nobly with their limited resources, but several neighbourhoods in which they erected buildings have completely changed, and without great financial aid it is impossible to work these successfully.
Many buildings, too, are unsuitable in style and architecture, and must be adapted to modern times and for twentieth century work. As we cannot successfully farm to-day with fourteenth century implements, so the church machinery and methods must be brought up-to-date. Village methods will not do for city life, and there is a danger in making men with parochial ideals the leading officials of our churches. They may succeed in their country cause but lack the power of leadership in London. The same thing applies to ministers. The most successful ministers in London are those who have grown up with its life or spent many years in the metropolis. The three years' ministerial system is utterly inadequate for London Methodism, as our Wesleyan friends have also discovered. A man suitable to a locality should stay six, ten, or even more years if doing well in extension or consolidation.
Nowhere in the Connexion is there such an opportunity for our people, amid a vast population continually increasing. With well organised open air meetings, engaging the efforts of the best preachers, with the larger employment of sisters of the people and lay pastors, with men of enterprise and broader vision, with one London district and modern methods, above all with the old enthusiasm for God and men, the next decade should see a great development of London Primitive Methodism. There are immense areas, such as from Plumstead to Catford with a population of at least 200,000, without any Primitive Methodist Church. In order, however, that the open doors may be entered and the present financial burdens removed it is absolutely necessary that greater financial assistance should be given. Mr. W.P. Hartley has rendered most stimulating help, and from outside sources our work in London has received generous financial support from such benefactors as Mr. J. Peters, Mr. T.A. Denny, Mr. and Mrs. J. Goodman, Mr. J. Hitchman, Mr. E. Tildesley, Mr. J. Pearce and the Upper Clapton Congregational Church. All assistance hitherto given by these and connexional funds has but touched the fringe. The interests of the whole Connexion are largely affected by the condition of our church in this empire city, and with larger financial resources we could take a more worthy part in the spiritual uplifting of this great world centre. The salvation of London would hasten the evangelisation of the world.
References
Primitive Methodist Magazine 1908/550