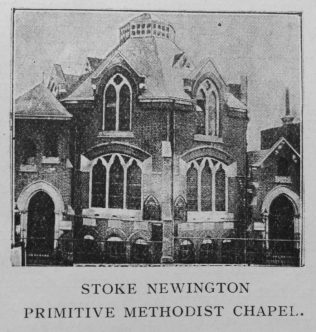 Transcription of article published in the Primitive Methodist Magazine by William Curry in the series "Our Struggle in London"
FOR the present this must be the last "despatch" of our London Campaign. The battle is still waging fiercely and strongly and we would fain tell of those who in the thick of it are making so brave a stand.  But our debt is to the past and it is at the shrine of departed heroes we would lay our slight tribute of praise. The campaign has been a wonderful one, and the spoils have been marvellously rich for so small and ill-trained an army with no resources except its own quenchless zeal. Its holy crusade was to take the city for Christ. What great things it accomplished! And yet we find the soldiers half ashamed that they were doing so little. Surely they did better than they knew, and they have left a heritage of which any church might be proud.
The story of this "One Hundred Years' War" need but pass in swift panoramic view before the mind's eye for its true proportion and significance to be seen.
Hugh Bourne came to London in 1810, and in 1811 there were four classes and forty-five members. Yet in 1822, when the penniless missionaries. set foot on the streets of the Metropolis, there were no Primitive Methodists to welcome them. But the following year saw eight preaching places established and twenty members enrolled. Ten years afterwards, in 1833, there were three hundred members connected with ten preaching centres, though as yet no chapel had been built. In the year of the great "landmark" of the Connexion, 1843, there were three chapels and four hundred and sixty-six members. The next decade were the "years of plenty," for the progress was at the rate of one hundred and thirty per year, and at the end of ten years, there were three circuits, and London stood at the head of a new District. In 1864 there were four circuits and 2,729 members. In 1876 the numbers had become ten circuits and 4,651 members. To-day there are forty-two stations, 9,500 members, and fifty-five ministers.
Side by side with this, take the material progress. In the year 1835 we had not one shilling's worth of property in London. True a chapel had been built, but it had to be sold for debt. Twelve years afterwards, in 1847, only three chapels had been erected, costing some two thousand, four hundred pounds, while in 1861 there were fifteen chapels which had cost nearly thirteen thousand pounds. In 1876 the number of chapels had grown to eighty, costing some sixty thousand pounds. To-day we have in London property which has cost no less than two hundred and ninety thousand pounds.
During the first quarter of a century three chapels were built. During the last thirteen years forty-six sanctuaries have been erected. Fifteen of these have been to house entirely new causes—more than one new interest per year. Thirty-one have taken the place of rented halls or inferior premises.
Such a review cannot but be interesting and inspiring. London has been among the most fruitful of our fields. The difficulties have been tremendous, and might well have daunted the stoutest heart. But these have been overcome with a courage and fortitude at which we marvel. The splendid achievements of the past cry loudly to us that we "go forward."
Of course, like all human history, the story has been one of pauses and of leaps. No beginnings have been more modest. In small dingy rooms, in squalid courts, causes which have made history came into being. Cooper's Gardens was a veritable bushel covering a shining light. In Westminster we toiled fifty years only to have to give up at last for want of a suitable building. A bold policy by a united London Church would have established a permanent cause. The mistake has been made of scattering small. societies throughout the City, meanwhile failing to concentrate on strategic points. This policy was partially corrected in 1864, which began a new era of better churches in front streets, which appreciably quickened the pace of progress.
Great as the development of our work has been, it is felt that London has not yet taken its right place in Primitive Methodist enterprise. Our position in the Metropolis has often been described as unsatisfactory, while our work has been spoken of with disparagement and the country Primitive immigrating to the city has fought shy of joining his Church. Let it be said once for all of mosts of our London sanctuaries that while they do not rank with some of the famous churches of the world city in point of size and splendour, they are buildings of which no man need be ashamed, while those who worship within their walls display an example of enterprise, generosity and loyalty worthy of the praise of all who march beneath our banner.
But the problem that now awaits solution is:—How to achieve for the Connexion in the great Metropolis a worthy place among the greatest of its saving agencies. It is manifest that this cannot be accomplished by the creation of small weak circuits. A bold and unifying policy is needed.
Undoubtedly many difficulties lie in the way of this desirable consummation. These are certainly not of a geographical kind. Take a compass, place one foot at Charing Cross and the other five miles away, and the circle you draw will include or cut no less than twenty stations. From the same centre extend your compass other five miles and within a radius of ten miles you have all London stations save one which lies just without the circumference defined.
It will be seen therefore that the Connexion in London is compact. The whole of the forty-two stations are contained within an area no larger than that covered by some of our country circuits.
The real difficulty lies in the fact that London is not a unity as are other English cities. It is governed in sections by different authorities. Private interests clash with public interests, and the former often flourish at the expense of the latter. The private bus rivals and beats the public tram.
The description applies to matters religious and even in our own denomination. There is no unity of consciousness. The centre and often the circumference of interest is not the Connexion but the local church, and the centre of gravity its minister. The idea of the denomination has little influence.
In grappling with this great question these difficulties must be taken into account, and whatever scheme is evolved two things must be secured: One directing head for the whole of London and a rallying point for each local church. It is an open question as to whether the time is ripe for making the Metropolis into one District. Another proposal is the creation of a "London Board" composed of those who understand the peculiarities of the work, to take oversight of the chapels and the staff. It is absolutely necessary that there should be a minister or agent for each church. Afterwards might follow the regrouping of weak stations into circuits strong enough to close unsuitable chapels and open new districts.
The way is being quietly prepared. Holborn Hall has been secured and is a splendid centre. The London Council, although unofficial, is a great federating force. The elaborate scheme of debt extinction inaugurated by the generosity of Sir W. P. Hartley, will liberate fettered hands for the real work that waits to be done.
The prospects are as bright as a summer day, and if, in the dull hours of small things, our fathers wrought such mighty deeds, surely with the same faith and zeal, aided by wider experience and ampler opportunities, much more will be accomplished.
References
Primitive Methodist Magazine 1913/946