Wymondham Circuit, Norfolk
1922 Article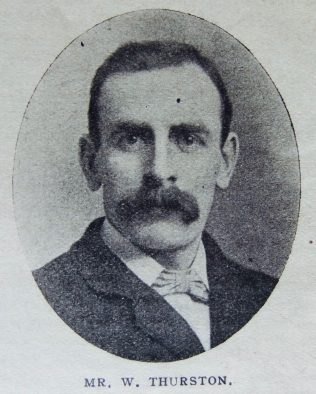 Transcription of Article in the Christian Messenger by Rev. W.J. Hemp
WYMONDHAM CIRCUIT has for many years filled an important place in the life of Norwich District. Its proximity to Norwich City keeps it in close touch with the centre of District life, and its own geographical position makes it a suitable gathering ground for Special District events, for which its beautiful and commodious town church provides splendid accommodation.
On an old Norwich Circuit Plan (1835), a copy of which hangs in the minister's vestry of our Central Church, and which bears the names of over seventy preaching places, the name Wymondham occurs three times, with a letter or letters prefixed in each case, viz., N.C., D. and T.G. These evidently mean Norwich Common, Downham and Town Green, respectively, names of districts still in use.
The history of Primitive Methodism in Wymondham begins a little further back, for in 1831, the front room of a cottage was used for worship by our people, for which a rent of one shilling a week was paid. It was evidently not well furnished, for we are told that many of the worshippers who wished for a seat had to take it with them. The first quarterly income of this society was two shillings and fourpence, but the members were not without enterprize, for it is recorded that "the sum of eleven shillings was collected, and two forms were purchased for the accommodation of the public."
It was in December, 1869, that what is now the Wymondham Circuit became the Forncett and Wymondham Branch. Note the priority of Forncett in the name, the village standing before the town. In the account books of the period, and even account books record history, Wymondham heads the list for one quarter only, one can almost hear some rural brother's protest, then Forncett takes first place and holds it for three years, when the town leads again and eventually gives its name to the fully fledged circuit.
The first ministers of the branch were David Newton and Arthur T. Wardle. The latter was then at the very beginning of his ministerial career, and was destined to play a very large part in the life of the circuit and of the district. The super's salary in those good old days was £15 15s. per quarter and the probationer's£5 10s., with an allowance of £3 10s. for what is called "Mr. Wardle's Meal Bill," which sounds rather like an item in a farmer's account. Mr. John R. Smith was the first steward, and held the position for many years. At the first quarterly meeting the new branch forwarded an application to the District Committee for permission to build the present chapel at Wymondham, and another minute of those days records the fact "that Pulham C.E. is out of debt," and desires the Trustees "to take steps either to rebuild or improve." Those were days of push and daring. One can but barely mention the names of the leaders of those old days. Besides the ministers already referred to there were Edward Howchin, Thomas Swindell, Samuel Smith, William H. Meadows, George Seaman, W.M Batterbee, William Moore, and amongst the younger men of that time, Frederick W. Brett (who is still young) J.W. Normandale, John H. Harradine, Francis C. France, William Balls, S. Willetts, Alfred Morter, James Davidson and Isaac Ashworth. 
Among the laymen there are many names still held in grateful remembrance. John Robert Smith, the first Circuit Steward is still with us, though in an enfeebled state of health, and in his 88th year. He is still able to attend our services. What a tower of strength he has been in his day! What a mark he has made upon the life of the circuit! R. Bell, one of the stalwarts of Wreningham Society and a pioneer of our cause there, he, too, still remains and resides with his daughter in another part of the country. W. Chatten of Tasburgh, a man of deeply spiritual temperament, J. Kent, the orator among the local preachers of his day, James Hipperson, a preacher of considerable power, Noah Jackson, who received his "Note of Liberty" at the first Branch Quarterly Meeting, and gave many years of service as preacher and Sunday-school worker. George Lane, a man with a big heart, who will always be remembered as the founder and devoted teacher of Wymondham Bible Class, and who with his wife wielded a great influence for good in the circuit. Other names figuring in the early records are John White, James Locke, John Ludkin, Charles Mallows, Mrs. Trudgill and many others all now gone to their reward. Mention should also be made of Jabez Spooner, who, though not associated with the circuit in its earliest days, was for many years a conspicuous figure. He was a Deed Poll member of Conference, and exercised a gracious ministry in our pulpits until well on towards ninety years of age. His memory is held in great reverence. His son, the Rev. W.L. Spooner, now living in retirement in Wymondham, resided in the town when a young man, and was recommended for the, ministry by the circuit.
The heritage from such a past, and from the labours of such devoted men is great indeed. In things material, the present leaders and workers in the circuit have handed on to them a splendid equipment in the fine chapel property built in those earlier days. The church and school at Wymondham with manse and caretaker's house adjoining are buildings of which any circuit might well be proud, and the same can be said of many of the village sanctuaries. To the property in the circuit town there has been added in recent days a recreation ground with bowling green and tennis court and a pavilion where the Bible-class is held in summer. Some of the fathers might rub their eyes if they could return and see such developments, especially when the circuit rally week-end begins with a bowl's match. These things, however, are in no way unworthy of the past, and rightly used are a valuable adjunct to modern church activities.
Our spiritual heritage if not so calculable is even greater. Something of it is seen in the consecration and devotion of our present workers, many of whom are children and grandchildren worthy of their sires, and those who are not in the line of physical descent claim a spiritual kinship which has been to them a Channel of inspiration and blessing.
Our present Circuit Steward is Mr. Henry G. Stone, J.P., who came to Wymondham as a young man, and by sheer hard work has won a good position in the business life of the town. A prominent figure in political and social activity, his appointment as magistrate a few years ago was well merited, and the functions of the office are by him well fulfilled. He is the teacher of the Bible-class previously mentioned, a lay preacher in great demand in his own and other circuits. He holds District Office, and is a great force in East Anglian Primitive Methodism. He was nominated this year as Vice-President Designate of Conference, and we believe has before him a Connexional future.
Our "Junior" Steward is Mr. William Thurston, Junr., a man of striking personality and distinctive quality of mind. A working farmer, who in his busy life finds time to read good literature, and living as he does in close touch with nature, is able to vivify his thought with the best of all illustrations. A preacher and a leader of young people, President of the Local Free Church Council, solid and reliable, sympathetic and sensible, one wonders what the rural side of our circuit would do without his wise and kindly guidance.
No sketch of Wymondham Circuit would be complete without a reference to Mr. Dennis Trudgill, a brother of strong individuality and of deep earnestness. Quarterly Meetings and Circuit Conferences would seem strange if they lacked his presence and his thought provoking and heart searching contributions to debate. He, too, is a hard-working farmer who knows how to read and to profit by what he reads. He is a local preacher and a great social worker who has given many hours of his time, and who shall say how much of his strength in the interests of his fellow-men. Trouble has cast its shadow over our brother's life, and he is sometimes inclined to take the darker view of things. The decay of religious life in recent years has saddened and often depressed him, but amidst it all his own faith rings true, his confidence in God is unshaken, his zeal for the cause and for the "Kingdom" is unabated.
Among the leaders of the young life of the circuit, Mr. John Bartram is a prominent figure. He is Superintendent of our Sunday-school at Wymondharn, and takes a keen interest in the C.E. and in every form of work amongst young people. A Temperance enthusiast, he last winter conducted a United Free Church Band of Hope in the town. Thorough and painstaking in his method, impatient of laxity and inefficiency, he puts his best into any work he takes in hand. Deeply evangelical in his religious outlook and at the same time keenly interested in clean sport and in games that are really recreative, he is just the type we need in our Sunday-schools and young people's institutions.
One of the most genial personalities among our leaders is Mr. James White, who at Silfield, where his father laboured before him, renders splendid service to our cause. As Society Steward, Class-leader, Sunday-school Superintendent, and C.E. worker, he is equally at home with old and young. Always at his post, which, in the village chapel is very near the door, he is the first to give you a welcome. Interested in religious worship, hearty in its singing, he is an inspiration to both preacher and people. A real circuit man, supporting all circuit activities with his presence and his gifts, while maintaining the wider outlook and interest in District and Connexional affairs. A true and loyal friend, one for whom it is easy to form a real affection, a man who possesses the confidence of all the village where he lives, where he is a centre of the best kind of life and a great asset to our church.
Limit of space prohibit any reference to many other worthy and capable workers, who are real leaders in their own sphere and make possible the carrying on of circuit life. A tribute, however, must be paid to one or two of our lady workers. Although none of them grace our plan as lay preachers we have those who are able to conduct public worship when occasion requires, and that in country villages is rather frequent. A few of our sisters, however, are in office as Society Stewards. Mrs. Skinner of Pulham, Colegate End, has stood by our cause for many years, and is still unflagging in her interest and devotion. Her "assistant" is a "young " lady of about eighty summers. Mrs. White – magazine agent and general run-about, whose activity in the cause is a marvel unto many and an example to all. Then at Tasburgh we have Mrs. Green, who, in spite of a crippling personal affliction, has fulfilled well the chief office in the Society, and at Pulham, North Green, Mrs. Alden adds to the office of Steward that of Sunday-school Superintendent. Mrs. Clarke at Fundenhall, is Assistant Society Steward and Superintendent of a Sunday-school of about fifty scholars, a woman who combines untiring energy with a spirit of self-sacrifice. Although not a leader in our circuit, we are greatly favoured in Wymondham by the kindly presence of Mrs. Wardle, widow of the late Rev. A. T. Wardle, who gave a considerable part of his long ministry to this circuit. Both she and her late husband are enshrined in the affections of our people, and our circuit life is the richer for their long association with it. Such a past, and such a present should promise even a greater and more glorious future, and by the grace of God and the devotion and sacrifice of those still privileged to serve.
"These things shall be."
References
Christian Messenger 1922/334