Sutton and Kirby Circuit, Nottinghamshire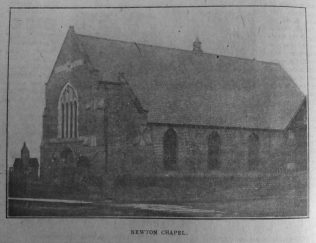 Christian Messenger 1918/138
Christian Messenger 1918/138
Transcription of Article in the Christian Messenger by Rev. Matthew H. Bainton 
THE Sutton and Kirkby Circuit cannot boast of large and costly buildings, nor of Churches with large memberships, yet it is recognised that in all the essentials of a Circuit it is rich indeed. While our Chapels are not large they are admirably adapted to the religious and social needs of this neighbourhood. The Circuit is among the younger Circuits of the Connexion and has all the enterprise of youth. Being in the centre of industry, the whole circuit throbs with life. Only thirteen years ago were we separated from the Mansfield Circuit, leaving the new Circuit with fourteen Chapels, the total value of which amounted to £9,808. But the debt was £4 485. Since then we have not only increased the value of our property to £14,677, but have reduced our debt to £2,900. During this period we have opened a new chapel at Newton, new schools at East Kirkby, a school chapel at Stanton Hill, a new Chapel at New Cross, and a temporary chapel and school at Hillocks; not a bad record for thirteen years. Our membership increases year by year, and in every department our work has prospered. Missionary interest has been aroused and the income has leapt from £36 to £137.
These figures speak for themselves, and give evidence of the fact that, though young, this circuit is not least among the circuits of Primitive Methodism. What devoted service has been required to make this progress possible! When the circuit was formed there were a few who saw the difficulties ahead, some were fearful, others were confident of success. The victory has been given to the men of vision and activity, and to-day we are strong to do the Masters will. Forward is the watchword of all the leaders, and the vigorous religious life of our churches gives promise of a great future. The present ministers are the Revs. M.H. Bainton and T. R. Auty. The circuit has been well served by its local preachers. Its Sunday school teachers have golden opportunities which many of them are seizing with gladness. Yet in all our activities for the Master, we are convinced "the best is yet to be."
In Sutton-in-Ashfield we are at a disadvantage, having four churches in a town of 22,000 inhabitants. This appears division carried to excess, but account has to be taken of the extreme angularity of the town, with its many districts. Though necessarily split up into four churches all has not been loss, for in these churches we have gathered diverse types of men, some of which would not have been won by one central Church. Divide and conquer has been the method, and judging by results, the object has been achieved. Of course there are drawbacks to such division, the Pulpit supply being the most serious.
Reform Street, Sutton, is the Mother Church of the Circuit. Its history is associated with the labours of Sarah Kirkland, who after her first service at Hucknall Torkard was urged by a barber to visit Sutton. A visit was promised and paid. A revival broke out, a society formed, the barber becoming the first and most useful member. In 1840 the present chapel was built and the cause prospered. Reform Street has been served in a noble manner by a succession of faithful men and women, among them was the late Mr. John Pickard, who was Superintendent of the school for the long period of fifty-nine years, and was Circuit Steward until his death. His work is carried forward by those he inspired. Some years ago this church was strengthened by the coming of Messrs. Crooks, Smith. Eastwood and Swindell, to Sutton. Mr. Swindell has passed to his reward, but the others are still with us and serve as teachers in the school. Mr. Crooks, who is a lover of young people, has been President of the C.E. for twenty-two years. Mr. A.J. Smith is our Society Steward, and Mr. B. Eastwood served for many years as Treasurer of the Trust. Then we have old Suttonians who serve us well, Mr. J. Dove and Mr. J. Banner. Our Junior Circuit Steward, Mr. J.H. Brailsford has lifelong association with Reform Street, and to-day he is Super of the School, and Secretary of the Trust. He is a staunch Primitive Methodist and a great voluntary worker in all good causes in the district. He is one of the younger men of the circuit who in the days to come will gather the fruits of present service.
In 1894 new Schools were built at the rear of Reform Street Chapel, and then in two years time a new opening for mission work presented itself at New Cross, whither a band of workers were sent. This double venture in two years proved a burden to the Mother Church, but nevertheless she has recovered, and her prospects are bright.
New Cross has justified those who missioned there. A School was built and then a beautiful little Church in the heart of a populous district. The Church has grown until to-day we have a membership of sixty-one. The C.E., under the leadership of Mr. J.H. Stubbings, is a great power in the church, and last year had the joy of giving their former President, the Rev. H. Booth, to our Ministry. At New Cross is found two veterans of the circuit, Mr. R. Shore, who is ninety-three years of age, and our Society Steward, Mr. F. Shaw, both Local Preachers who have rendered excellent service.
Forest Side which is also in Sutton, was built in 1866. This Church is known by many "Connexional Leaders" who have visited it for special services. Here we are well served by Mr. J. Brailsford in the Sunday School, and Mr. Melanaphy, our Steward, and others.
Not far from Forest Side we have another Church, Hillocks. A few years ago Porter's Buildings Church became almost defunct, then at the request of the Quarterly Meeting, Messrs. J.H. Brailsford and William Read went to labour there. The Church revived, the Sunday School became too large for the building, a new site was secured, and a temporary Chapel and Schools were erected in 1916.
Another group of churches not far distant from Sutton include Stanton Hill, Tibshelf, Newton, and Huthwaite. Stanton Hill, which was missioned from Sutton, is noted for its singing; the choir is under the leadership of Mr. J.H. Corbett. The Sunday School is well staffed, the Super being Mr. T. Round, ].P., who has served in this capacity for forty years, to the great benefit of the Church. Here too, we have Mr. N. Vann, our Circuit Sunday School Secretary, and a Local Preacher of no mean order, and whose family render good service to the Church and Circuit.
At Tibshelf our Church is found among the Colliery "Rows." It is said that when these rows were in the course of erection, three incompleted houses were reserved by the Colliery Co., for the Prims., which our people used as chapel and school until they found a permanent home in the present chapel. Many a Primitive Methodist Church has been enriched, and a few new churches founded by workers who have gone from Tibshelf to new coalfields. Though having lost so many by removals, we have still a devoted band of men and women left. Our Society Steward and Super of the School, Mr. W.J. Ford, is more than ready to serve. It is a benediction to visit his home, especially on the missionary anniversary, the children and parents alike being eager to see the "Box" opened, and every year it increases in amount. Then there is Mr. G. Meakin ever present at the services, except when he is out on the Circuit preaching the Gospel, bringing "forth out of his treasure things new and old."
Nearer Sutton is Newton, where we have a vigorous Society wisely guided by saintly men. We owe much to Mr. Platts, Mr. S. Dunkley, and the Butler family. Mr. and Mrs. Walter Dunkley are members here, who, as Local Preachers take a large share of Circuit work, and then are not behind others in service to their own Church. At Newton the Cottage Prayer Meeting and Open-air Services are still held, and well sustained by a band of young people. No wonder this church recently gave three young men as Local Preachers to the Circuit.
A little nearer Sutton we come to Huthwaite. Our cause here like many others in this district commenced in a stockinger's shop. Then a site was secured and a chapel built, which has since made room for a larger one. We have some veterans at Huthwaite, Messrs. Pembleton and Mann, both Local Preachers, and Mr. D. Hursthouse, Superintendent of the School. But what gives promise for the future is the host of young people connected with our Church, If these are wisely led Huthwaite can well become a strong church.
On the other side of the circuit is our largest Society, East Kirkby. This place was missioned from Reform Street. The Society was first housed in a stockinger's shop until a small chapel was built. This chapel was soon found too small for the growing church, so another, and more important site was secured and our present chapel built. But alas, their eagerness to have a place that could be seen, the Trustees failed to obtain a place in which the preacher could be heard. However, nothing daunted, this was corrected by dividing the building, allowing for a school underneath on the ground floor, and a chapel above and apart from the disadvantage of having to climb steps into the chapel, we have good premises, and withal the notoriety of having the highest building in the town. The cause prospered and new schools have been added, and even now we have none too much room. This year the school, under the Superintendency of Mr. J. Hemstock and Mrs. Wheatley, has won the Hilton Challenge Shield in Scripture Examination. Our workers at East Kirkby are numerous, but one cannot refrain from referring to the late Mr. Bird, and to Mr. J. Kirk. Then there are our Society stewards Messrs. W. Sharpe and D. Hudson, both Local Preachers in great demand in the circuit and worthy representatives of our Church. Our Circuit Steward, Mr. G.A. Steggles, resides at East Kirkby. A men well versed in all matters relating to the Connexion, he combines interest in the affairs of the Church with a robust spirituality. Mr. Steggles is a Local Preacher and is proud of the fact that he comes from a village church, and village Primitive Methodism has a warm place in his heart. He also shows his Norfolk training in the interest he takes in our missionary work. For years his home has had a missionary box which has been well filled.
Not far from Kirkby is the Colliery village of Newstead, where we have a Church membership that maintains the Class Meetings as a living power, and the week-night service is well attended. Our Society Steward, Mr. J. Geary, is a man beloved; he is the one man in the village for whom people send when they are in trouble. Many a home has been blessed by his ministry. His own home is always open to Local Preachers and Minister alike.
At Annesley Woodhouse we have a temporary Chapel, recently freed from debt by a generous people. Kirkby Park also has a temporary Chapel and a good Sunday School. Bleak Hall Society goes back to the early days of our Church. One of the oldest societies, and last to be mentioned is Blidworth. This place was missioned so long ago as 1817 by Sarah Kirkland, and William Clowes visited it later. It is a lonely journey to Blidworth from any part of the circuit. May our Preachers bear in mind they are tramping in the steps of one of the illustrious "Fathers" of our Church. Surely there ought not to be stories of neglected appointments here!
The Sutton and Kirkby Circuit is strong in present workers, and full of promise for the future. One need which wise officials will meet in the future is additional ministerial labour.
References
Christian Messenger 1918/138