Tunstall: Conferential and Connexional Associations
Includes an account of Mr. Smith's kitchen and the early days of the Primitive Methodist Church in Tunstall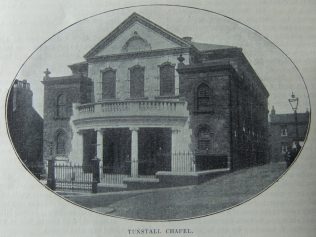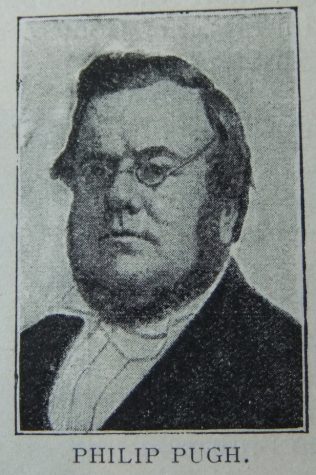 Transcription of article in the Christian Messenger by Fenton Allen
It is most fitting that the Centenary Conference commemorative of the origin of our church should be held in the " Mother" Circuit of Tunstall. It is within easy distance of Mow Cop where, in 1807, Hugh Bourne held his first Camp meeting. Some six miles distant is the mining hamlet of Stanley, where in a roadside iron-workers cottage, in the month of March, 1810, the first Society Class of ten persons was formed which became the nucleus of Primitive Methodism.
Our first Connexional chapel was opened for Divine worship at Tunstall, on Sunday, October 13, 1811, the special preacher being James Crawfoot, the first travelling preacher, "who had a glorious time." On the following Sunday, Hugh Bourne, who had contributed largely towards the erection of our first sanctuary, preached at Tunstall. In his own matter-of-fact style, Bourne records: "It was a great day. At night there were many mourners, and one was set at liberty, there is fine work at Tunstall, and it is likely to be a very flourishing place." It is interesting to note that this premier barn-like chapel was forty-eight feet in length by twenty-four feet in width. "It had" says Hugh Bourne with child-like admiration, "a sloping floor, half of the way, which served as a gallery. It was finished in a plain manner, the walls were not coated, and it had no ceiling. It was much approved of, on account of its plainness and neat appearance. In the erection of it, the house form was chosen, in preference to the chapel form; so that if wanted, it would just form four houses, according to the plan on which houses are usually built at Tunstall. This cautious method was made use of because it could not be known whether or not the Connexion would be of any long continuance." In the year 1821, this pioneer Chapel was transformed into four cottages and a larger chapel was erected, which was subsequently enlarged in 1833. The present Tunstall Chapel was built during the capable ministry of the Rev. Philip Pugh, and was opened in 1860, the Jubilee year of the Connexion.
Already, six annual Conferences have been held in the "Mother" Circuit. The first Tunstall Conference was held in 1822, when the church membership during that memorable year of aggression had more than doubled itself. In 1825, and in 1835, the Conference again visited the North Staffordshire pottery town. William Clowes presided over the Tunstall Conference of 1846, and John Bywater, of Hull chapel-building fame, was elected secretary. At the Jubilee Conference of 1860, the scholarly John Petty, who had previously been Superintendent of the "Mother" Circuit, was voted to the Presidential chair; and indefatigable John Brownson was appointed secretary. Nearly a quarter of a century elapsed before Tunstall again entertained the annual Parliament. At the Sixth Tunstall Conference of 1884 the devoted George Lamb was chairman, Thomas Bateman vice-chairman, and William Graham, of north country fame, secretary.
Wesleyan Methodism in Tunstall began in a very humble way, when it was a mere hamlet with a population of about a thousand inhabitants. Mr. Joseph Smith, brother of Mr. John Smith, and a kinsman of James Steele, though never himself a member of Methodism, "may be regarded" says Bourne, "as a supporter and in some degree the introducer of Wesleyan Methodism into Tunstall." It appears that this wealthy gentleman had in his service a truly pious man who had been for some years in the fellowship of the Methodist Church, in the neighbouring county of Chester. While he was bitterly lamenting to his employer that there were no Methodist preachings nor Class meetings at Tunstall, Mr. Joseph Smith strongly advised him to begin services forthwith. This godly working man was successful in forming a Society class of twelve members which met in his own cottage. When the "church in the house" wanted preaching services, Mr. Smith readily granted the use of his own spacious dining room for the holding of public worship. Mr. Joseph Smith further manifested his interest in the infant Methodist Society by giving a site of land for the erection of a Methodist Chapel, and also by contributing a large donation to the building Fund. Although John Wesley frequently visited Burslem and Longton he only paid one visit to Tunstall, and that was on Monday, March 29, 1790, when at the early hour of nine o'clock in the morning he preached in the new chapel, which he describes as being "the most elegant I have seen since I left Bath." His text was "Let us go on unto perfection," and the people seemed to devour the word. Mr. Joseph Smith, having no family at his death bequeathed the whole of his valuable property to his somewhat eccentric brother, Mr. John Smith. With this gentleman, Bourne formed an acquaintance in 1807. Towards the end of the same year, Mr. John Smith arranged for the Camp Meeting Methodists to preach beneath his own rooftree. The kitchen of this mansion, which sheltered the ark of Tunstall Wesleyan Methodism, by a strange coincidence was licensed by Hugh Bourne for the holding of religious services, and preaching was continued therein by the founders and pioneers of Primitive Methodism on Friday evenings until the old gentleman's death. The first "Primitive" Methodist pulpit that was used by Bourne, Clowes, Steele, Nixon, and other early notables at these week-night preaching services is one of the mementos that is sacredly preserved in the Tunstall schoolrooms.
Shortly after his twentieth birthday, William Clowes was married to Miss Hannah Rogers of Tunstall, and for some time he lived with his mother-in-law. After his remarkable conversion Clowes removed to "a much more commodious house" in Tunstall, in which he held prayer meetings and established a Society Class meeting. In 1811, Clowes' Tunstall Society Class united in organic fellowship with the Camp Meeting Methodists. A new era commenced on May 30th, 1811, when Society Class tickets were issued for the first time to all the followers who had been Bourneites and Clowesites. The next year at Tunstall the infant Community took the name of Primitive Methodists, and published their first printed plan. The denominational Mother town of Tunstall is fragrant with memories of godly and self-denying men, who were include in the makers of early Primitive Methodism. It was the home of Messrs. James Nixon and Thomas Woodnorth, who out of their weekly earnings paid the "salary" of William Clowes, and enabled him to leave the potter's bench for his preliminary evangelization of the people of Stafford and Derby counties. James Steele, our first Circuit steward; and Joseph Capper, who was cruelly imprisoned for his political opinions were inhabitants of Tunstall. During its long history the "Mother" Circuit has been favoured with a succession of capable and resourceful ministers. Their pulpit and pastoral labours have exercised a potent influence for good upon the home-life of the most historic town in our Connexional Zion.
References
Christian Messenger 1910/168