Brinkworth Circuit, Wiltshire
1922 Article
Christian Messenger 1922/78
Christian Messenger 1922/78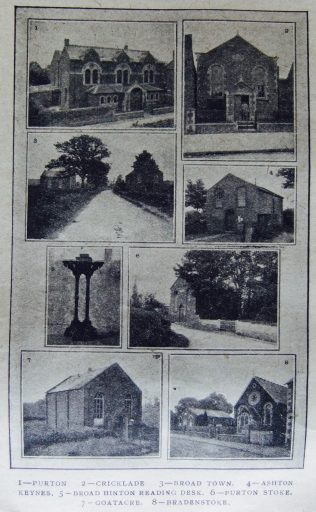 Christian Messenger 1922/78
Transcription of Article in the Christian Messenger by Rev R. Cowie
THIS historic circuit goes back for nearly a hundred years. It will soon be celebrating its centenary. It is situated in the north-western corner of Wiltshire and has as its central position Wootton Bassett, an old market town. The chief industry is agriculture, and it has within its borders many who have secured their present position in the public confidence – places of honour in the various Councils – Parish, Rural District and County Council – through the presence and acceptance of the teachings of Primitive Methodism. The sale of dairy produce is the leading characteristic of the countryside. There are no large towns within its borders. Wootton Bassett and Cricklade are the only towns, but neither of these have more than 2,000 inhabitants. Purton is a large village with 2,600 souls within the parish. So it is really a circuit of villages. Notwithstanding this, this circuit takes one of the foremost positions in the Connexion, and continues to provide some of the finest workers in the churches of our towns and cities. It is here we find village Methodism carried to perfection. Within a radius of eight miles of its centre we have a chapel, with rare exceptions, in every village and parish in the neighbourhood. So thoroughly has the work been done in the past that Primitive Methodism is well-known by all and without a doubt is the predominating religious force in the vicinity.
The village of Brinkworth, the original head of the circuit, can only be found on a few maps. Yet it is beautiful for situation. Its position can best be understood when we think of it as being on the main road between Wootton Bassett and Malmesbury, or as being ten miles from Swindon and thirty miles from Bristol. It is a village five miles long with farmsteads on either side of the road. The circuit is fifteen miles across, and has as its constituent parts, twenty-one societies with 548 members. Connexional property, including two manses, is valued at £10,000, and it is all free from debt.
The circuit had its beginning early in 1824 when Mr. S. Heath of the Shrewsbury Circuit, established this mission in North Wilts. Here he found a profitable field for labour, and the results were immediate and abiding in spite of keen opposition and bitter persecution. Even in those days Brinkworth was not a populous village; there were not more than 1,000 souls within its area. Yet it was here that a successful beginning was made and the first society formed which became a nucleus for Primitive Methodism in this south-western part of England. After the initial difficulties were overcome there went forth from this centre the fire of saving truth into all the surrounding villages. After persistent effort and patient endurance, Wootton Bassett was captured and a powerful society was formed. So successful were the labours at that time that by the end of 1825, only eighteen months of missionary work, such towns as Malmesbury, Chippenham, Wootton Bassett, Swindon, Cricklade, Cirencester, Calne, and Devices were included in the mission. It was between the Conferences of 1826-7 that the Wiltshire Mission was made into the Brinkworth Circuit. At the Conference of 1827, five preachers were appointed to the station, with Mr. Heath as Superintendent. In 1828, Mr. Heath was succeeded by Mr. John Ride as Superintendent. Progress was made with remarkable rapidity which soon passed far beyond the bounds of North Wiltshire.
The circuit still retains its evangelistic and missionary zeal. There have been times of revival when the whole station has been very much stirred; men were born into the kingdom and became most useful in making further progress. Such a quickening by the Spirit happened under the ministry of the Rev. George Warner, and thirty years ago under Rev. L. Norris, when several of our most useful and acceptable local preachers of to-day were led to give themselves entirely to the service of the Master. In its outlook this circuit is essentially Connexional, and in all its affairs the wider life of the denomination is kept prominently before its people. It can justly claim to have had in its midst from time to time some of the finest types of Primitive Methodism. In this particular the present is not one wit behind the glorious past. Its present strength and vigour of life in the various villages emphatically prove this.
This circuit has always been fortunate in its stewards. They have invariably been men of affairs – men with remarkable gifts for their job. For very many years the principle has been to elect a steward for four years; two years as junior and two years as senior. This has proved most beneficial. Men of real worth and devotion have ultimately come to this position of trust which wonderfully creates lively interest in all Circuit and Connexional concerns. There has been a noble succession of capable and devoted men and there is still a long list of prospective candidates. This prevents the circuit from becoming a "one man" circuit. At an ordinary Quarterly Meeting there are usually half-a-dozen men present who have passed through the office of stewardship: these with their matured judgment help to keep the circuit on the high road to prosperity. The prospective stewards save us from getting into "ruts" and keep us up-to date.
The present senior steward is no doubt the man for the position. He is at home in such duties. His calculations and demands keep the circuit financially sound. He is a most able and acceptable preacher and well versed in our church polity. He is from an old Purton family who were among the first members of our Purton Society. Mrs. Haskins, his mother, is still with us and retains a lively interest in all that concerns the chapel. Mr. J. Haskins keeps very busy. He is also one of the Purton society stewards, organist and superintendent of the Sunday-school. He has special aptitude for work among the young people. In all these offices he is most efficient and devoted. Mr. A.R. Strange of Wootton Bassett, is junior steward. He has been connected with this society all his life, and for the last sixty years the family of Strange has had an unbroken and honoured record of membership with this society. Mr. Strange is a popular preacher and his services are in constant demand in his own circuit. He is a man with wide interests and is at home among the young people. He is one of the pioneers of the C.E. movement in the district. He may often be found among the C.E. Holiday  Tourists, at home and abroad. He is well primed in Connexional matters, and is a missionary enthusiast. So it is easy to see that the circuit is well manned. The past achievements are likely to be outdistanced by new adventures.
The ex-stewards are Mr. C.J. Iles, J.P., and Mr. J.J. Webb. This article would be incomplete without a few words about these brethren. During their terms of office a great work was done in the liquidation of all trust debts throughout the circuit. Mr. Iles was the leading spirit and is quite an adept in such matters. Not only does he dream dreams and see visions, but he is possessed with a restless soul until his dreams are fulfilled, and his visions actualized. He saw the need of removing the burdens from the trust estates and prepared his scheme which was accepted. After much thought, many meetings, long and cold journeys, the ideal was reached, which will be a lasting memorial to the enthusiasm and statesmanship of Mr. Iles. Over £500 was raised which cleared from debt twenty-one chapels and manses. In this work Mr. Iles was splendidly supported by Mr. J.J. Webb and many others. Our friend also took the initiative in declaring that the time had fully come when means of modern travel should be provided for the circuit ministers. A motorcycle is now provided for each minister, and Mr. Iles and his many friends will have the undying thanks of the circuit ministers. Our friend is no slacker, but is alive to his fingers' tips. He gives a considerable amount of time and energy to religious and public work. As a preacher he is in great demand and excels in this capacity. As a philanthropist he is generous to a fault. Honours have been showered upon him, but he hears them modestly. He is a district man with outstanding ability, and is utterly devoted to his church. Mr. J.J. Webb is one of the finest products of this old circuit. He is completely consecrated to the work of his Master, and the ideal of his church is carried into every sphere of his life. He gives his circuit of his very best in every way; but his activities and interests are not limited in his immediate surroundings; the work in the District and Connexion at large have his friendly attention. He is an acceptable preacher, and his enthusiasm and generosity is  its best when the Missionary Enterprise call for support and consideration. But Mr. Webb is bigger than his title! These brethren have worthily upheld the high standard of efficiency set by such saintly men as S. Gautlett, C. Maslin, I. Sweeper, S. Riddick, J. Parsons and others.
The circuit has never fallen short in any Connexional claims. The Centenary Fund received £1,000, which was raised by the unique means of a Cattle Sale – gifts from various friends. The African Jubilee Fund received £270, which was £120 more than the allocation. The Million Shilings Fund has had £110 the amount asked for. This is all the outward sign of the circuit's deep-seated loyalty. The Missionary Enterprise continues to receive increasing support. Contributions for this purpose have increased during the past three years by 125 per cent., until now the average amount per member is 8s. This is owing not a little to the beginning of a Branch of the Ladies' Missionary Auxiliary, which has as its capable and energetic Secretary, Mrs. R. New. The circuit is blessed with a splendid staff of local preachers. Neglected appointments are reduced to a minimum. The standard set by their preaching and good living is above the average. The ordinary duties are faithfully carried out and success is the natural outcome.
In work among the young people we are most fortunate in the leaders. The Sunday-school department has its consecrated workers in such men as E, Strange and Sydney Wheeler of Wootton Bassett; J. Haskins, C.G. Bunce and E.L. Gardner of Purton; C. Archer and E.J. Simpkins of Purton Stoke; A. Hitchcock and G. Spencer of Brinkworth; F. Taylor and J. Burchell of Goatacre; W. Morse and J.J. Webb of Lydiard. In fact in every school there is one or more who specialise on this work. The C.E. movement is still alive in our midst. The 84th Circuit Convention has just been held. Large numbers gather together three times each year when fresh enthusiasm is generated for pressing needs. Mrs. Ockwell is the efficient Circuit Union Secretary, with Mr. A.R. Strange as its honoured President.
To tell the story of the individual churches would be attempting too much, as limited space would not permit. We might just tell in a few words their leading characteristics, acknowledging our indebtedness to the Rev. W.C. Tonk's book on "The Victory in the Villages." Brinkworth is looked upon as "The mother of us all," with Mr. W. Hitchcock and E. Chequer as its oldest members. Broad Town is fitly thought of as "A far-reaching force," which is the home of the Humphries family. Wootton Bassett the centre and head of the circuit has been described as "strong and helpful"; this is the honoured home of the Pickett family who are such a blessing to the Connexion. Tockenham is the place where "The fire before the Lord is always burning." Grittenham is "the Chapel in the Field"; Bradenstoke is where the oldest chapel in the circuit is found, and from the beginning it has had to make "A Struggle with Hyper-Calvinism." Purton is the strongest church in the circuit, with twelve local preachers, and is looked upon as a centre of power. This was the home of Joseph Sweeper and the place of retirement, of the Rev. George Fowler. Purton Stoke is certainly "a hot-bed of Primitive Methodism." Hook is dogged and holds on; Leigh is "a wayside chapel," well attended; Cricklade has persistently made a stand "against drink and bigotry"; Callow Hill is "a chapel of ease," but full of promise; Braydon, "a chapel in the wood": Minety carries on successfully and Ashton Keynes makes an heroic struggle. Lydiard remains faithful to the spirit of its early days; Goatacre increases in strength; while Bushton and Preston, Winterboume and Broad Hinton reasonably anticipate that "the best is yet to be," for self-sacrificing and devoted service will merit such a reward.
The future of the circuit is anticipated with hopefulness. Already there are signs in our midst of enrichment of soul, quickening of spiritual life, which will culminate in the renewal of faith and a reconsecration of all the strength and ability within our borders.
References
Christian Messenger 1922/78