Hull Fifth Circuit, Yorkshire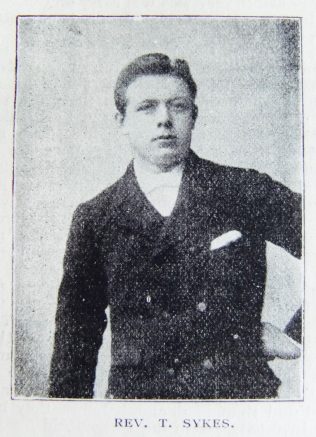 Christian Messenger 1899/181
Transcription of Article in the Christian Messenger by Stafford B. Whitby
A CIRCUIT that has, during the past three years, paid off a large circuit debt, built a new chapel and paid for it, is building a new school for which it has nearly all the money, called out a third minister, and which has an increase In its membership of 121 is surely worthy of a place in this Magazine.
Bourne Chapel, the head of this circuit, is one of the largest chapels, not only in Hull, but in the Connexion, giving seating accommodation for 1,420 persons. At present there is a debt of £3,550, but thanks to the generosity of the late Mr. William Norman, this encumbrance will in due course entirely disappear. The trustees highly appreciate this munificent bequest, for Mr. Norman had ever been a liberal supporter of the Church; and it is a pleasure to chronicle that Mrs. Norman also gives large sums of money to different objects in the circuit.
The circuit was part of Hull Fourth until 1881, when it was made an independent station. From the beginning it has had many worthy and liberal officials. Amongst these mention may be made of such veterans as W. Norman, S. Beecroft, J. Chambers, and J.B. Rufford. Mrs. Chambers survives her husband, and at eighty years of age continues to do much visitation and conducts two society classes. The future is bright with the hope that the large numbers of young people who now crowd the services will carry on the good work with even more vigour than has hitherto been done.
In 1889 St. George's Road Society was taken over with a membership of 122. Notwithstanding this, the circuit suffered a decline of membership between the years 1881 and 1896; but doubtless the good work done during those years is now bearing fruit, and the Rev. R. Harrison and his colleagues are by hard work and religious activity reaping a splendid spiritual harvest. During the past three years there has not only been an increase of 121 members, but an increase in the circuit finances, for it is ever true that increase of religious life means increased financial prosperity. Last year a marked advance was made by the calling out of an additional preacher and putting him down at Hessle, a rising village four miles from Hull. This was looked upon as a step involving grave responsibility, but it has proved beyond quibble to have been a most wise and prudent one. Not only have the circuit authorities paid more into the Furnishing Fund than is demanded, but they have also invested £50 in the Chapel Aid Association towards furnishing the new house when required.
For years a new chapel was needed at Willerby, but how to accomplish the object remained a mystery. Land was given by Mrs. Fisher, of Willerby Hall, and a little money raised; but until a year or two ago no determined effort had been made. The old chapel is a tiny little building down a lane and quite unfit for present-day purposes; in fact the average Sunday evening congregation now meeting in the new chapel would find it impossible to get accommodation in the old. The present chapel as will be seen from the accompanying picture, is commodious, well built, and occupies, as it should, the most prominent position in the village, and is regarded as quite an ornament to the neighbourhood. And why not? Should not the sanctuary always be 'The House Beautiful?' Many who could not help admiring its splendid appearance, yet wondered where the money to pay for it was to come from. For the moment they had forgotten that 'the earth is the Lord's, and the fulness thereof;' for when the figures were read out it was found that over £2 more than was required had been collected. Praise the Lord!
There is also in process of erection in connection with St. George's Road Society a much needed new schoolroom, and the friends are meeting this requirement with commendable zeal; in fact it is hoped that when the building is opened the entire cost will have been subscribed. The old school is crowded out with its 527 scholars, so that the new erection, with its accommodation for 1,000 children, will supply a really long-felt want. The St. George's Road Society is a most vigorous one, for besides the crowded school there is a large society class, conducted on varied lines, prayer meetings and experience meetings being interspersed with addresses and papers on practical topics by the second minister, the Rev. H. O. H. Richardson, his assistant, or other members of the class. By encouraging the weekly payment system the class contributions have been trebled in a short time. Several young people have been converted in the ordinary, meetings of the class. Temperance and Band of Hope work is energetically carried on. The church is young and vigorous, not heavily burdened with debt, is situated in a neighbourhood accessible and responsive to Primitive Methodist agency, and is, as it deserves, growing in popularity and influence. During the past two years the congregation has doubled.
At Bourne chapel both the membership and congregation have increased very much of late. Then there is an active and up-to-date Christian Endeavour Society, and the Band meeting – that clear indicator of the spiritual life of the church – is well attended and doing excellent service. In fact it is a real treat to visit this church and find its numerous services so largely attended and giving evidence of so much activity. There is also a strong Christian Endeavour Society at Hessle. Cynics even of the genial kind may think how easy it is to write in glowing terms the history of people and places, and with delightful coolness tell you they always take so much per cent. off such productions; but as is often said, 'seeing is believing' and a visit to this progressive and important circuit would be amply repaid.
The superintendent minister, Rev. R. Harrison, is a man who inspires confidence, not only in his officials but the congregation also. In the prime of life, well read, courteous and spiritual, it was felt that his second term of ministerial service in Hull would be marked by much success. He has taken a front place in the Connexion, has been many times to Conference, has held the dignified position of Governor of Elmfield College, and is now a trustee. He is a director of our successful Fire Insurance Company and indeed has taken part in most of the great connexional movements of the past 30 years. Mr. Harrison holds a very high place as a preacher, for his sermons are marked by much thought and filled with apt illustrations. No one can sit under, his cultured ministry without much blessing, for through all his sermons there breathes the most earnest desire to impress upon his hearers the importance of accepting Christ as a living and personal Saviour.
Rev. H.O.H. Richardson has in the short space of two years gained well-earned distinction as a hard working pastor and a most able preacher. Many of his own people think him the best preacher for a young man they have ever heard. Mr. Richardson is very much above the average and, given continued good health, by the blessing of God he will be able to achieve great success for Christ and His kingdom.
Rev. T. Sykes is in the first year of his probation, and, of course, it is yet too early to be emphatic. This can, however, be said with truth, that his praises are on all our lips: and in proof of his great popularity, a casual visit on a recent Sunday evening to Bourne Chapel found a congregation of 1,000 hearers. God bless Mr. Sykes and make him, not only eloquent and fearless, but deeply spiritual withal.
The circuit steward, Mr. J. Houghton, was, as many thousands of the principal laymen in our Connexion have been, a country lad. Early giving his heart to God, he took active service in the church. He is a class leader, a trustee both of Bourne and Selby Street, and has held the office of circuit steward for five years. Mr. Houghton is a thorough business man, is most liberal, exact, punctual, and in his quiet, unostentatious way does great service for the Master he loves so much.
It has been a real delight to give this short sketch to the readers of the Christian Messenger, for the circuit richly deserves notice. We hope, however, its present success is but the harbinger of even greater and nobler victories.
Our church in Hull has marvellous opportunities, for we have thousands of members and adherents, a score of beautiful chapels, numerous bands of workers, much wealth and influence, and a great name that will do us much service if we are wise. We pray for divine blessing on this city and many converts to our church.
References
Christian Messenger 1899/181