Hull: Primitive Methodism in Hull
Primitive Methodist Magazine 1902/420
Primitive Methodist Magazine 1902/420
Primitive Methodist Magazine 1902/420
Primitive Methodist Magazine 1902/420
Primitive Methodist Magazine 1902/420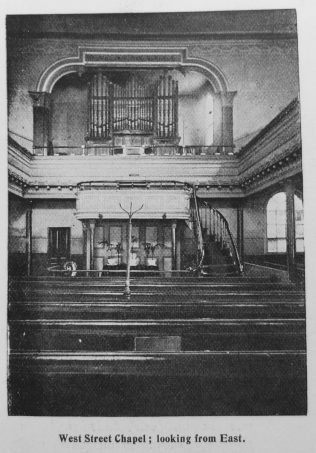 Primitive Methodist Magazine 1902/420
Primitive Methodist Magazine 1902/420
Primitive Methodist Magazine 1902/420
Primitive Methodist Magazine 1902/420
Primitive Methodist Magazine 1902/420
Primitive Methodist Magazine 1902/420
Transcription of Article in the Primitive Methodist Magazine by R. Harrison
At a very early date two religious orders were established in Hull. Edward I., wishing to bring down a blessing on himself and the town, and in gratitude to God for all the favours bestowed on him, founded a monastic institution for the Carmelites on the site now occupied by the Trinity House.
About 1314 a monastery was built for the Augustinians, or Black Friars, on the ground where now stands the Market Hall. In 1350 Sir William de la Pole founded the Priory of St. Michael, for the Carthusian Order, and endowed it with the Manor of Sculcoats, and other estates. But these, along with other houses, were suppressed by Henry VIII., so that all that remains of them is little more than the names which distinguish a few of the streets and districts of the city.
Methodism was brought from Grimsby to Hull by a woman named Elizabeth Blow. She was a relative of Mr. William Blow, who is justly regarded as the Father of Grimsby Methodism. Having business in the town, she used to call upon Mr. and Mrs. Midforth, who lived in the Ropery – now known as Humber Street. Through her they eventually became Methodists, and founders of the cause.
The first meeting place for worship was in the Ropery. From this the Society removed to the Butchery, near the Cross Reefs. In 1771 they went to what is called Manor Alley – a place which is soon to be pulled down for city improvements. Wesley speaks of this place as being extremely well furnished, and one of the prettiest preaching places in England. He preached in it at various times from 1772 to 1786, Benjamin Rhodes, author of Hymn 156 in our Hymnal, ministered in this chapel, It is near the Town Hall, and the delegates should see it.
Wesley's first visit was on August 24th, 1752. On the evening of that day he preached to a large company on Myton Carr, somewhere near to the site of our Great Thornton Street Chapel. His reception was rough, but good was done.
Interesting as it is to know when and by whom this or that religious order was founded, to us Primitive Methodists it is more important to trace the genesis and development of our own Church. William Clowes came to Hull on January 15th, 1819. A man sent from God was he. He came not in or with word only, but in power and demonstration of the Spirit. With no sound of trumpet or flagrant poster came he to begin his greatest life-work – a work which continues to grow. Like Wesley, he preached on the evening of the day of his arrival. The place was the old factory of North Street. There was some opposition, but God prospered the preached word.
Mr. Kidd says in his "Social Evolution" that a "certain restless energy, an almost unsatis?ed ambition to go forward, is one of the most pronounced of the individual and social characteristics of the winning sections of the human family." And an impartial judgment credits Primitive Methodism in its early days with the restless energy and an unsatis?ed ambition to go forward." And of this the history of our Church in Hull affords abundant proof.
It is worthy of note that during the same year Clowes came to Hull, Mill Street Chapel was built. It is now known as West Street Chapel – a place of many wonderful memories. The work done there determined the character of Primitive Methodism for years to come. For years the best of our people worshipped there, and happily carried with them into new and more beautiful sanctuaries, the fervour, the faith, and the force of earnest Christian life and work. As our Central Mission, West Street, is still doing good work under the quiet but effective management of Rev. P.O. Hirst and his band of faithful workers. We believe that there is a future for this historic sanctuary. In 1864, Jubilee Chapel was built, and Ebenezer in 1878.
In 1851, Jarratt Street Chapel was erected in memory of William Clowes. It seats 1,400 persons, and has had recently added to it very good and useful rooms, making it in every way suitable for the sittings and work of the Conference. The building of this chapel was largely due to the wise and liberal spirit of Messrs. William and Henry Hodge. The latter once told the writer that many serious consequences were predicted for them when they bought the land, and took steps to build. Certainly no place has more fully justified its erection than this one has. And all are glad that there are signs that the life of the place was never more vigorous than at present. Lincoln Street was built in 1892; Fountain Road in 1877; and Lambert Street in 1894.
In the Third Circuit we have Holderness Road Chapel, which was built in 1863 at a cost of £5,116, and seats 1,000 persons. It has been the birth-place of more souls than any other place of worship we have in the City. Hodgson Street was built and given to the Connexion by the late Mr. Henry Hodge. It cost £1,450. Recently there has been opened new premises in Holland Street and the Holderness Road, at a cost (including land) of £6,000. The chapel is yet to be built.
In 1847 – the year Rev. J. Bywater came to Hull – there were but the West Street and Nile Street chapels. Two years later Great Thornton Street Chapel was erected. It is situate near to the pottery where William Clowes worked before his conversion. It seats 1,000, and has a history worthy of our Church. Hessle Road Chapel was built in 1881, at a cost of £8,196. The debt left upon the place when opened was £6,315. But by the constant and heroic efforts of the faithful few, there is at present only £3,135. It is a good chapel, well situated for splendid service and for the building up of a powerful Church.
The Fifth Circuit was made from the Fourth in 1882, with Bourne Chapel as its head. This is the largest place of worship we have in the city, and is on the best road – Anlaby Road. It cost £7,610, and seats 1,420 persons. Its erection was chiefly due to the late Mr. and Mrs. W. Norman and Mr. S. Beecroft. It is the cathedral of Primitive Methodism in Hull. St. George's Road Chapel was erected in 1890, and has sittings for 652 persons. For a long time the progress was not very satisfactory; but during the last six years much prosperity has been witnessed. It is due to the memory of the late Mrs. Chambers to say that she missioned the locality, and for years rendered very good service as a class-leader.
In the Sixth Circuit we have Williamson Street and Hedon Road chapels. The former is reported to seat 1,300 persons. It was built entirely through the munificence of the late Mr. H. Hodge, and is a memorial to him. And no one deserves more the honour than he. It cost £7,886, and most of this sum was given by him. We well remember one night in his company, surveying the site – and noticing the joy that came to him when he decided that a chapel should be built upon it. East Hull Primitive Methodism owes much to his generosity and genuine attachment to our Church. And we are glad that his grandson, Mr. E. Robinson, is rendering very excellent help in many ways to our cause in the same church.
When the Conference held its sessions in Hull in 1881, there were five circuits, which included Beverley, now a separate station, with two ministers. There were 30 chapels and some mission rooms. The cost of the former was £68,582. They had seats for 14,652 persons, and had 9,964 hearers. The debt upon them was £34,926, and they were valued at £70,005. The membership was 4,561.
In the following figures we include those of the Beverley Circuit for the purpose of giving a true basis for comparison. There are 39 chapels in the same area and four mission rooms. The former cost £97,511. They provide accommodation for 19,051 persons. The hearers at the chief services are reported as 11,475. The debt upon them at present is £29,568, and their value is £106,652. There is a membership of 4,851.
It will be seen from the foregoing figures that since the 1881 Conference there have been two new Circuits made, nine more chapels built. Moreover, we find a sum of £28,929 has been spent in building, and in the improvements and alterations which have been made in the Connexional property. There have been 4,399 additional seats provided and 1,511 more hearers reported. Notwithstanding the extra outlay in new erections, there has been a reduction in the debt on the chapels by £5,358 in the same area of 1881. And the membership is 290 more, while the value of the trust estates has increased by £36,647.
Recently there has been opened in Selby Street a substantial but small chapel, taking the place of a wood building. Its cost is about £1,400. In Holland Street, Hull, Third Circuit, modern school premises have been opened, costing, with land, £6,000. Very good sites have been secured for chapels and schools on the Anlaby Road and in Clumber Street.
We regret we are not able to give the statistics of the Sunday-schools for 1881, as they are not available. It may, however, be of interest to state what they were in 1891 and in 1902. In the former year we find there were 38 schools, with 729 teachers and 8.441 scholars, and an annual income of £1,123. This year there are (exclusive of Beverley) 38 schools, with 767 teachers, and 8,942 scholars, with an income of £1,281.
While the progress of Primitive Methodism has not been what might have been expected, considering the number of its agencies and the many well situated and commodious chapels, we rejoice to see signs of increasing spiritual life and activity. And we hope the coming Conference will leave behind it a deepened desire to carry on the work which the immortal William Clowes began with such triumphant witness to the power of faith and prayer and impassioned zeal for the souls of men.
References
Primitive Methodist Magazine 1902/420