Memories of Elmfield 4
Of its Assistant Masters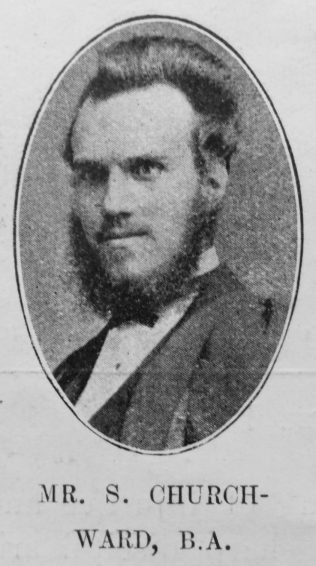 Transcription of article published in the Primitive Methodist Magazine by An Old Boy
WHILE I was chiefly in the Head Master's classes, and had most to do with him, I came into contact more or less with all the other masters. In morning and evening school, in the playground, the dormitory, and at, sundry classes, we had opportunities of estimating the scholarship, the temper, and the disciplinary powers of those in charge of us. In the morning the master on duty called us up with the familiar, "All up here!" at six o'clock. We were formed in line and marched down stairs in single file to the lavatory, where the master saw to it that tooth brush and soap were properly brought into requisition. At 6.30 the gong sounded for morning school, and for the space of an hour we were required to prepare the lessons of the day in silence. If we met with any difficulty of an unusual kind we might consult the master in charge, but this was not encouraged. The task was there to be done, and what the master had to do was to see that each boy wrestled with its difficulties. The opportunity for study was given; if it was neglected the fact would surely emerge later in the day. An hour was set apart in the evening in the same way, and rigid discipline was maintained on these occasions. This discipline was altogether wholesome and of the greatest value to the boys. 
The assistant masters during my first year were Dr. Twist, Mr. Bradley, Mr. S. Churchward, Mr. Greenfield, and I think Mr. Grice, who was just beginning as a junior master about this time. He had been a pupil. Dr. Twist was an elderly man and left at the end of the quarter. I have little about him that I can recall, except that most of the time he suffered from a poisoned hand which he carried in a sling. He was kindly and considerate. I have the vaguest remembrance of him as a tall man with grey hair. Mr. Bradley was the first master to awaken in me a feeling of injustice and resentment. He was a sharp disciplinarian, and pulled me up smartly as we were assembling one evening for making some remark to another boy. Probably there was too much noise and it was necessary to single out somebody for punishment. A little man with a very curly head of fair hair, the said hair being artistically parted down each side of the head so as to form a roll of curls at the top, Mr. Bradley was an efficient master, but a trifle acid in tone and manner. I entirely lost sight of him after he left Elmfield.
Mr. Greenfield was a just man, and by no means unduly severe. I found him kindly, clever, and painstaking. I believe I was a bit of a favourite with him. At any rate I heard of him speaking well of me on several occasions. Great was his astonishment to find me one night engaged in a pillow-fight in the dormitory. He gave me a task of fifty or a hundred lines of poetry to learn, and as I never could give a recitation in my life, I found it a tough business.
Mr. Samuel Churchward was a junior master and had not long before matriculated at London University. He later took his B.A. and became a master at the Wesleyan College, Sheffield, ultimately going to Australia where he became head master of a large school. He greatly impressed me with his cleverness, and with the extent and accuracy of his classical knowledge. Naturally, of course, seeing that my knowledge in that respect was almost nil. He was a Cornishman, and a tall thin, slightly sallow youth. His family were Wesleyans. He early won my liking, and I recall his kindness after the lapse of forty years with pleasure and gratitude. I met him on holiday some three or four years later in a small town in the County of Durham, and spent a day with him. He was then a master at Wesley College, Sheffield. At a later period I also knew Mr. Heys, who afterwards became Headmaster, Mr. Howchin, William Ashley Black, Mr. Baron, Mr. Gough, who also attained to the Headmastership, and Mr. George Brown. Mr. G.T. Baron was second master and subsequently at Greenwich had a distinguished and unique career. He is said to have prepared 800 pupils for various Local and University Examinations and never had a single failure. Most of these had graduated from the position of pupil to a mastership, and I shall speak of them later as boys. Elmfield has trained a large proportion of its masters. Mr. Black was a Scotsman of considerable ability and force of character. He had been trained in the High School of Dundee, and was one of the ablest disciplinarians | ever met. He completely revolutionised the school on its commercial side and taught the various branches of his department in a thoroughly scientific manner. He was seriously threatened with consumption nearly all the time he was at Elmfield, although a well-built, muscular, determined fellow. His next appointment was at Gainford Academy, near Darlington, and then I fear he succumbed to the enemy he had fought with such courage and determination. But of this I cannot speak positively. He gave me a glimpse of a larger scholastic world of which I had not hitherto dreamed, and brought into the school much of the thoroughness and efficiency of the Scottish High School system of forty years ago. There were two non resident masters, Mr. Barker, who taught music, and Mr. Wakefield the Drawing master. The latter still survives and has taken a most enthusiastic interest in the recent work of reconstruction.
The masters and the Headmaster worked in perfect harmony. Nothing could have been finer than the way Mr. Dall supported his assistants in matters of discipline. The assistants, of course, had no power of corporal punishment, and such offences as downright impertinence were reported directly to the Headmaster. After hearing the case and questioning the offender the Headmaster required instant and complete apology to be made to the assistant, and this was followed by such punishment as the case demanded. I think gratefully of these far-off days and of all they did for me, and for multitudes besides.
References
Primitive Methodist Magazine 1908/449