A.E.Cain and Maggi Forrester:Two Nurses of the First World War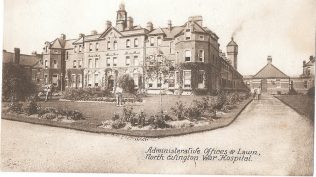 The postcard size picture of the 1915 Roll of Honour, Hinckley Road Primitive Methodist School (Leicester) is included in an album of WW1 photos. The album was compiled by AE Cain, whose photo is on the Roll. She was a Voluntary Aid Detachment (VAD) nurse, who worked at the North Evington Military Hospital near Leicester, and later in the 73rd General Hospital in Deauville, France. She was in France on 11th November, 1918, the day the Armistice was signed.
The photo album came into my possession via my great aunt, Maggi (Madge) Forrester, whose photo is also on the Roll. Madge trained at Leicester Royal Infirmary and during the war worked at North Evington Military Hospital as a member of the Territorial Force Nursing Reserve. So it seems that Madge and AE Cain were nursing colleagues, as well as fellow teachers at the Hinckley Road Primitive Methodist Sunday School.
I know very little about AE Cain, not even her christian names, though she may have come from the Isle of Man, and perhaps had a brother Herbert who served in Egypt during WW1.
Madge and AE Cain both survived the war so the Roll of Honour must have been in recognition of those associated with the Hinckley Road PM School who were serving in 1915, rather than honouring those who had died. It is to be hoped that the gentlemen on the Roll also lived to see the signing of the Armistice.