Wright, Robert, The Diary of a Conscientious Objector, 1916-18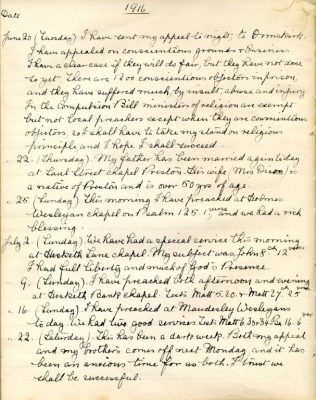 Robert Wright , a bootmaker of Hesketh Bank, Lancashire, began keeping a diary in 1908. A Primitive Methodist Local Preacher, this was where his heart lay, and one of the most difficult things about his time in prison as a Conscientious Objector, was that he was unable to preach – although he does try it in the Guard Room!
These extracts record something of his wartime experience.
1916
April 22 (Saturday): Yesterday I was 27 years of age, and this has been one of the darkest weeks of my life. We are now threatened with full Compulsion for the Army. Mr Asquith promised not to extend Compulsion to married men, but Lloyd George is demanding it. There has been a Cabinet crisis this week. I trust Compulsion for all may not come in force. I have a conscientious objection to military service.
April 29 (Saturday): This has been another dark week. Compulsion for married men will come unless 50,000 per month enlists until 200,000 are obtained.
May 2 (Tuesday) Compulsion Bill for married men has been introduced in Parliament today. When it passes into law all men between 18 & 41 years of age will be soldiers. We are living in strange times. There is talk of altering the time to save oil. The war is costing us 5 millions a day.
May 20 (Saturday): Yesterday the General compulsion Bill passed the House of Commons by a majority of 215. Also tonight we have put our clocks fast so as to get all the light. A Bill for this has been passed in Parliament called the Daylight Savings Bull. We are now full of law. There is the Defence of the Realm Act under which the Government can take anything for money. Then there are taxes and now the Military Service Bill. Last month part of Ireland rebelled and caused much death. We are praying for the war to be over.
May 27 (Saturday): This week the Military Service Bill (for married men from 18 to 41 years of age) has passed the House of Lords. It becomes law on June 24th. We shall all be soldiers by law, but we can appeal and I shall do so on religious principle.
June 9 (Friday): Today I have sent letters to Rt Hon Walter Long MP & Dr A S Peake on my convictions against enlistment. Mr Long introduced the Compulsion Bill and a clause in the Bill exempts conscientious objectors and I am appealing on those grounds.
June 16 (Friday): I have received an answer from Walter Long to the effect that he cannot deal with my case, also Dr Peake cannot do anything.
June 20 (Tuesday): I have sent my appeal tonight to Ormskirk. I have appealed on conscientious grounds & business. I have a clear case if they will do fair, but they have not done so yet. There are 1200 conscientious objectors in prison, and they have suffered much, by insult, abuse and injury. In the Compulsion Bill ministers of religion are exempt but not local preachers except when they are conscientious objectors, so I shall have to take my stand on religious principle, and I hope I shall succeed.
July 22 (Saturday): This has been a dark week. Both my appeal and my brother's comes off next Monday and it has been an anxious time for us both. I trust we shall be successful.
July 24 (Monday): We have made our appeal today in person at Ormskirk offices before the tribunal. My father supported us. Since I finished at the Post Office I have worked at Ormskirk Farm, and Nicholas Whiteside sent a letter in support of my appeal. They never said a word about conscientious objection. I had made myself plain, and our minister Rev A J Wigley wrote me a letter. My brother was also a religious objector. They decided to exempt us until Oct 31st and power to appeal again on condition that we worked on a farm.
September 26 (Tuesday): There has been a Zeppelin Raid today as near as Blackburn. Many are killed. These raids are now common. There was one last week in London with 100 casualties. We depend fully upon divine help if that fails then we fail. The was is raging fiercely, fighting is going on which has never been equalled in history, but the Germans are now losing ground, still people say it will last 12 months. We trust they may be wrong.
October 8 (Sunday): Coming home [from preaching at Freckleton] I passed Dick Kerr's Works which now turn out about 1000 shells a day. Millions of shells are being expended in France and munition factories all over the country are busy every day.
October 25 (Wednesday): Our exemptions run out on Oct 31st, so we have sent our appeals again to Ormskirk today. We have appealed on the same lines Conscientious objection, shoemaking and farm labourers. We had to work on a farm in obedience to the last tribunal. I have put about 70 days on a farm and N Whiteside has sent a letter with this appeal to certify that I am working with him. We hope to be allowed to go on as we are, but we never know. They are now taking nearly all under 31 years of age. If they consider religious conviction then we shall get off, but they are persecuting most who object.
November 16 (Thursday): We have been to Ormskirk again this afternoon to appeal for exemption from Military Service. The war is getting worse and they are now taking every available man. We appealed on religious grounds and reported how much work we had put in on the farm. I have put 80 days in this year. But there was not much chance. We could feel the spirit of militaryism in the room. It made me think about an Assize Court. Anyhow they gave my brother Tom conditional exemption, and refused my appeal, deciding that I should join up at once, and be a soldier. When the decision was given I objected, told them I should not fight, and asked for privilege to have my appeal reheard which was granted. I shall take my stand on conscientious principles as before. As we came home the wind was bitterly cold, and it was a night we shall never forget. I don't know how I shall go on but I am in God's hands, and trust all will turn out for the best.
November 18 (Saturday): I have sent my appeal in again on conscientious grounds. Our minister has written me a letter testifying to my character, and my services as a local preacher.
November 19 (Sunday): … I have not had such a good day. My position under conscription has affected my preaching. I have seen Pete Roskell today. He was taken to prison for refusing to be a soldier, but he is now out on national importance under the Pelham committee.
November 28 (Tuesday): I have to appear at Ormskirk next Friday. I pray that success may attend my appeal. Also the military authorities have called me up for Thursday but I shall send my papers back.
December 1 (Friday): Again I have been refused exemption on conscientious grounds at Ormskirk. I have had a rough reception. When I went in Col Hopgood opposed me from the first. I made my case as clear as they would allow, but they refused me a fair hearing. They asked me to go to France and work under military orders, but I declined, so they rejected my appeal, and I am now appealing at Liverpool. Rev A J Wigley our minister supported my character in person. The Report of this appeal appeared in the Ormskirk Advertiser Dec 7th 1916.
December 9 (Saturday): This week there has been great changes. Mr Asquith has resigned the Premiership and O Lloyd George has accepted the post and formed a New Government.
December 15 (Friday): I have been to Liverpool Appeal Tribunal today and they have refused my appeal again. They gave me a better reception than the Ormskirk Tribunal but refused to consider my case. Our circuit supported me with a petition, but even that failed to support me. I offered to work under the Pelham committee and so do my part, but they declined to allow me. This is my last appeal, and I am tired of Tribunals. I was in the Town Hall at half past one and my appeal was heard soon after five. (Also today the auctioneers of the Hesketh have sent my money back and broken their contract). The Report of the Liverpool Tribunal appeared in the Advertiser.
December 16 (Saturday): Every exempted man under 41 years of age has to train at home now, and today a branch has been formed at Hesketh Bank.
December 31 (Sunday): Another year is closing, and still the Great European War is raging. There has been an effort to obtain peace by the Germans, but it is likely to fail. It is now my turn to suffer. I am called up to appear at Southport Recruiting Office on Wednesday Jan 3. I have decided to go and explain my position on Thursday Jan 4. It is a great disappointment to me, to leave my Christian work. During the last [year] I have preached and given addresses no fewer than 88 times. I hope I shall be lead to Christian work elsewhere if it is God's will that I should leave this district. I have appealed to the Pelham Committee, but they cannot consider my case at present.  Rev Dr F B Meyer is taking an interest in my case, and will do something. We are all praying that this awful war should end. May this Christmas be the last when the birth of the Prince of Peace is stained with the sacrifice of innocent men and women.
1917
Jan 3 (Wednesday) Today I should have appeared at Southport recruiting office but refused.
Jan 4 (Thursday) This morning I gave myself up at SouthportTown Hall. After explaining that I was on farm work part time they sent me home again.
Jan 9 (Tuesday) This morning I was medically examined at Seaforth Barracks and passed for General Service (A1).
Jan 16 (Tuesday) This morning the military sent me a further calling up notice. I have sent it back.
Jan 20 (Saturday) This morning at about 10 o'clock our second son Thomas Edward passed away at the age of 9 months 14 days.
Jan 24 (Wednesday) This afternoon the remains of our son was laid to rest in Hesketh Parish churchyard.
Jan 25 (Thursday) Called up again from Southport. Refused answer.
Feb 22 (Thursday) Police sergeant visits me to inquire in my case. Have a Temperance address at Hesketh Bank.
Feb 23 (Friday) Police officer comes to arrest me for military service, but allows me to give myself up at Southport. After a stormy interview with the Colonel they sent me home until morning.
Feb 24 (Saturday) Returned to Southport Town Hall. Rev B J Bowker obtains me leave until Monday and profers to appeal to War Office.
Feb 25 (Sunday) Gave two lessons to Female Bible Class.
Feb 26 (Monday) Returned to Southport. Refused to sign military papers. Sent by military escort to Seaforth Barracks. Allowed to return home for night.
Feb 27 (Tuesday) Returned to Seaforth. Put in khaki. Sent home until morning.
Feb 28 (Wednesday) Refused to go on Parade at Seaforth Barracks. Brought before Commanding Officer but through a letter from Mr Bowker he allowed me off until morning.
Mar 1 (Thursday) Returned to Seaforth for the day. Sent home again for overnight.
Mar 2 (Friday) Refused to go on military parade again at Seaforth. Arrested and put in guardroom. Brought out at 10 o'clock and removed to Llanion Barracks Pembroke Dock Wales. Distance over 200 miles.
Mar 3 (Saturday) Refused military parade at Pembroke Dock. Knocked about. Finally brought before Commanding Officer. Dismissed for a time. Sang in the YMCA Hut at night to about 300 soldiers.
Mar 4 (Sunday) Spent most time in YMCA. Bed falls in at night.
Mar 5 (Monday) Spent most time in YMCA. Finds bed tied with wire at night.
Mar 6 (Tuesday) Brought before Sergeant Major. Lectured and cursed at for 10 minutes. Taken out. Forcibly put among trained soldiers. Forced to form fours and fall in line, also made to march. Refused on conscientious grounds, arrested and put in guardroom. Here I came in contact with four COs awaiting trial.
Mar 7 (Wednesday) Morning. Brought before Commanding Officer. Remanded.
Mar 8 (Thursday) Brought before Commanding Officer and dismissed. Refused to join D Company. After some fearful swearing two officers brought a gun and equipment and ordered me to take them up. I refused on conscientious grounds, and was again shut in the guardroom.
Mar 9 (Friday) Charged with refusing to obey orders and remanded for court martial.
Mar 10 (Saturday) Summary of evidence taken before officers, and doctor visited.
Mar 11 (Sunday) This evening I sang to soldiers in the guardroom, and also bade farewell to a CO on his departure for prison.
Mar 12 (Monday) Again this evening we sang hymns with the soldiers in the guardroom.
Mar 13 (Tuesday) For a few days now the soldiers have desired me to preach in the evening. So after we had sung a hymn I took a text from Hebs 12.10 and preached. The scene was interesting. In the guardroom the windows are near the top. The only light available at night is an open gas light fixed in the wall. While I preached some were standing and some smoking on the wooden beds. I shall never forget the experience. After the sermon I had a long discussion with a few on Christ.
Mar 14 (Wednesday) Received charge sheet and notice of trial in public road.
Mar 15 (Thursday) This morning I was court martialled by three officers for refusing military orders & pleaded guilty in my statement, and also handed in testimonials. Also two of my friends left here for prison at London.
Mar 19 (Monday) This afternoon I was escorted to the Barrack Square, and my sentence read out before 300 soldiers. Term 12 months hard labour commuted to 112 days hard labour.
May 26 (Monday) Isolation of barracks ends [because of measles]. Removed from guardroom, and taken to military detention cell with J C Thompson a CO.
May 28 (Wednesday) Put in separate cells.
May 29 (Thursday) Threatened to be kicked in cell. Taken before Sergt Glegg by escort and questioned about a delayed letter.
Apr 11 (Wednesday) This evening we were removed from Llanion Barracks Pembroke Dock Wales, bound for Wormwood Scrubs Prison, London. My stay in the military hands has been about six weeks. The impressions I received have only made me stronger in the conviction of conscientious objection.
Apr 12 (Thursday) We landed Paddington Station at 4.30 am. The escort took us to a London police station. There were two COs and two of an escort. Here we got some sleep. Later in the day we were removed to Wormwood Scrubs Prison London. We arrived at 10.30. After complete examination by doctor I was put in a prison cell for conscience. My first impressions of prison life were disheartening. I remember going from one cell to another at night in black darkness with the warders. I can testify to the nearness of God at these times. He gave me strength to bear the trial for His sake and the liberty of conscience.
Apr 13 (Friday) This morning I went before the Deputy Prison Governor and gave him particulars for retrial at the Central Tribunal for Home Office Scheme.
Apr 15 (Sunday) First experience of a prison service. Chaplain tells us we have wasted our opportunities.
Apr 17 (Tuesday) Put on stage work after 4 weeks imprisonment from court martial. Taken before chief warder and promised to accept CO work scheme.
Apr 20 (Friday) This morning I had a shock. I was taken before both governors, a paper read out to the effect that I had refused the scheme and would be sent back to the military at the end of my sentence. After explanation it was proved to be another CO of the same name.
Apr 21 (Saturday) Cursed at in the cell for speaking to another prisoner.
May 6 (Sunday) Today we all refused to sing National Anthem in the prison service.
May 17 (Thursday) Received letter from home.
May 23 (Wednesday) This afternoon I appeared Central Tribunal for trial as to my conscientious conviction. Lord Salisbury was chairman. After a short hearing I was declared genuine & stood in the prisoner's dock. They sat on the judges bench, and all my later appeals were reconsidered.
May 25 (Friday) Examined by doctor. Declared fit and signed on for Home Office Scheme for work. Received letter from home.
Jun 16 (Saturday) Released from Wormwood Scrubs Prison London. I was turned out of prison alone at 11.30 with directions to Shepherd's Bush Station for Kings Cross. From there I booked for Wakefield Prison Work Centre Yorkshire. I left London at 1.30 and landed Wakefield at 5.30. My prison experience will never be forgotten. The first impressions were disheartening. To be put in prison for fidelity to conscience went against my nature, but when I realised that we were standing for future liberty the thought reconciled me to the sufferings of prison life. We felt that we were linked with the past martyrs such as Paul, Latimer, Ridley and hosts of others. The chapel services were welcomed, though the chaplain had no sympathy with us. The food was coarse and insufficient. While in prison I met with some fine Christians. There were about 800 of us in Wormwood Scrubs, which was the centre prison for conscientious objectors. The experience of the Central Tribunal was interesting. This was my fifth tribunal and the highest in the land. They were very respectful and treated me fairly. My chief work was making mail bags and garden work. When I was released my health was in bad condition through prison life, but we felt compensated with the thought of our stand for freedom. One thing we shall advocate above all others, and that is prison reform.
Jun 17 (Sunday) Went to Quaker meeting House in the morning, PM chapel at Wakefield in the evening.
Jun 18 (Monday) This morning I had an interview with the agent, and commenced work in the garden party. The Home Office Scheme is a kind of alternative punishment for COs. The work and conditions are penal. The pay is 8d per day and the work penalising. We are kept in prison Work Centres, but can volunteer for work with different employers.
Jun 24 (Sunday) This morning I went to the Adult School and PM chapel. At 3.00pm we went to hear General Booth at a Salvation Army meeting and in the evening to PM Chapel.
Jul 28 (Saturday) This afternoon I volunteered to go to Manchester and work for the Corporation.
Jul 31 (Tuesday) 6 of us left Wakefield this morning and landed Platt Hall, Platt Fields, Rusholme Manchester this afternoon. I am very glad to leave Wakefield. There was some fierce opposition there towards our cause. I trust things will be better here.
Aug 1 (Wednesday) This morning I commenced work at Southern Cemetery Nurseries Manchester.
Aug 5 (Sunday) Today I have had the privilege of seeing home again. Manchester is about 37 miles from my home, but I intend to cycle the distance every week. God has been good, and His providence towards me has been wonderful.
Oct 8 (Monday) This afternoon I was sent from the nurseries to Didsbury Station for a Potato Machine. We have to pass a German prison camp, and I saw some of them under escort.
Oct 28 (Sunday) This morning I left Manchester at 2.30 am rode home in the snow and preached at Hesketh Lane PM Chapel from Matt 16.16.
Nov 6 (Tuesday) This morning my wife gave birth to a baby boy. I intend to obtain leave.
Nov 8 (Thursday) Special leave granted until Sunday night.
Dec 16 (Sunday) Preached at Hesketh Lane PM chapel. Text Psalm 127.1. Rough journey back to Manchester in snowstorm.
Dec 31 (Monday) Another year is closing. This year has been very eventful in my life. During the year I have only preached and given addresses 12 times. My experiences with the military has hindered my work. But what a victory God has given the CO movement. We are still persecuted, but we have won the day for freedom of conscience in regard to war. The War is still raging. May peace dawn upon us before long. The slaughter is appalling.
1918
Jan 14 (Monday) Spoke to a Socialist on the question of the soul's salvation.
Jan 18 (Friday) Tonight I have been appointed Chairman of the House (Platt Hall Manchester). There are about 26 of us we do our own business with the Home Office. Also A H Smith was appointed secretary.
Jan 23 (Wednesday) Transferred from Wilslow Road to Gorton Cemetery. Working with Clarke thrashing corn. Thoughts: what a craving the British workman has for beer. Today the men we worked with possessed an insatiable thirst for strong drink. No wonder the Government are afraid of Prohibition.
Feb 7 (Thursday) This evening I resigned the office of chairman as a sequel to a difference of opinion.
Feb 23 (Saturday) About last Christmas a New Scheme originated from the Office at Whitehall where COs on the Home Office Scheme could be allowed to find their own work after 12 months of good conduct. So far 7 of us have been refused & 1 declared eligible at Platt Hall Camp. My time is up on June 16.
Mar 22 (Friday) Today I have had a letter from my friend Tom Tinsley. He is in France and has been in the trenches. A great German offensive is reported today.
Apr 9 (Tuesday) A New Man Power Bill has been introduced in the House of Commons today, raising the military age to 51 years.
Apr 11 (Thursday) Today five of us have been reported to the Town Hall through prejudice.
Apr 12 (Friday) Capt Stevenson the Home Office inspector has been to Platt Hall Camp today. Also we approached Mr Hirst on the question of the report. Capt Stevenson was informed of the trouble.
Apr 13 (Saturday) Last night there was an air raid near Wigan. 12 lost their lives. The Zeppelin passed through about 2 miles outside of Manchester.
May 3 (Friday) Amount of money spent on drink in the House of Lords £14,000 in 12 months. 9 out of 12 Bishops in the House of Lords have shares in Breweries & armament factories. England has never known a teetotal Prime Minister.
May 31 (Friday) Tonight I have been elected Secretary of Platt Hall Camp.
Jun 19 (Wednesday) Today I have made application to the Home Office for the New Scheme.
Jun 23 (Sunday) After 7 years ministry Rev A J Wigley preached his farewell sermons today at Hesketh Banks.
Jun 25 (Tuesday) Taken ill with influenza.
Jun 28 (Friday) In the house as orderly. 9 of us down with influenza. Epidemic spreading throughout England.
Jul 6 (Saturday) Day off looking for work. Not yet successful.
Jul 9 (Tuesday) Mr Reeves Farmer Hutton refuses me work.
Jul 10 (Wednesday) 6 new men come from Dartmoor.
Jul 12 (Friday) Received word from home to interview Robert Bell Bank View regarding work.
Jul 13 (Saturday) Successful in obtaining work at R Bell's.
Jul 19 (Friday) Received word from Home Office authorising me to take up exceptional work at Robert Bell's Farm Hesketh Bank. I left Manchester at 10 o'clock arrived home at 3 o'clock. Thus ended my stay in Manchester and completion of work under the Penal Home Office Scheme. I am now at liberty to obtain my own wage, live at home without any rules to observe. We have only to send a report when asked. I was at Manchester nearly 12 months and enjoyed the experience. There was a little opposition now & then, but on the whole we had a pleasant time. During the time I was there I came home 50 times and thus cycled about 3,500 miles.  I also had the pleasure of going round Manchester through the change of work. Out of the 26 most of us have gone home, and new men have come in our place. I shall always have pleasant recollections of the time we spent there, and hope to revisit it before long.
Dec 31 (Tuesday) Another year is closing after most eventful days. The Great War is practically over. The Peace Conference has now to do its work. The Prince of Peace will now have a chance. During the year I have been enabled to preach and give addresses 40 times. I hope now to continue the work I left two years ago, and I pray for God's blessing.