Excelsior Mission, The Soldiers' Church, 1918
The impact of war on the church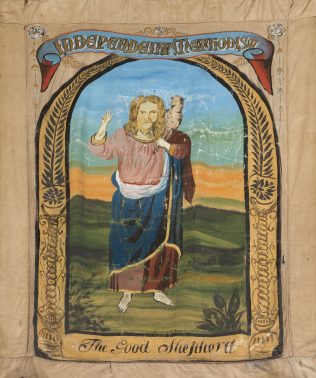 For men who had experienced the horrors of life in the trenches during the First World War, a return to their home church could be difficult, if not impossible.  
Many of those who had experienced the harsh realities of war found it difficult to cope with the petty restrictions of a church which seemed staid and out of touch.  As a result, many abandoned all contact with their former church or chapel.
Their own meetings
A group of former soldiers at Foundry Street Primitive Methodist Chapel, Dukinfield, Lancs, found another solution. They began to meet together as a group, first in each other's homes, and then in a room over the stables of the 'Old General', in Astley Street.  At each service a borrowed piano had to be brought in and carried away afterwards. Their meetings became known as 'Excelsior Mission'. 
From the stables they moved to the Police Court Mission, in Russell Street, where the dock served as a pulpit.  The next step was to build their own chapel, and land was obtained on Lodge Lane. A start was made on a timber building, but it was destroyed by bad weather before completion. 
A new Chapel
On 2 August 1924, a brick building, for a school and chapel, was opened at a cost of £1,200, most of which had to be borrowed. The opening ceremony was performed by a leading Independent Methodist from Warrington, and Excelsior now became part of the Manchester Independent Methodist circuit. Some of the early leaders were J W Berry, E Shaw, E Critchlow, Tom Wood, W Daniels and James Marland.
Source
E A Rose, Methodism in Dukinfield, 1978, pp 56-57