Loane, James Arthur (1888-1915)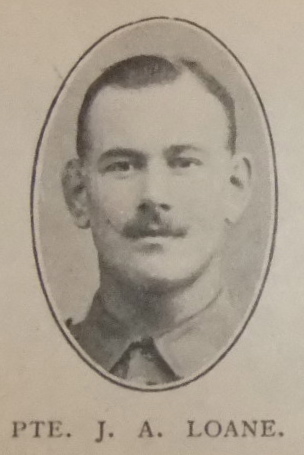 Obituary
Private J.A. Loane, of the Norfolk Regiment, was a preacher on trial on the Wangford Circuit. Aged twenty-seven years, he died on March 6th from a wound received in the trenches "somewhere in France." As a lad of fifteen years he gave himself to Christ, and at once commenced work in the Sunday school and as an exhorter. The brickyard at which he worked being closed, and other work not offering itself, he enlisted, and on service in Africa, Gibraltar and India found opportunities for Christian work. Returning home a reservist in 1912 he joined the society at Withersdale, and was in great demand as a preacher. At the outbreak of the War he was despatched to the front, and was in the trenches until the day he was shot by a German sniper. His letters home told of prayer meetings amongst his comrades within hearing of the enemy, and of his desire to take up the work at home again. But this was not to be. He lingered six days in unconsciousness, and then passed to his rest and reward. A crowded audience gathered to a memorial service at Withersdale. Great sympathy is felt for his relations, especially for his young widow, to whom he had been married little more than a year.
J.T. Mantripp
James was Private 7131 in the Norfolk Regiment, 1st Battalion. He died of wounds on 2 March 1915.
James married Priscilla Leggett (1880-1955) in late 1913.
References
Primitive Methodist Magazine 1915/747
Census Returns and Births, Marriages & Deaths Registers